Anomalisa wins Grand Jury Prize; Robert Pattinson-starrer The Childhood Of A Leader wins best debut.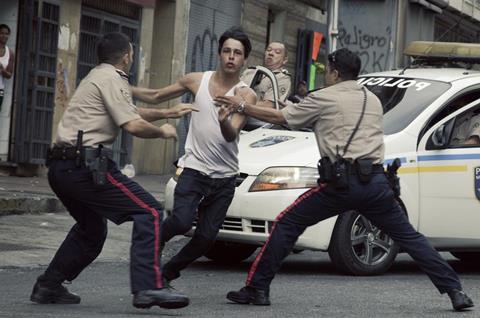 Scroll down for full list of winners
From Afar (Desde Alla), the first Venezuelan production to appear in Competition at the Venice Film Festival, has won the Golden Lion for Best Film.
The directorial debut of Lorenzo Vigas concerns a middle-aged man (Alfredo Castro) who pays young boys to spend time with him. One day he befriends an 18-year-old delinquent (Luis Silva), a development that affects both profoundly.
The film, sold by Celluloid Dreams, is produced by Oscar-nominated screenwriter Guillermo Arriaga, who co-wrote the script.
The Silver Lion for Best Director went to Argentinian film-maker Pablo Trapero for kidnap drama The Clan (El Clan).
Trapero has a good relationship with Venice, having won two prizes for his 1999 debut, Crane World, returning in 2004 with Rolling Family and sitting on the Golden Lion jury in 2012.
The Clan is based on the real-life exploits of a Buenos Aires family who kidnapped and murdered their affluent neighbours.
Venice's Grand Jury Prize was awarded to US film Anomalisa, the first animated feature from Charlie Kaufman, co-directed with Duke Johnson.
The film was funded by a Kickstarter campaign, which raised more than twice its $200,000 target and was launched by producer Starburns Industries in order 'not to be compromised by the Hollywood studio system'.
Voiced by Jennifer Jason Leigh, Tom Noonan and David Thewlis, the film - adapted from Kaufman's stage play and sold by HanWay Films - focuses on a motivational speaker who is overcome by life's mundanity.
The Special Jury Prize went to Emin Alper's Frenzy (Abluka), which centres on two brothers struggling to survive local political violence in Turkey.
Acting prizes
Best Actor went to Fabrice Luchini for his portrayal of a judge in the twlight of his career in Christian Vincent's French feature Courted (L'Hermine). Vincent also won Best Screenplay.
Best Actress went to Italy's Valeria Golino for her role as a tormented woman in Giuseppe Gaudino's Per Amor Vostro.
Cary Fukunaga's Beasts Of No Nation saw young star Abraham Attah win the Marcello Mastroianni Award for Best Young Actor.
Attah plays an African child soldier alongside Idris Elba as a local warlord in the drama, on which Fukunaga (True Detective) spent seven years working on the script of this adaptation of Uzodinma Iweala's novel. The film is also notable as Netflix's first major theatrical acquisition.
Childhood of a Leader triumphs
The Lion of the Future prize for best debut film went to Brady Corbet's The Childhood of a Leader, starring Robert Pattinson, Liam Cunningham, Bérénice Bejo and Stacy Martin.
The fable on the rise of fascism marks the directorial debut of Corbet, better known as an actor in films such as Melancholia and Thirteen. The award comes with a $100,000 prize.
Corbet also picked up the best director award in the Horizons (Orizzonti) strand of the festival, in which the film played.
VENEZIA 72
The Venezia 72 Jury, chaired by Alfonso Cuarón and comprised of Elizabeth Banks, Emmanuel Carrère, Nuri Bilge Ceylan, Hou Hsiao-hsien, Diane Kruger, Francesco Munzi, Pawel Pawlikowski and Lynne Ramsey having viewed all 21 films in competition, has decided as follows:
Golden Lion for Best Film to: DESDE ALLÁ (FROM AFAR) by Lorenzo Vigas (Venezuela, Mexico)
Silver Lion for Best Director to: Pablo Trapero for the film EL CLAN (Argentina, Spain)
Grand Jury Prize to: ANOMALISA by Charlie Kaufman and Duke Johnson (USA)
Coppa Volpi for Best Actress: Valeria Golino in the film PER AMOR VOSTRO by Giuseppe Gaudino (Italy)
Coppa Volpi for Best Actor: Fabrice Luchini in the film L'HERMINEby Christian Vincent (France)
Marcello Mastroianni Award for Best Young Actor to: Abraham Attah in the film BEASTS OF NO NATION by Cary Joji Fukunaga (USA)
Award for Best Screenplay to: Christian Vincent for the film L'HERMINE by Christian Vincent (France)
Special Jury Prize to: ABLUKA (FRENZY) by Emin Alper (Turkey, France, Qatar)
LION OF THE FUTURE – "LUIGI DE LAURENTIIS" VENICE AWARD FOR A DEBUT FILM
Lion of the Future – "Luigi De Laurentiis" Venice Award for a Debut Film Jury at the 72nd Venice Film Festival, chaired by Saverio Costanzo and comprised of Charles Burnett, Roger Garcia, Natacha Laurent and Daniela Michel, has decided to award:
Lion of the Future – "Luigi De Laurentiis" Venice Award for a Debut Film to: THE CHILDHOOD OF A LEADER by Brady Corbet (UK, Hungary) (ORIZZONTI)
as well as a prize of 100,000 USD, donated by Filmauro di Aurelio e Luigi De Laurentiis to be divided equally between director and producer

ORIZZONTI AWARDS
The Orizzonti Jury of the 72nd Venice Film Festival, chaired by Jonathan Demme and composed of Anita Caprioli, Fruit Chan, Alix Delaporte and Paz Vega having viewed the 34 films in competition has decided to award:
the Orizzonti Award for Best Film to: FREE IN DEED by Jake Mahaffy (USA, New Zealand)
the Orizzonti Award for Best Director to: Brady Corbet for THE CHILDHOOD OF A LEADER by Brady Corbet (United Kingdom, Hungary)
the Special Orizzonti Jury Prize to: BOI NEON (NEON BULL) by Gabriel Mascaro (Brazil, Uruguay, The Netherlands)
the Special Orizzonti Award for Best Actor to: Dominique Lebornein the film TEMPÊTE by Samuel Collardey
the Orizzonti Award for Best Short Film to: BELLADONNA by Dubravka Turic (Croatia)
the Venice Short Film Nomination for the European Film Awards 2015 to:
E.T.E.R.N.I.T. by Giovanni Aloi (France)
VENEZIA CLASSICI AWARDS
The Venezia Classici Jury, chaired by Francesco Patierno composed of 25 students of Cinema History, chosen in particular from the teachers of 12 Italian Dams university programmes and from the Venice University of Ca' Foscari, has decided to award:
the Venezia Classici Award for Best Documentary on Cinema to:
THE 1000 EYES OF DR. MADDIN by Yves Montmayeur (France)
the Venezia Classici Award for Best Restored Film to:
SALÒ O LE 120 GIORNATE DI SODOMA by Pier Paolo Pasolini (1975, Italy, France)
Golden Lion for Lifetime Achievement 2015 to:
Bertrand Tavernier
Jaeger-LeCoultre Glory to The Filmmaker Award 2015 to:
Brian De Palma
Persol Tribute Visionary Talent Award 2015 to:
Jonathan Demme
L'oréal Paris per il Cinema Award to:
Valentina Corti