The number of hours viewed on the service around the world climbed 45% year-on-year in the fourth quarter of 2015 from 8.25bn to 12bn, CEO Reed Hastings told CES on Wednesday.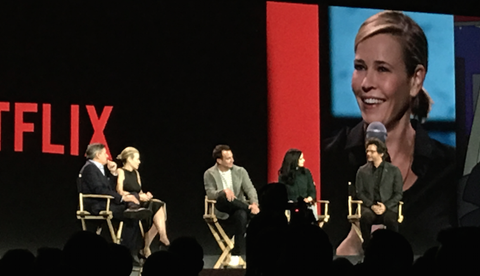 "Consumers are now in the driver's seat," Hastings said during his Consumer Electronics Show keynote address, adding that in the eight years since Netflix launched its streaming service penetration had reached 69million homes.
That number is set to rise dramatically with the launch on Wednesday of the service in a further 130 countries, brining the total now to 190 – with the notable exception of China.
Hastings, together with software executive Marc Randolph, started Netflix as a small online movie rental company in Santa Cruz, California, in 1997. It has since grown into a global 2,000-person team.
He attributed the rise in viewership hours to smarter, cheaper and more accessible technology devices, as well as increased internet speeds that he said were 40% faster than they were in 2013.
"We live in an on-demand world, and there is no going back," said Hastings. "Countries are figuring out that a robust internet adds to a better quality of life and a better economic prosperity."
Currently the company offers 125million hours a day of programming internationally, a figure that Hastings would like to build on, offering faster and better quality data on remote devices "in any condition".
He also mentioned the recent roll-out of the Netflix app, along with remote controls.
From distributor to creator
Chief Content Officer Ted Sarandos took to the stage and echoed Hastings' desire to offer day-and-date content in multiple territories, with the added focus on original programming – a figure he projected would reach more than 600 hours in the next year.
Citing House Of Cards as an example, Sarandos explained the dynamics of providing worldwide members with all episodes at one time.
"It was a shocker of an opening statement," he proclaimed, citing it as the start of binge viewing. "Creatively, we didn't have to work in linear formats anymore. We could work in multi-episode story arcs rather than pilots: books [so to speak], rather than chapters."
Sarandos also described the company's creative mantra as "a freedom of responsibility culture", referring to the focus on innovation across its staff and pool of film-making talent.
Likening Netflix's original programming to "high-brow yet low-brow" and "funny yet sad and scary", he explained the variety of content was aimed at grandparents and children alike, potentially living under the same roof.
Sarandos presented exclusive footage from Stephen Daldry's upcoming British drama The Crown scripted by Peter Morgan and starring Claire Foy as Queen Elizabeth II, as well as Baz Luhrmann's vibrant New York 1970s dance series The Get Down.
Feature films, additional guests
He touched on original film content such as the current awards season contender Beasts Of No Nation and referenced the company's passion for features and its desire to curb piracy.

"We think by giving people what they want in a timely manner and at a reasonable price helps to remove the key reasons people resort to piracy."
Stars from Netflix's original series appeared on stage, including Wagner Moura, the star of Narcos that is now shooting its second season in Colombia; Will Arnett from upcoming Flaked; lead actress Krysten Ritter from the recent critical smash Jessica Jones; and comedian Chelsea Handler, who created and stars in the four-part documentary series Chelsea Does.
Speaking to Sarandos, Handler quipped, "It's nice when you can go in and create a vision and you guys [Netflix] are progressive enough to say 'go and do it' and all of a sudden it's done."
Turning to the audience, she continued, "I pitched four docs and they said, 'Yah those sound like great ideas' and that was it. That's probably not a great way to tell Reed how you are running things but … it's still a great place to work!"
Arnett added: "Knowing people are watching your show day-and-date across the world is incredible – it's throwing out the old paradigms."