A revamped tax credit has catapulted Italy to the premier league of international locations.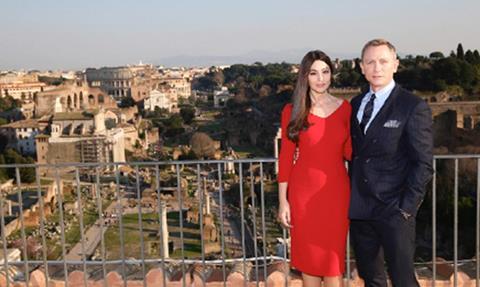 Not since Martin Scorsese took over Italy's iconic Cinecitta Studios for the shoot of Gangs Of New York in 2002 has Rome been so awash with international stars. After a decade in the doldrums, the country is on the up since the bolstering of its tax incentive scheme in 2014.
Films to have shot in Italy over the last 12 months include Zoolander 2 and Timur Bekmambetov's Ben-Hur, both for Paramount Pictures; supernatural thriller Voice From The Stone, starring Emilia Clarke for Zanuck Independent; Focus Features' adaptation of Anne Rice's biblical novel Christ The Lord: Out Of Egypt; Sony Pictures' James Bond fi lm Spectre; US indie The Tourist; Baltasar Kormakur's Everest for Working Title Films; Huayi Brothers' romantic comedy Only You; and the Polish thriller Framed, directed by Piotr Smigasiewicz.
Under the changes to the 25% tax credit, first introduced in 2011, the cap on the support has been raised to $11.4m (€10m) from $5.7m (€5m) and is now per production company, rather than per project.
In May, the country extended the 25% tax credit to high-end TV fiction. The move has already attracted a number of productions including Paolo Sorrentino's The Young Pope, backed by Sky, HBO and Canal Plus, as well as Medici: Masters Of Florence starring Dustin Hoffman and Richard Madden.
Alongside the improved incentive, the country's regional film commissions also offer logistical support and in some cases financial support too. The tax credit can be combined with regional funds.
"When we decided to move forward with making Ben-Hur, we knew we would be shooting a small part of the film in [the southern Italian city of] Matera, but couldn't support shooting the entire fi lm in Italy until the new fiscal benefit was approved. Once that crucial step was made, we were confident it would allow us to shoot the entire movie in Italy," says Peter Oillataguerre, executive vice-president physical production, MGM.
Ben-Hur, which stars Ayelet Zurer, Jack Huston and Morgan Freeman, moved on to Cinecitta after finishing its Matera shoot. Ancient Jerusalem has been reconstructed in Federico Fellini's favourite Studio 5 as well as on other parts of the backlot.
"We couldn't be more pleased with the effectiveness and reliability in collaborating with Cinecitta Studios, who have been assisting us with every aspect of production," adds Oillataguerre.
Good to know
Cinecitta has a collection of some 15,000 pieces of set-dressing items related to ancient Rome, which it rents out all over the world.
The Lowdown
Financial incentives
Italy offers a 25% tax credit capped at $11.4m (€10m) per company. All invoices made out to international film companies are VAT-free. Qualifying productions must pass a cultural test by scoring at least 50 points and meeting additional conditions. The use of Cinecitta facilities earns supplementary points. The credit is based on the production expenses incurred in Italy, which must not exceed 60% of the overall production budget. Expenses incurred in another EU country can be treated as expenses incurred in Italy up to a maximum of 30% of the overall film production budget on the condition they are paid by an Italian production service company. The country's regional film commissions also offer support and incentives. Business Location Sudtirol Alto Adige, the commission for the northern region of Alto Adige, put $800,000 (€700,000) into Everest, shot partly in the region's mountains. Toscana Film Commission recently supported Korean director Park Heung-sik's Second Twenty. Further information www.italianfilmcommissions.it
Infrastructure
Thanks to Italy's rich cinema heritage the country has a large pool of skilled technicians and its cinematographers, set designers and decorators are world-renowned. Ben-Hur, for example, has employed local set expert Alessandra Querzola as the chief set decorator on the film. "I would rate the Italian crew as some of the best in the world," says Dean Zanuck, producer of Voice From The Stone. Cinecitta Studios is back on its feet — its landmark Studio 5, which was damaged in a fire 18 months ago, has been fully renovated and is being used on Ben-Hur. The site encompasses 22 stages and a large backlot, and also offers a wide range of services and equipment.
Locations
The country's Mediterranean landscapes, Renaissance towns, Roman ruins and world-renowned cities of Rome, Florence and Venice are much in demand. The Dolomite mountains are doubling for Nepal in Everest.
Where to stay
As a world-class tourism destination, Italy has a huge pool of luxury hotels suitable for talent. In Rome, talent generally stays in one of the five-star hotels around the Spanish Steps and Via Veneto. Because of the good metro links between the centre and Cinecitta, producers and key foreign crew often rent a house or an apartment in that area.
When in Rome
Enjoy la dolce vita… and la cucina.
Size matters
Italy covers some 120,000 square miles and flying is the most efficient way of travelling around the country. A number of local airlines connect the main cities. There is also an extensive train network with the high-speed Pendolino connecting Rome with Florence in one hour and 20 minutes. In Rome, it is a 25-minute metro ride from the historic centre to Cinecitta.
Dean Zanuck, producer, Voice From The Stone
"We had an awesome experience. It's very hard to complain about making a film in Italy. The locations were stunning, the food was amazing and the lifestyle was a perfect experience. We never considered shooting Voice From The Stone anywhere else.
"The film is based on the award- winning Italian novel La Voce Della Pietra and is set in a castle in Tuscany during the 1950s. We wanted to remain in the country of origin, believing it would provide both tangible and intangible value that couldn't be gained elsewhere.
"Italy offers a strong tax incentive, arranged and cash flowed by our Italian producing/production services partner Panorama Films. We also benefited from our timing as the US dollar was very strong against the euro."
First person to call
Italian Film Commissions umbrella group