A good film infrastructure and generous rebate has helped attract two high-profile international shoots to South Korea in the past year.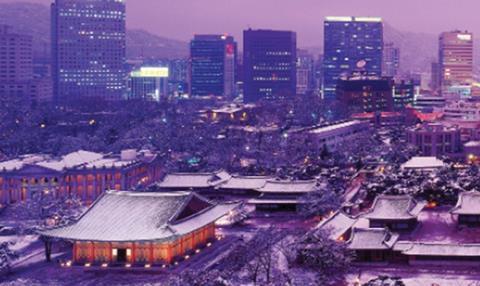 South Korea's cityscapes, including the large Han River flowing through the middle of Seoul, are relatively fresh to foreign eyes, although the rise of the Korean Wave has been influencing international casting and locations choices.
Nike recently shot a commercial in the capital and the Wachowskis' upcoming high-end TV series Sense8 for Netflix also shot there, featuring homegrown star Bae Doona. Marvel Studios and Disney's Avengers: Age Of Ultron, also filmed in South Korea last year with local actress Claudia Kim in a supporting role.
The Lowdown
Financial incentives
The Korean Film Council (KOFIC) offers up to 30% cash rebate for international feature films, TV series and documentaries. This can be combined with other cash incentives from Seoul Film Commission, Busan Film Commission and in-kind support from them and other regional commissions. Further details: www.koreanfilm.or.kr/jsp/coproduction/guide.jsp
Infrastructure
English is not spoken widely in South Korea, but more and more internationally educated film-makers are returning to the country, and production managers such as Danny Kang at production services company Mr Romance, which worked on Avengers: Age Of Ultron and Sense8, can put together crews with bilingual members and co-ordinators.
Locations
It's not just cities; South Korea boasts glorious vistas of rivers, mountains and fields.
Where to stay
In Seoul, the Avengers and Sense8 productions both stayed at Conrad Seoul. Further popular hotels are the Grand Hyatt, the Park Hyatt and W Hotel. For serviced apartments, Somerset Palace, Fraser Suites and Oakwood are the most used by crews.
The Seoul path
Itaewon and more recently Gyeongridan and Hannam-dong are hip Seoul neighbourhoods for bars and restaurants where English is spoken widely. The Avengers and Sense8 productions spent free time in and around the Conrad, the IFC Mall and Yeouido in general. Insa-dong is a good place for antiques and souvenirs, and visit Bukchon — immortalised in auteur director Hong Sang-soo's The Day He Arrives — for small shops and eateries.
Size matters
Depending on where you are headed in Seoul from Incheon International Airport, it can take from 45 to 90 minutes by bus or taxi. Seoul is a metropolis that can take anywhere from 15 minutes to more than an hour to navigate major spots depending on traffic, but inside Seoul it rarely costs more than $28 a trip. A lot of productions shoot in Busan and Jeju Island, which are both less than an hour's flight from Seoul.
Nick Laws, production manager, Avengers: Age Of Ultron and Sense8
"A production coming to South Korea needs to decide in advance whether it will adapt to the availability of local equipment, crew and facilities or, depending on the scale of the production, what crew and equipment they need to bring in. There are many excellent technicians working on Korean films but communicating in English will limit the choice of people to work with, depending on the expectations and scale of the international project."
First person to call
Mark Siegmund, international team manager, Korea Film Commissions & Industry Network: kfcin.mark@gmail.com