Dir: Andrea Arnold. UK. 2011. 128mins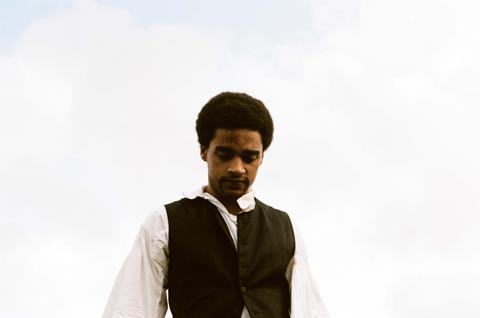 Andrea Arnold's adaptation of Emily Bronte's literary classic Wuthering Heights is not a loveable film, but it is a courageous and impressive one. What makes it is also what mars it: a poetic, intensely auteurish take on the material that more than once comes between us and the story.
Wuthering Heightsis an often beautiful and haunting cinematic experiment.
In a sense, Arnold captures the essence of Bronte's dark and windswept tale far more accurately than William Wyler's 1939 version with Laurence Olivier and Merle Oberon as Heathcliff and Cathy. Bronte's Wuthering Heights is not a bodice-ripper but a story of obsession, revenge and cruelty both physical and emotional. But at least Wyler's film put its romantic cards on the table; Arnold, on the other hand, seems to be circling the material hesitantly, as if trying to work out her take on the story while making the film.
She also throws down the gauntlet to audiences - and by extension, distributors and exhibitors - with her impressionistic handheld visual style, choice of boxy 3:4 format (though this is used brilliantly), casting of non-professional actors and relatively low-profile professional ones, pared-back dialogue and plot, and refusal to grant us the relief, or the alibi, of a musical soundtrack. All these factors, plus the film's slow pace and two-and-a-bit hour running time, make the film a challenging commercial prospect. Wuthering Heights is resolutely arthouse, and more likely to enjoy a succes d'estime than the box-office variety.
In common with most other film adaptations, Arnold chooses to recount only the first part of Bronte's novel - that dealing with the tragic love story between Heathcliff and Catherine, or Cathy. Advance reports on the film made much of Arnold's decision to cast two black actors as the younger and older Heathcliff - the Liverpool waif who stern but charitable Yorkshire farmer Mr Earnshaw takes pity on and brings back to live with his family on the moors. But Bronte herself has Earnshaw refer to him as "dark almost as if it came from the devil", and the ploy doesn't feel too much of a stretch.
For what clearly interests Arnold and co-scriptwriter Hetreed is Heathcliff's outsider status: this is a story about a proud but indelibly 'different' boy who is never fully accepted into the family that adopts him, and ends up, after the death of the man who took him in, being kept on as the family servant and relegated to the stable.
In the first part of the film, as the young Heathcliff (Glave) bonds with Earnshaw's carefree child-of-nature daughter Cathy (Beer, the most natural of Arnold's first timers) and incurs the hatred of Earnshaw's older natural son, Hindley (Shaw), his wary, watchful nature is stressed: this is a child who is used to beatings and rejections, but who registers everything that is done to him, good or bad, and never forgets. He and Cathy - children, as Bronte wrote them, rather than the young adults of Wyler's film - roam the moors, climb misty peaks, tussle in the mud, observe nature and become inseparable soul mates without kissing once.
Through cinematographer Ryan's painterly handheld camerawork and obtrusive focus-pulls, Arnold stresses the harshness, the elemental quality of life on the moors. The Earnshaw farmhouse is rough and unadorned, the scenery dominated by fern, gorse and rock rather than cultivated land; often shrouded in mist, or drenched by driving rain. Horses are ridden bareback, and Heathcliff and Cathy sleep in the same bed because - well, why wouldn't they, in such a poor and spartan house.
Much time is spent on nature bonding, relatively little on key plot cruxes like Earnshaw's death, Cathy's adoption by the well-off Linton family, Heathcliff's overhearing of her intention to marry Edgar Linton, even though she really loves Heathcliff - a revelation that spurs him to run away from the farm.
He returns an older and richer man (now played by the sometimes inexpressive Howson, whose casting is not the best of Arnold's non-pro choices), to find that Cathy (now Scodelario) has married Edgar and become the mistress of his substantial family house, Thrushcross Grange.
It's Heathcliff's inability to stay away from her, and Cathy's continued devotion to Heathcliff, that will precipitate events towards their tragic conclusion. In this section, Arnold seems sometimes to defy the audience, deliberately wrecking the sympathy she had built up in part one by showing Heathcliff hanging dogs for pleasure, marrying Edgar's sister just to get to Cathy and then mistreating her, humiliating Hindley. Some of these things may be in the book - but novels do narrative detachment and cynicism a lot better than films.
Other directorial decisions seem almost perverse - the incongruous seventies-style credit font; the one piece of non-diegetic soundtrack music, a song by contempo British folksters Mumford & Sons right at the end, which seems a pointless last-hurdle stumble into sentiment. Arnold's Wuthering Heights is an often beautiful and haunting cinematic experiment. But we miss the driving energy of Fish Tank. Paradoxically, for all the explosive emotion of its source material, this is a curiously poised and dry-eyed film.
Production companies: Film4 and the UK Film Council in association with Goldcrest Film Production LLP, Screen Yorkshire and HanWay Films present and Ecosse Films Production
International sales: HanWay Films, www.hanwayfilms.com
Producers: Robert Bernstein, Douglas Rae, Kevin Loader
Screenplay: Andrea Arnold, Olivia Hetreed
Cinematography: Robbie Ryan
Editor: Nicolas Chauderge
Production designer: Helen Scott
Main cast: Kaya Scodelario, James Howson, Solomon Glave, Shannon Beer, Oliver Milburn, Simone Jackson, Lee Shaw, Nichola Burley