Top executives went head-to-head at the Zurich Summit's annual tennis tournament.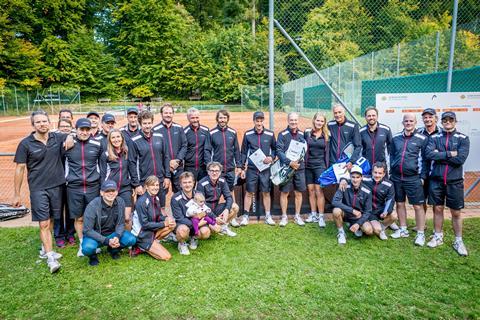 Today's film competition was off the red carpet and onto the green courts, as Zurich Film Festival and the Zurich Summit hosted their popular annual tennis tournament, bringing out the competitive side of some of the globe's top film executives.
This year's winners were jewelry executive Bo Marburger (repeating his 2014 glory) and local legal eagle Urs Isenegger.
Christoph Daniel of DCM won the sportsmanship award, which comes with two free nights at the luxurious Dolder Grand Hotel, which hosts the Summit and the tennis.
There were two elegance awards, fittingly a prize of a custom-made suit, to Peter Kuhn of Germany's Media Content Factory and Lotus Entertainment's Bill Johnson.
All the fun benefits ICT For Peace Foundation. This year, there were 32 players (all in snazzy, custom outfits from sponsor HEAD), plus other spectators.
Amy Baker, co-founder of conference organizer Winston Baker, said: "It's a great way to casually network. You get to play with an international group, from Switzerland, the US, the UK and beyond. And they also have pros on site to offer tips or help you warm up."
The pro advice might need to keep coming for 2016. As another organiser added: "We saw some really great tennis and some really interesting tennis."
Zurich Summit's 2016 dates will be Sept 25-26.