Director Sean Baker and co-star Mya Taylor on the making of their innovative, worthy awards contender Tangerine.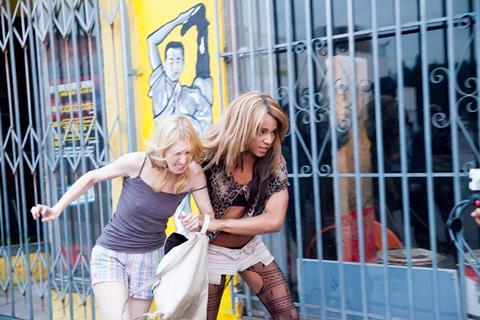 Shot on an iPhone for a budget of $100,000 and starring non-professional actors, Sundance hit Tangerine is this year's awards underdog. It would be any year's underdog.
And yet few films this season can match Tangerine for invention or breadth of critical support.
"I thought we would be splitting audiences 50/50," admits multi-hyphenate Sean Baker about his fifth feature, a comedy-drama in which a transgender prostitute tears through Tinseltown on Christmas Eve searching for the pimp who broke her heart, crossing paths with clients, co-workers and enemies along the way.
Bold, insightful and hilarious, the risqué festival-favourite, which has taken $700k domestic for Magnolia, was sold to key markets including UK, France and Australia but also, refreshingly, further afield to the likes of Taiwan, South Korea, Mexico and Hungary.
"Mirovision weren't entirely sure how it would go down but it went well," confesses Baker of the film's Korean premiere.
Tangerine was inspired by an underworld that plays out virtually on the director's doorstep.
"I live half a mile from Santa Monica and Highland, where the film takes place", explains Baker, perhaps best known for 2008 immigrant story Prince of Broadway and 2012 SXSW drama Starlet, starring Dree Hemingway.
"For decades it has been known as an area frequented by transgender sex-workers but I was taken aback that it hadn't been focused on before in film or TV."
Tangerine might have never seen the light of day, however.
Indie champions Mark and Jay Duplass had offered Baker enough budget for another small scale film after seeing The Prince Of Broadway but the director was keen to break out of the micro-bubble.
"After Starlet another micro-budget film was the last thing I wanted to do," confesses Baker.
"I had a film that cost more, in the five-six million dollar range but it was hard to finance. The actors I wanted wouldn't read the script so I couldn't get the money."
"So in the end after Starlet I reached out to Mark and Jay Duplass and said 'I guess I'm ready to make that micro-budget film'.
"It was half the budget of Starlet. At the time it felt like a step back. You want to be able to at least pay your crew well. But I wanted to make the most of it. You do what you have to do to make the film."
Baker's regular producers, including Chris Bergoch and Darren Dean, would still take some convincing, however.
"When I presented the script to my producers they said 'there's no way you can pull this off with this script'.
"I'm on my fifth film so I can't pull favours any more like hiring budget cameras and being able to shoot on film on the cheap. So we agreed to shoot the film on an iphone five with the help of a Steadicam Smoothee, an anamorphic lens adapter and Final Cut Pro."
Baker had met the film's co-lead Mya Taylor, a trans woman with no prior acting experience, at a local LGBT centre.
"She was the first one to show enthusiasm," explains Baker. "She was telling us stories, anecdotes and introducing to women who were working the streets at the time, including Kiki [co-lead Kitana Kiki Rodriguez]. I was really drawn to their interaction."
The story took place across one day for budgetary reasons.
"We used a Mike Leigh method of workshop where I encouraged improvisation," says Baker.
"Eight months later we were shooting."
The tight budget proved a blessing.
"You don't always need a ton of money," acknowledges Baker. The intimacy is something that can only be achieved by a skeleton crew, a family unit. I wanted to keep the crew light."
Taylor was intrepid.
"I wasn't nervous. We had a lot of fun. That's my personality," said the first-time actress.
"The only challenge I had was that I had just started my transition so I had my insecurities. I would wear shades all the time - even at night - to hide my features.
"It was rough. I was scared. I struggle to look at the film because of the memories. But I was brave and I came through it. I feel more comfortable now."
Tangerine offers a unique insight into a little known corner of LA inhabited by low-paid immigrants and prostitutes.
As it turned out the film's insight into a particular transgender experience would also tap into a zeitgeist for trans-themed content.
"We didn't see that coming," says Baker. "We started down this road two and half years ago. But it's great that all these stories are being told now."
The surge in trans content could help the film with a recently reported guerrilla marketing-style Oscar push in the acting, cinematography and script categories.
"There was some talk of that happening but I was taken aback when I saw the news", admits Baker.
"Who knows whether Magnolia has pockets deep enough to compete with campaigns for the other big films out there but the fact that this movie is out there is enough.
Taylor and Rodriguez are the first trans women put forward for Oscar consideration. The film is also the first shot on an iPhone to get any kind of awards promotion.
A similarly guerrilla-style campaign could follow suit in the UK ahead of the BAFTAs. Metrodome releases on November 13.
"I have a different agenda," states Baker, however. "Whatever helps get Mya and Kiki embraced by the industry is what makes this a success story. These professionals are ready to have careers in this industry. They deliver performances worthy of Oscar attention."
But is the Academy ready for Tangerine?
"You never know…" says Baker, diplomatically.
It should be.