Animator Duke Johnson had to convince writer-director Charlie Kaufman that his spoken-word play Anomalisa would work as a feature film.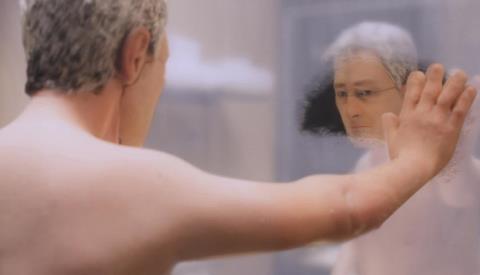 The themes may be familiar, but the form isn't what most cinemagoers have come to expect from Charlie Kaufman, Oscar-winning writer of Eternal Sunshine Of The Spotless Mind as well as Being John Malkovich, Adaptation and Human Nature. In the end, though, stop-motion animated romance Anomalisa seems like a near-perfect expression of the idiosyncratic take on life and love for which Kaufman, who wrote the film and co-directed with Duke Johnson, is best known.
Set over a couple of days in the anonymous spaces of a fancy Cincinnati hotel, Anomalisa tells the story of Michael (voiced by David Thewlis), a motivational speaker caught in the grip of a strange anxiety, and Lisa (Jennifer Jason Leigh), a shy customer service rep with whom Michael forms an immediate and slightly mysterious bond.
What initially distinguishes the film is its use of puppets that are at once uncannily lifelike and obviously artificial — a contrast that gives a surreal edge to the story's quietly intense sex scene — and the fact that all the characters other than Michael and Lisa sound and, to a great extent, look the same (all are voiced by character actor Tom Noonan).
In writing the piece — originally spoken but not acted on stage as part of film composer Carter Burwell's 2005 Theatre of the New Ear series — Kaufman says he was "looking at that inability to connect and how that might be broken through and what might be the result. What it means to be in the relationship and what it means to see somebody else".
The uniformity of the background characters came from Kaufman reading about the Fregoli delusion, a rare disorder that causes a person to believe that different people are in fact a single person in disguise. "I thought that was metaphorically interesting," he says, referring to the original production, "since this was an aural as opposed to a visual experience — to have someone who heard everybody the same."
Producer Dino Stamatopoulos (a former Late Show With David Letterman writer) showed an early interest in the play, but didn't get involved until a few years later when he launched his Los Angeles animation company Starburns Industries and began discussing plans with junior partner Duke Johnson (director on Starburns' animated cable series Mary Shelley's Frankenhole).
"We talked a lot about being able to use the medium of stop-motion for something that wasn't just broad comedy or cartoony," says Johnson. "Using it for real adult situations. So when he mentioned Anomalisa it was an exciting prospect and when I read the script I was just floored by it."
Kickstarter campaign
The author, however, took some convincing. "My response to the idea of making it into any sort of visual form was one of reticence," Kaufman recalls. "I was concerned because it's very important to me to have the form be organic to the presentation. I would be giving up a lot of the stuff that I had intentionally left ambiguous so that the audience could imagine things. Because [for a film] you have to make decisions about what things look like.
"It had nothing to do with it being stop-motion," Kaufman adds. "I like stop-motion and that interested me in and of itself. So I said that they could go ahead if they could raise the money." To do that, Stamatopoulos and Johnson, who ended up producing the film with Kaufman and Rosa Tran, launched a Kickstarter campaign with a goal of raising $200,000 for what they thought might be a 40-minute short. The campaign brought in $406,000, and with that indication of audience interest UK-born independent producer Keith Calder (best known for Sundance audience award-winner The Wackness) and his Snoot Entertainment provided the additional funding to make a full-length feature, which had a reported budget of $8m.
Kaufman, who made his directing debut in 2008 with live-action dramedy Synecdoche, New York, and Johnson elected to jointly direct because, says the latter, "Charlie was obviously very familiar with the material and had directed the play, and I had more experience in the animation world. We didn't really sit down and have a conversation about how the division of labour would function. Animation moves very slowly, so you have the time to really discuss everything and come to an agreement about all the decisions."
Turning the script for the play into a screenplay meant, for one thing, filling in a lot of visual gaps. The play, says Kaufman, "was designed to be vague". The film, of course, would have "space in which people live and move, and what they do in that space had to be very, very carefully designed."
Another necessity was finding a visual counterpart for the vocal uniformity of the play's secondary characters. While the two lead puppets were based on individual real people, Kaufman explains that finding a look for the other characters "took a lot of work and a lot of thinking. The Tom [Noonan] characters are kind of an amalgamation of a bunch of people, which gives them an androgynous, generic quality".
Innovative techniques
The tricky replacement animation process adopted for the project involved using a 3D printer to make hundreds of different face plates that could be exchanged to alter the characters' expressions. "We printed about 150 top pieces and 150 bottom pieces for each character," Johnson explains, "so there's a very large number of possible combinations to create the performance. The 3D-printing process certainly creates more opportunities in certain regards, but it definitely has its challenges as well."
Key to the film's emotional impact was the design of the puppets' eyes. "The eyes needed to be something that the audience could connect to," says Johnson. "That's what was going to make these characters feel alive. You had to have a shine so that the eye could reflect light, but it also had to be manipulatable by the animator."
Experiments with glass eyes and doll's eyes proved fruitless, Johnson reports, "so we created our own eye, which has a soft white silicon base that the animators could stick a pin in to move. The centre of the eye is a hard 3D printed core that's hand painted, then it has a resin over the top to create the shine". He adds: "We made sure that in every scene the characters had an eye light, just like a live-action film would. A specific light that was set to reflect and give that twinkle in the eye." Because the eyes were tiny and individually mounted, "trying to get them to move in sync with one another and allow for the animators to see what they were doing was definitely a challenge."
The project was completed in a fairly typical two years, though because of their limited budget the directors didn't have the luxury of taking multiple passes at every take. "We had to plan everything out ahead of time," says Johnson. "We were one-take wonders."
Sold by HanWay Films, Anomalisa premiered at the Telluride Film Festival in September. It won the Grand Special Jury Prize and Future Film Festival Digital Award at Venice, and went on to screen at festivals in Toronto, San Sebastian, Rio de Janeiro, Sitges, London and Los Angeles.
After drawing interest from several US distributors in Toronto, Anomalisa was snapped up by Paramount Pictures for a reported $5m-plus. Paramount has set the film for a limited US release on December 30 and international openings in January, February and March.