Charlotte Rampling missed out on a widely anticipated best actress nomination.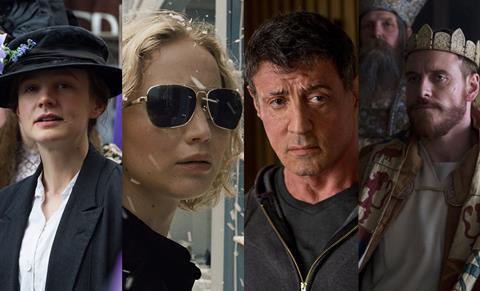 There were surprising shutouts of Suffragette, Joy, Creed, Spectre and Macbeth as the 2016 BAFTA nominations were revealed in London this morning.
Charlotte Rampling's omission from the Best Actress category for her universally acclaimed performance in 45 Years was among the biggest surprises. Rampling previously won top awards at the Berlin Film Festival and the European Film Awards for her performance in Andrew Haigh's relationship drama and garnered wins or nominations from almost all the critics organisations.
While Rampling had not scored SAG or Golden Globe nominations many expected the British actress to find favour on home turf.
Helen Mirren was another British heavyweight actress to miss out, following Golden Globe and SAG Best Performing Actress nominations for her turn in Trumbo. Eleven-time BAFTA film and TV nominee Mirren led SAG nominees with nods in three categories this year.
While the film scored an impressive seven nominations, many had expected to see box office and critical hit Mad Max: Fury Road among Best Film and/or Best Director nominees following a slew of festival, critics and industry accolades, including Golden Globe nominations in the above categories.
A Golden Globe nomination for Sylvester Stallone and a host of US critics prizes for the actor mean that his shutout comes as something of a surprise, though as many have pointed out BAFTA voters had very limited opportunity to see the film which was not sent out on screener, while London Film Festival opener Suffragette did not make it into any of the categories.
Justin Kurzel's acclaimed Macbeth, which drew raves for lead Michael Fassbender, was also left out in all categories, despite playing in Competition at Cannes last year and six BIFA nominations.
Bond shutout
Two years ago, James Bond blockbuster Skyfall garnered eight BAFTA nominations and went on to win Best British Film, but there was no such love for the latest instalment, Spectre, which was entirely shut out despite being the biggest film at the UK box office in 2015.
Meanwhile, the high-profile cast of David O. Russel's Joy, including Jennifer Lawrence, Bradley Cooper and Robert DeNiro, were not among the actor nominees. Cooper and Lawrence had both previously received nominations for Silver Linings Playbook and American Hustle, both from the same director.
Actors Tom Hardy (The Revenant) and Tom Courtenay (45 Years) as well as directors Danny Boyle (Steve Jobs) and Cary Fukunaga (Beasts Of No Nation) were among BAFTA potentials not to land nominations.
Similarly, critical darling Tangerine and Terence Davies' generally well-received Sunset Song were not among nominees and neither was commercial hit Straight Outta Compton, gangster biopic Legend, which starred Hardy as both Kray Twins, or Johnny Depp thriller Black Mass.
Some pundits considered 45 Years an outside bet for Best Film. It has been nominated as Outstanding British Film. Others questioned whether Star Wars: The Force Awakens protagonist Daisy Ridley might have received a Rising Star nomination alongside co-star John Boyega.