Will Quentin Tarantino's The Hateful Eight be the film to shake up this year's awards season? Jeremy Kay looks at which movies have achieved glory so far.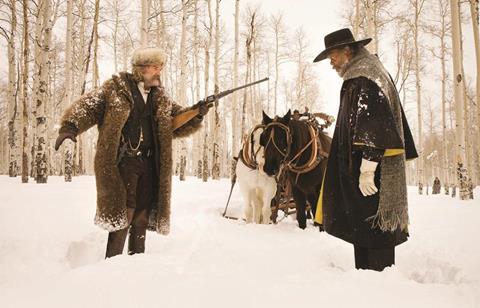 Heading into the Golden Globe nominations this week on the back of Wednesday's Screen Actors Guild (SAG) nods, the film on everybody's lips was Spotlight. Right now, Tom McCarthy's drama is widely regarded as the front-runner in the best picture Oscar contest.
SAG's 111,000 or so voting members make up the largest chunk of Academy voters, so its deliberations are highly influential in the acting stakes. While the union does not vote on its favourite films, it does nominate ensembles and Spotlight earned a nod in this category - right as Screen went to press - further endorsement of its best picture credentials.
Of course, the other nominees in the category will also take heart but Spotlight has already won the Independent Spirit Robert Altman Award for best cast and director and, although traditionally a weak indicator of a best picture Oscar nomination, Spotlight's position seems assured.
(The two strands in the Hollywood Foreign Press Association' s (HFPA) best picture categories generally ensure the group gives a mention to most of the strong films in the awards race each year.)
To date, Spotlight has secured more nominations and awards than any other film. The Los Angeles Film Critics Association (LAFCA), Gothams, Boston Society of Film Critics, Washington DC Area Film Critics, New York Film Critics Online and Audience Choice groups have all honoured it with their top prize. The drama has earned an Independent Spirit nod and a place on the National Board of Review's list of top 10 films.
Spotlight's enduring appeal may explain why Open Road CEO Tom Ortenberg, who orchestrated the Oscar win for Crash while at Lionsgate in 2006, waited to send out Academy DVD screeners until December 7.
It's about more than just piracy (the film opened in the US on November 6): McCarthy's film arrived in voters' mailboxes just as it started winning awards and was acquiring an aura of must-see. It will be fresh in voters' mind when they go to the ballots.
The Gothams have a chequered history when it comes to translating a best feature win into an Academy Award nomination. Only three films have done so in the past five years, although the most recent - last season's Birdman - went on to claim the best picture Oscar.
LAFCA has proved a more solid harbinger of things to come: in the past five years every one of its best film winners has earned a best film Oscar nomination.
However, not one of the winners selected by the Los Angeles conclave has gone on to win the Oscar - unlike the films chosen by the New York Film Critics Circle (NYFCC) in the same category. The group's 2011 selection The Artist won the Oscar the following year. This year's best film NYFCC winner is Todd Haynes' Carol.
Carol is also in contention at the Independent Spirits and should make it on to the Oscars best picture list. But the film's best Oscar prospects may lie with its two leads. Rooney Mara's best actress win in Cannes (shared with Emmanuelle Bercot for Mon Roi) and her Independent Spirit female lead nomination (opposite co-star Cate Blanchett) make her a strong contender. She just picked up a SAG supporting actress nod while Blanchett earned lead actress kudos.
There is a question mark over categories. Harvey Weinstein is lobbying for her to stay in the supporting actress race so as not to split the vote with his preferred best lead actress Blanchett. However, the Spirits and the Globes have made it clear they regard her as a firm lead actress contender.
Directors in the running
The NYFCC also awarded its best director prize to Haynes, who is firmly in the running for one of the five best director slots on the Oscar ballot. He's up against competition from McCarthy for Spotlight, Ridley Scott for The Martian, George Miller for Mad Max: Fury Road and last year's Oscar winner Alejandro González Iñárritu for The Revenant.
Iñárritu's survival epic is impressing critics with its spectacular film-making but may prove too brutal for voters. Neither Spotlight nor The Revenant picked up any wins from the National Board of Review. The group awarded its best film prize to Mad Max: Fury Road, and best director to Scott for The Martian. Last year the group awarded A Most Violent Year and Clint Eastwood for American Sniper respectively.
Further well-received films in the mix for best picture include Adam McKay's The Big Short, Lenny Abrahamson's Room, John Crowley's Brooklyn, and possibly Charlie Kaufman and Duke Johnson's Anomalisa, Pete Docter's Inside Out, Sarah Gavron's Suffragette and David O Russell's Joy.
Danny Boyle's Steve Jobs and Tom Hooper's The Danish Girl are likely to have a strong showing in the actor categories.
The film most likely to shake up the race is Quentin Tarantino's The Hateful Eight, which has already stirred the emotions of critics, whose reviews remain under embargo for at least another week.
Tarantino has five Oscar nominations and two wins (both for best original screenplay for Pulp Fiction and Django Unchained) under his belt. Pulp Fiction, Inglourious Basterds and Django Unchained were all nominated for the best film Oscar.
The Hateful Eight, a US Civil War drama about a group of bounty hunters, stars Kurt Russell, Channing Tatum, Samuel L Jackson and Jennifer Jason Leigh. The score is by Ennio Morricone and Leigh has already won the National Board of Review prize for best supporting actress.
That leaves one final film that nobody has seen yet: JJ Abrams' Star Wars: Episode VII - The Force Awakens. The franchise traditionally gets plenty of love for its effects work from Oscar voters but has never competed in anything outside the crafts categories since the 1977 original (which picked up seven Oscars, including costume design and original score, and a further three nominations including best supporting actor for Alec Guinness).
Is it the year to change all that? The Academy has been on a mission to embrace populism and entice younger viewers to boost its telecast ratings. The Martian, Mad Max: Fury Road and The Force Awakens would certainly accomplish that if nominated.