London Critics' Circle reveal top 10 films of 2014.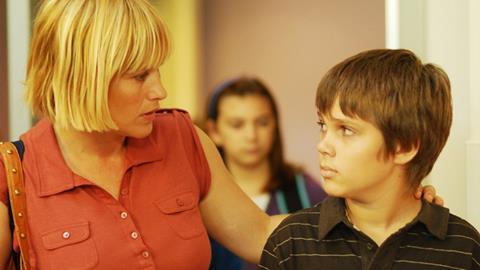 Scroll down for full list of winners
The UK's top film critics named Boyhood as Film of the Year at their annual ceremony last night, hosted by previous winners and Sightseers stars Alice Lowe and Steve Oram at London's May Fair Hotel.
In addition to Film, Boyhood also won Director for Richard Linklater and Supporting Actress for Patricia Arquette.
Actress Miranda Richardson was presented with the Dilys Powell Award for Excellence in Film by actor Stanley Tucci.
The evening's other big winner was Under the Skin, for which Jonathan Glazer was on hand to collect the Attenborough Award for British Film of the Year, and composer Mica Levi accepted the Technical Achievement Award for her score.
Oscar-nominated producers Mathilde Bonnefoy and Dirk Wilutzky were present to receive Documentary of the Year for Citizenfour.
Russian director Andrey Zvyagintsev accepted his Foreign-language Film prize for Leviathan by video.
Other winners in attendance included British actor Timothy Spall (Mr Turner) and Young British Performer Alex Lawther (The Imitation Game).
Special guests and nominees present included Daniel Huttlestone, Corey McKinley, Florence Pugh, Toby Sebastian, Louise Brealey, Matthew Warchus, Hossein Amini, James Kent, Elaine Constantine, Steve Jamison, Mike Brett, Iain Forsyth, Jane Pollard, Andy Hamilton, Guy Jenkin, Andre Singer and Robin Gulch.
The London Critics' Circle top 10 films of 2014 were…
1. Boyhood
2. Birdman
3. Under the Skin
4. Whiplash
5. Mr Turner
6. Leviathan
7. The Grand Budapest Hotel
8. Ida
9. Nightcrawler
10. The Theory of Everything
35th LONDON CRITICS' CIRCLE FILM AWARDS WINNERS
FILM OF THE YEAR
Boyhood (Universal)
FOREIGN-LANGUAGE FILM OF THE YEAR
Leviathan (Curzon Artificial Eye)
BRITISH FILM OF THE YEAR
Under the Skin (StudioCanal)
DOCUMENTARY OF THE YEAR
Citizenfour (Curzon Artificial Eye)
ACTOR OF THE YEAR
Michael Keaton - Birdman (Fox)
ACTRESS OF THE YEAR
Julianne Moore - Still Alice (Curzon Artificial Eye)
SUPPORTING ACTOR OF THE YEAR
JK Simmons - Whiplash (Sony)
SUPPORTING ACTRESS OF THE YEAR
Patricia Arquette - Boyhood (Universal)
BRITISH ACTOR OF THE YEAR
Timothy Spall - Mr Turner (eOne)
BRITISH ACTRESS OF THE YEAR
Rosamund Pike - Gone Girl (Fox) & What We Did on Our Holiday (Lionsgate)
YOUNG BRITISH PERFORMER OF THE YEAR
Alex Lawther - The Imitation Game (StudioCanal)
DIRECTOR OF THE YEAR
Richard Linklater - Boyhood (Universal)
SCREENWRITER OF THE YEAR
Wes Anderson - The Grand Budapest Hotel (Fox)
BREAKTHROUGH BRITISH FILMMAKER
Yann Demange - '71 (StudioCanal)
TECHNICAL ACHIEVEMENT AWARD
Under the Skin - Mica Levi, score (StudioCanal)
DILYS POWELL AWARD FOR EXCELLENCE IN FILM
Miranda Richardson