Asia Pacific prizes also awarded to Hany Abu-Assad for The Idol, Alexey German Jr for Under Electric Clouds and cinematographer Mark Lee Ping-bing for The Assassin.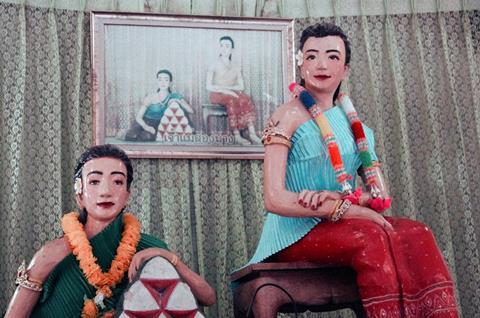 Scroll down for full list of winners
Cemetery of Splendour, by Thai auteur Apichatpong Weerasethakul, has won best feature film at the 9th Asia Pacific Screen Awards (APSA) in Australia.
The Thai-language drama, which debuted at Cannes, centres on a middle-aged woman who experiences strange visions while tending a soldier with sleeping sickness.
The awards, announced at a ceremony at Brisbane's City Hall, saw films honoured from Thailand, Russia, Turkey, China, Japan, Palestine, Korea, Taiwan, Japan and Australia.
The APSA UNESCO Award for outstanding contribution to the promotion and preservation of cultural diversity through film was awarded to Palestinian director Hany Abu-Assad for The Idol, which debuted at Toronto.
Speaking from the set of his latest production, the director said of the award: "Thank you dear jury for this great honor. Giving us the UNESCO Award is a courageous decision at this time.
"The world seems to lose hope in the future. The Idol is a film about hope and our job as an artist is to keep believing in a better future. Our main job is to let people believe in making the world better, and to believe yourself that you can make a difference."
Editor Eyas Salman, who also edited Abu-Assad's 2013 APSA Best Feature Film winner Omar, accepted the award on the night.
The film is inspired by the true story of 2013 Arab Idol winner Mohammed Assaf, whose rise to fame both gave hope to and united a people. Assaf has gone on to become the first regional youth ambassador for the United Nations Relief and Works Agency in the six decades of the organisation's history.
The jury also gave an APSA UNESCO Award special mention to director Stephen Page for Australian drama Spear.
The directing prize went to Russia's Alexey German Jr for Under Electric Clouds, accepted on the night by actress Victoria Korotkova.
Korean star Jung Jaeyoung won best actor for his role in Hong Sang-soo's Right Now, Wrong Then, while Japan's Kirin Kiki won best actress for her performance in Naomi Kawase's An, marking the first time a Japanese actress has won the prize.
The cinematography prize went to Mark Lee Ping-bing for Hou Hsiao-hsien's The Assassin, having previously been nominated in 2011 for Norwegian Wood and 2007 for The Sun Also Rises.
Writer-director Senem Tüzen won best screenplay for Turkish drama Motherland.
Two grand jury prizes were awarded, the first to Korea's Park Jungbum for writing, directing and acting in Alice and the second to Turkey's Emin Alper for writing and directing Frenzy.
The jury, presided over by Korea's Kim Dong-Ho, comprised Iranian actress Negar Javaherian, Bangladeshi writer-director Mostofa Sarwar Farooki, Chinese filmmaker Zhang Xianmin, Malaysian writer-director U-Wei Bin HajiSaari and Russian writer-director Alexei Popogrebsky, who represented APSA's alliance with the European Film Academy (EFA).
APSA 2015 WINNERS
BEST FEATURE FILM
Cemetery of Splendour (Rak ti Khon Kaen)
Thailand, Malaysia, France, Germany, UK
Produced by Apichatpong Weerasethakul, Keith Griffiths, Simon Field, Charles de Meaux, Michael Weber, Hans W. Geißendörfer
Co-produced by Viola Fügen, Najwa Abu Bakar, Moisés Cosio Espinosa, Eric Vogel, Ingunn Sundelin, Joslyn Barnes, Caroleen Feeney, Danny Glover.
BEST YOUTH FEATURE FILM
River (Gtsngbo)
People's Republic of China
Produced by Sangye and Alexandra Sun
Co-Produced by Pema Tseden and Du Qingchun
BEST ANIMATED FEATURE FILM
Miss Hokusai (Sarusuberi: Miss Hokusai)
Japan
Produced by Keiko Matsushita, Asako Nishikawa
BEST DOCUMENTARY FEATURE FILM
The Chinese Mayor (Datong)
People's Republic of China
Produced by Zhao Qi
ACHIEVEMENT IN DIRECTING
Alexey German Jr for Under Electric Clouds (Pod elektricheskimi oblakami) Russian Federation, Ukraine, Poland
BEST SCREENPLAY
Senem Tüzen for Motherland (Ana Yurdu)
Turkey, Greece
ACHIEVEMENT IN CINEMATOGRAPHY
Mark Lee Ping-bing for The Assassin (Nie Yinniang)
Taiwan
Special Mention: Achievement in Cinematography
Lu Songye for Tharlo
People's Republic of China
BEST PERFORMANCE BY AN ACTRESS
Kirin Kiki in An
Japan, France, Germany
Special Mention: Best Performance by an Actress
Fatemeh Motamed Arya in Avalanche (Bahman)
Islamic Republic of Iran
BEST PERFORMANCE BY AN ACTOR
Jung Jaeyoung in Right Now, Wrong Then (Jigeumeun Matgo Geuttaeneun Teullida) Republic of Korea
APSA UNESCO AWARD
Hany Abu-Assad for The Idol (Ya Tayr El Tayer)
Palestine, Qatar, United Arab Emirates, United Kingdom, Netherlands
Special Mention: APSA UNESCO Award
Stephen Page for Spear
Australia
FIAPF AWARD for Outstanding Achievement in Film in the Asia Pacific region
Esaad Younis (Egypt)
APSA ACADEMY NETPAC DEVELOPMENT PRIZE
Mirlan Abdykalykov for Heavenly Nomadic (Sutak)
Kyrgyzstan
JURY GRAND PRIZE
Park Jungbum for writing/directing/acting in Alive (Sanda)
Republic of Korea
JURY GRAND PRIZE
Emin Alper for writing and directing Frenzy (Abluka)
Turkey, Qatar, France