Cosima Spender talks about making Palio under the watchful eye of Siena's authorities.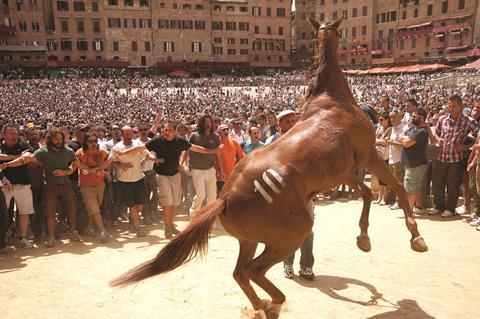 Cosima Spender had long-wanted to make a film about the Palio, the iconic horse race that takes place twice a year in the Italian city of Siena, charting the tradition, pageantry, intrigue and corruption at the heart of the race.
Access was the greatest hurdle. "It's a very guarded world," she says. "You must get the local authorities' permission for everything." After much negotiation the team was finally afforded unique access to the event. But with the race lasting only 90 seconds, there were no second chances.
"It's very hard to get a good vantage point - you need to be near the start of the race. We had a man sleeping in a specific corner of the piazza all night just to ensure we got the details of the horses' feet. They hated us going about with our boom, 'the British crew'.
"We had five cameras but the city has another seven for the TV broadcast. We also had access to their footage. But they only do wide shots, and much of the drama is in the close-ups."
The local authorities' tight control of the race's image meant the film-makers had to sign a contract relating to their footage. The Palio has a poor animal rights record. "We show it is a brutal race, for the horses and the jockeys," says Spender. "The contract specified that we weren't allowed to show injured animals but we did manage to show some of the wounds.
"Thankfully, no horses were seriously hurt the year we shot [2013]. We didn't want to make a picture-postcard film or propaganda piece but we had to fight to keep final cut."