How To Train Your Dragon 2 director Dean DeBlois and producer Bonnie Arnold talk to John Hazelton about the film's more mature themes and making the most of the latest animation technology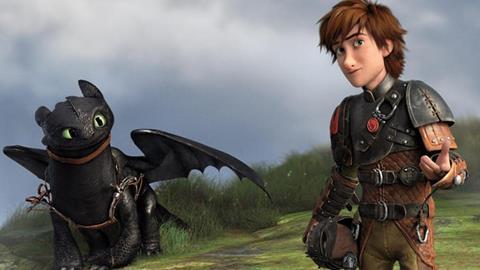 When DreamWorks Animation asked Dean DeBlois to brainstorm ideas for a sequel to How To Train Your Dragon — the 2010 fantasy adventure that took $495m at the global box office and earned an animated feature Oscar nomination — the writer-director was already thinking way ahead.
"I proposed a trilogy," says DeBlois, who wrote and directed the original with Chris Sanders (also his collaborator on Lilo & Stitch), "so we could treat the three films as three acts of an overall coming-of-age story."
In line with that plan, How To Train Your Dragon 2 picks up the story of Hiccup (voiced by Jay Baruchel), his dragon, Toothless, and the other inhabitants of clifftop Viking colony Berk five years after the end of the first film.
To help tell the tale of Hiccup's passage into adulthood, DeBlois introduced a menagerie of new dragons and three new human characters: Hiccup's long-lost mother, Valka, power-hungry villain Drago and dragon trapper Eret.
The Valka role was written with Cate Blanchett in mind, and the Oscar-winning actress came on board to voice the character after a chance meeting at the 2011 Oscars.
"I walked up to her and told her I [had written] her a part in Dragon 2," DeBlois remembers. "Fortuitously she said the [original] movie was a big hit in her household."
Djimon Hounsou's ominous delivery won him the role of Drago. "We didn't even have a design when we heard Djimon's voice," says Dragon 2 producer Bonnie Arnold, who also produced the original. "We heard how powerful his voice was and it just felt like it fitted."
The 3D animation challenges that the sequel presented included the creation of the Dragon Oasis, the haven that 'dragon whisperer' Valka has nurtured since leaving her husband and son, and the depiction of the film's climactic battle, during which two massive 'Bewilderbeast' dragons go head to head.
But there were also more subtle challenges, according to DeBlois. "Some of the characters themselves are much more complex than they were in the first film," he says. "They have many more controls and many more details."
In designing the look of the sequel, DeBlois once again worked with renowned cinematographer Roger Deakins (credited as visual consultant), who on the first film helped create lighting effects that gave a sense of reality to the action.
"I wanted to carry that forward with the second film to keep that sense of peril and consequence," DeBlois explains. "But because Hiccup is older [in the sequel] and the themes are a little more mature, it made sense to continue to find subtle ways of making the look that much more sophisticated."
Space-age tools
The task that DeBlois, Arnold and their team took on was made easier by DreamWorks Animation's breakthrough proprietary technology called Apollo, which got its first full workout on Dragon 2.
Apollo's two primary software components are animation tool Premo, which allows artists to work with characters in real time on tablet computers; and lighting package Torch, designed to help with lighting department workflow.
With Apollo, says DeBlois, animators "were able to work in a very intuitive way, with tablets and styluses. So it's like a pencil in the hand of an animator again instead of spreadsheets and graphs. It allowed the animators to go back and do a lot more refining. It's far less time-consuming and much more creatively liberating."
From Arnold's point of view, the Apollo technology helped to ease the production process and allowed the film-makers to get more on screen.
"DreamWorks had been working on this technological advance across the board for quite a time, and it just happened to be ready in time for us," says the Dragon 2 producer. "That was challenging but then again it helped us. It was more artist-friendly, yet more efficient in a lot of ways. We had budgeted to produce 88 minutes and we were able to get 92 minutes of finished footage. That speaks a lot [about] how efficient we were."
With How To Train Your Dragon 2 having proved even more popular than the original — it racked up an impressive $619m in worldwide box office this summer — Arnold and DeBlois have already discussed an outline for How To Train Your Dragon 3. DeBlois is currently writing a script and the trilogy finale is due to land in cinemas in June 2017.