Director Christopher Nolan also presented with Inspiration honour by Interstellar star Jessica Chastain.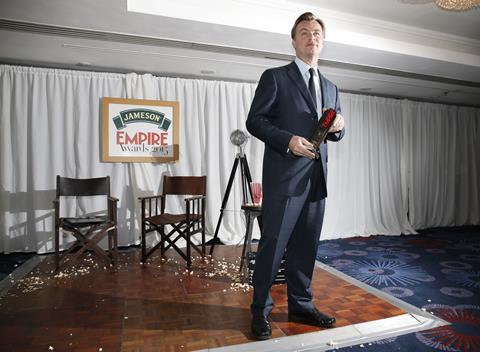 Scroll down for full list of winners
Sci-fi epic Interstellar picked up the best film prize at the Empire Awards in London last night (March 29).
Director Christopher Nolan was at the ceremony, held at Grosvenor House and hosted by actor James Nesbitt, to collect the award alongside producer Emma Thomas and star Jessica Chastain.
Chastain, who plays Matthew McConaughey's daughter in the film, was on hand earlier in the evening to present Nolan with the Empire Inspiration honour, which also earned the director of Inception and the Dark Knight Trilogy a standing ovation.
Nolan was back on stage shortly after to accept the best director award.
The awards, voted for by the public, delivered a surprise in the best actor category as Andy Serkis picked up the prize for his performance-captured turn in Dawn of the Planet of the Apes, beating Oscar-winner Eddie Redmayne and favourite Benedict Cumberbatch.
Taking to the stage to a roar of approval, Serkis said: "What I'm most gratified about in receiving this is that there are voice and ears out there to notice what's happening in filmmaking… The readers are so much more well informed than most of the film industry."
As previously announced, the Empire Legend award went to Ralph Fiennes, seen last year in Wes Anderson's The Grand Budapest Hotel.
Accepting the honour from his Schindler's List co-star Liam Neeson, the British actor-director said of his Legend award: "The 'L' word is best only applied to a small number of dead actors and is best treated with irony."
Thanking those who had helped him over the years, the star of The English Patient, In Bruges and upcoming Bond film Spectre said that his "arse has been saved and occasionally enhanced" by directors.
He added: "May the spirit of J.Lo, with whom I maided in Manhattan, stop me from ever taking myself too seriously – but I am serious about the work."
Full list of winners
Best Newcomer — Male
- Ellar Coltrane (Boyhood)
- Taron Egerton (Kingsman: The Secret Service) - WINNER
- Daniel Huttlestone (Into The Woods)
- Jack O'Connell (Unbroken)
- Dan Stevens (The Guest)
Best Newcomer — Female
- Sophie Cookson (Kingsman: The Secret Service)
- Carrie Coon (Gone Girl)
- Essie Davis (The Babadook)
- Karen Gillan (Guardians of the Galaxy/Oculus) - WINNER
- Gugu Mbatha-Raw (Belle)
Best Sci-Fi/Fantasy
- Dawn of the Planet of the Apes
- Guardians of the Galaxy
- The Hobbit: The Battle of the Five Armies
- Interstellar
- X-Men: Days of Future Past - WINNER
Best Horror
- Annabelle
- The Babadook - WINNER
- The Guest
- Oculus
- Under the Skin
Best Comedy
- 22 Jump Street
- The Grand Budapest Hotel
- The Inbetweeners 2
- The LEGO Movie
- Paddington - WINNER
Best Thriller
- Captain America: The Winter Soldier
- Gone Girl
- The Imitation Game - WINNER
- Kingsman: The Secret Service
- Locke
Best British Film
- The Imitation Game
- Kingsman: The Secret Service - WINNER
- Paddington
- The Theory of Everything
- Under The Skin
Best Actor
- Richard Armitage (The Hobbit: The Battle of the Five Armies)
- Bradley Cooper (American Sniper)
- Benedict Cumberbatch (The Imitation Game)
- Eddie Redmayne (The Theory of Everything)
- Andy Serkis (Dawn of the Planet of the Apes) - WINNER
Best Actress
- Emily Blunt (Edge of Tomorrow)
- Felicity Jones (The Theory of Everything)
- Keira Knightley (The Imitation Game)
- Rosamund Pike (Gone Girl) - WINNER
- Alicia Vikander (Ex Machina)
Best Director
- Peter Jackson (The Hobbit: The Battle of the Five Armies)
- Richard Linklater (Boyhood)
- Christopher Nolan (Interstellar) - WINNER
- Matt Reeves (Dawn of the Planet of the Apes)
- Morten Tyldum (The Imitation Game)
Best Film
- Boyhood
- Dawn of the Planet of the Apes
- The Hobbit: The Battle of the Five Armies
- The Imitation Game
- Interstellar- WINNER
Done In 60 Seconds
- UK: Ghostbusters- Oliver Jones & Robert Kenyon - WINNER
- Russia: The Grand Budapest Limited - Olga Goldfarb & Daria Mikhailova
- Bulgaria: Braveheart - Dimitar Kostadinov & Nataliya Petkova
- Armenia: Harry Potter - Mkhitar Danielyan & Aram Hayrapetyan
WINNER Empire Hero
Game of Thrones
WINNER Empire Inspiration
Christopher Nolan
WINNER Empire Legend
Ralph Fiennes