Alternative music pioneer Ryuichi Sakamoto and his regular collaborator, the leading electronic musician known as Alva Noto, talk to Tiffany Pritchard about their Bafta-nominated work on The Revenant.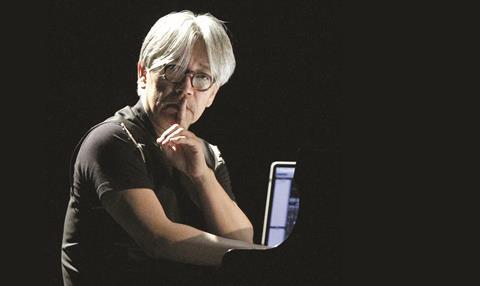 Seminal Japanese composer Ryuichi Sakamoto was taking a year-long break to recuperate from throat cancer — listening to French composer and pianist Gabriel Fauré, something he credits with "leading him back to the world" — when he received a call from Alejandro Gonzalez Inarritu. The two had worked together on Inarritu's Babel in 2006, and the Mexican director wanted Sakamoto to come to Los Angeles to talk about an upcoming project, The Revenant.
"I was still recovering so I wasn't sure whether I should accept or not," says Sakamoto. "But instinctually, I knew that it may only happen once in my lifetime, so I decided to go."
Known for working quickly, and with specific ideas, Inarritu had already compiled an extensive list of temp music, including some of Sakamoto's songs. The director wanted the score to have a profusion of electronic and acoustic layers to create a minimal yet emotional tone.
"He has this extraordinary sensibility for sound and music," says Sakamoto. "When I heard his temp score, I knew it would be difficult to satisfy him."
Double trouble
To begin with the composer worked from Tokyo, both for health reasons and because of a previous commitment to Yoji Yamada's Living With My Mother. "I have never worked on two films at the same time. It's incredibly hard," says Sakamoto.
He decided to enlist the help of Berlin-based visual artist and musician Carsten Nicolai — also known as Alva Noto — with whom Sakamoto has collaborated on five albums and 30 live shows in the past 10 years. Noto travelled to Los Angeles, where The Revenant was being edited.
"When you are working on a film that has few moments without composed sound, you can really go deep inside the music," Carsten Nicolai aka Alva Noto, musician
"Between the timeframe, the film's topic and Alejandro himself, the work was intensive," says Noto. "[Inarritu] was sometimes attached to only one specific sound. This made new proposals from our side challenging, but not impossible."
Noto says he learned a great deal from the film-maker: "His memory for sound and detail is amazing," he says. "When you are working on a film that has few moments without composed sound, you can really go deep inside the music."
Much of the orchestration was arranged by Sakamoto. This involved a wide variety of musicians including the Icelandic cellist/improviser Hildur Gudnadottir and the Japanese instrumentalist Motoko Oya.
The composer flew to Seattle to record string players at a chapel in a park. Together with Noto, he then worked to layer and mix the electronic sounds.
"It's impossible to separate [what was electronic and what was orchestral]," says Sakamoto. "Alva and I processed the recorded material with many plug-ins and heavy effects."
For the more classical-sounding compositions, Inarritu brought on board Bryce Dessner, the guitarist with US indie rock band The National, who also works regularly in film.
"Alejandro liked the idea of Bryce's classical style," says Sakamoto. "Unfortunately we didn't work together much as he recorded in Berlin. But Bryce heard and knew what I was doing so it was an indirect collaboration."
"Bryce has a different sound, and a different way of composing," Noto adds, describing his own work with Sakamoto as a combination of pure electronic sound and a classic acoustic instrument. "But on some points this is exactly what was needed — to build contrast is important."
Although Sakamoto and Noto have been nominated for a best original score Bafta, their unconventional composition was deemed ineligible for Oscar consideration.
"There is still a long way to go to understand sound itself," says Noto, who has worked in the more "extreme spectrum of electronic music" for 20 years. "I sense [the Academy] did not understand how this type of sound functions, or how electronic and classical composition is interwoven. Perhaps they could not see the detail and collaboration. Our score is in support of the image, the concepts, the movie. I think recognition for the score could encourage the next generation who is working with electronic sound."