Tom McCarthy's ensemble drama picked up an endorsement from a key critics group on Sunday that further bolsters its Oscar prospects.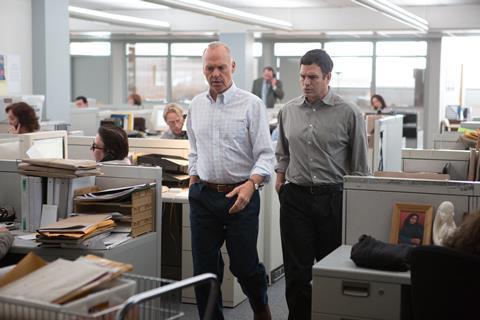 The Los Angeles Film Critics Association (LAFCA) voted Spotlight best picture and gave it best screenplay for Josh Singer and McCarthy.
George Miller earned best director for Mad Max: Fury Road, while Michael Fassbender and Charlotte Rampling prevailed in the alead acting categories for Steve Jobs and 45 Years, respectively.
"I am very pleased that our group selected a wide range of films, from big studio blockbusters to smaller independent films richly deserving of recognition," said LAFCA president Stephen Farber. "Our individual winners covered quite an impressive gamut in terms of age, experience and background."

The 41st annual Los Angeles Film Critics Association awards ceremony will take place on January 9 at the InterContinental, Los Angeles.
As previously announced editor Anne V Coates will receive the 2015 Lifetime Achievement Award.

Full winners:

PICTURE: Spotlight
Runner-up: Mad Max: Fury Road

DIRECTOR: George Miller, Mad Max: Fury Road
Runner-up: Todd Haynes, Carol

ACTOR: Michael Fassbender, Steve Jobs
Runner-up: Géza Röhrig, Son Of Saul

ACTRESS: Charlotte Rampling, 45 Years
Runner-up: Saoirse Ronan, Brooklyn

SUPPORTING ACTOR: Michael Shannon, 99 Homes
Runner-up: Mark Rylance, Bridge Of Spies

SUPPORTING ACTRESS: Alicia Vikander, Ex Machina
Runner-up: Kristen Stewart, Clouds Of Sils Maria

SCREENPLAY: Josh Singer and Tom McCarthy, Spotlight
Runner-up: Charlie Kaufman, Anomalisa

ANIMATION: Anomalisa
Runner-up: Inside Out

FOREIGN LANGUAGE FILM: Son Of Saul
Runner-up: The Tribe

DOCUMENTARY / NON-FICTION FILM: Amy
Runner-up: The Look Of Silence

NEW GENERATION: Ryan Coogler, Creed

FILM EDITING: Hank Corwin, The Big Short
Runner-up: Margaret Sixel, Mad Max: Fury Road

CINEMATOGRAPHY: John Seale, Mad Max: Fury Road
Runner-up: Edward Lachman, Carol

PRODUCTION DESIGN: Colin Gibson, Mad Max: Fury Road
Runner-up: Judy Becker, Carol

MUSIC/SCORE: Carter Burwell, Anomalisa and Carol
Runner-up: Ennio Morricone, The Hateful Eight

SPECIAL CITATION: David Shepard, "for his invaluable work in film preservation, particularly of films from the silent era."

LIFETIME ACHIEVEMENT: Anne V. Coates