Mads Matthiesen made a splash with his 2012 debut Teddy Bear. The Danish director talks to Wendy Mitchell about his English-language follow-up, The Model, which screens at Goteborg and Rotterdam.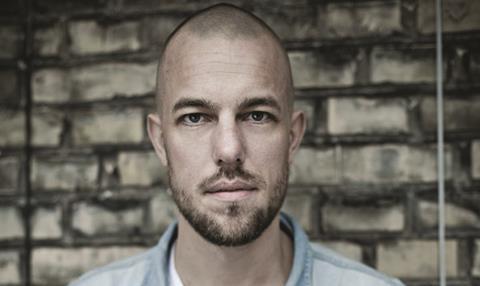 Mads Matthiesen went to Thailand to shoot his acclaimed debut feature, Teddy Bear, about a Danish bodybuilder who finally leaves his mother's house and finds love. It went on to win the world cinema directing award (dramatic) at Sundance in 2012. The setting of his first English-language film, The Model, is the high-fashion world of Paris and is told from the perspective of a young Danish model whose ambition starts to ruin her personal and professional relationships.
"Teddy Bear was about a guy who travels out in the world and is confronted by adult life, and I wanted The Model to be the same thing," says the writer-director. "I didn't want to do it as a coming-of-age story. I wanted to see this young girl deal with adulthood. She meets an industry that can be hard."
Someone forced to grow up fast in a strange world is not the only similarity the new film has to Teddy Bear. Matthiesen considers the questions he wants the film to address: "What is it when you call yourself an adult? What do you dream things are like and what is the reality? There is also a conflict between what goes on inside and our outer appearance that is in both films."
Hitting the runway
Matthiesen co-wrote the script with regular collaborators Martin Zandvliet and Anders August. He travelled the world, meeting Danish models and international bookers to understand the niche fashion world he wanted to portray.
His young star, real-life model Maria Palm, knows that world first-hand. She was only 20 when the film was shot, and plays 17-year-old Emma.
"It is a mirror on the whole visual time we are living in - the Instagram culture."
Of Palm, the director says: "She's not like Emma in real life, she's a very different person. Maria helped me a lot with the movie, she posed in the right way, she knew how to move in a shoot. All that stuff is important for realism."
The setting was also aided by a collaboration with France's L'Officiel magazine, which helped with photo shoots. Matthiesen discovered the fashion world was an interesting microcosm of the modern obsession with surface appearance. "It's a mirror on the whole visual time we're living in — the Instagram culture and people promoting themselves on social media," he says of the industry.
"Emma is very confused about what is love and what is recognition and that's something that interests me. I see it a lot with social media," he says. "That's a challenge today for a lot of young people — how do you get the closeness of a relationship when you're so focused on getting 'likes' from someone out there?"
The film-maker was keen to avoid the clichéd story of an innocent young girl who is corrupted by predatory men in the fashion world. Instead, Emma begins a relationship with Shane, a successful photographer (Screen International Star of Tomorrow and Transporter Refueled actor Ed Skrein), and she proves more ruthless than him.
"At the beginning I tried to make him a little dodgy but he wants her, and that is real."
Neither is Shane a throwaway character. "He is a little bit of a lost person," Matthiesen explains. "[The film features] a lot of lost souls who are trying to find love in all the wrong places. They are confused about the difference between love and superficial recognition."
The Model shot mostly in Warsaw with some exteriors in Paris and Copenhagen. It is set up as a Denmark-Poland co-production and produced by Jonas Bagger for Zentropa, with Louise Vesth and Marie Gade Denessen as executive producers. The co-producers are Film i Vast, Zentropa International Poland, Sputnik Film and Zentropa International Sweden. Backers include the Danish Film Institute, MEDIA, TV2 Denmark and the Polish Film Institute. TrustNordisk has already sold the film to France (AB Groupe), Poland (Kino Swiat), South Korea (Scene & Sound), Bulgaria (Pro Films) and the Middle East (Gulf Film). Nordisk is releasing it in Denmark on February 11.
The Model has its world premiere in Goteborg's Nordic Competition this week, returning to the festival after showing scenes as a work-in-progress presentation last year. It is also screening as part of Rotterdam's IFFR Live platform on January 30, which will see the film streamed to more than 40 cinemas worldwide.