Charlie Chaplin, Peter Sellers and Mr Bean were the inspirations behind animation success story Minions. John Hazelton explores the rise of the be-goggled ones.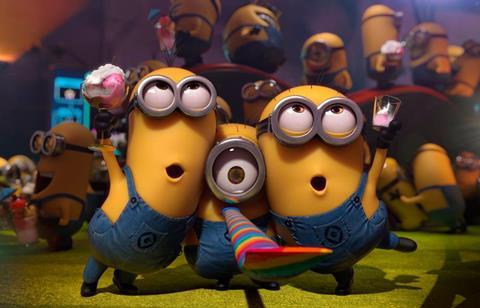 As massively successful as the Despicable Me films were — the 2010 original grossed $543.1m worldwide and the 2013 sequel $970.8m — even Pierre Coffin, French co-director of both CG animated outings, wasn't sure at first if the Minions could carry a spin-off feature of their own.
"We thought they were really funny, and invaluable as sidekicks," says Coffin of the cute yellow creatures with sweetly subversive attitudes who, in the original films, cater to every whim of franchise anti-hero Gru while making plenty of other mischief on the side. "But were they feature film material? That we didn't know."
The popularity of the Minions Mayhem rides at Universal's theme parks in Orlando and Hollywood, and of the short films that went out with the Despicable Me features' home entertainment releases, certainly suggested potential.
But it was only when screenwriter Brian Lynch (whose other credits include Illumination's Hop and DreamWorks Animation's Puss In Boots) pitched an idea for a prequel about the Minions' ages-old search for the most despicable of masters that Coffin, his spin-off co-director Kyle Balda (layout head on Despicable Me, co-director of Dr Seuss' The Lorax and director of the Minions shorts) and franchise producers Illumination Entertainment and Universal Pictures became really convinced.
Comedy pedigree
Citing Charlie Chaplin, Peter Sellers, Mr Bean and the Looney Tunes Road Runner cartoons as reference points, Coffin and Balda see the essence of the Minions' appeal in the characters' relatability — though they want an evil master, they're not really evil themselves — and their physical comedy, their language being a mostly unintelligible mash-up of international tongues invented and delivered by Coffin himself.
In their own film, however, the characters "needed to have a drive that an audience could relate to and invest in", Balda says. So in Minions, three of the be-goggled multitude — big brother figure Kevin, adolescent rebel Stuart and eager 'little brother' Bob — leave their Antarctic home and go on a mission to find a new master, a mission that takes them to New York, China, Australia and eventually a version of swinging sixties London.
Differentiating Kevin, Stuart and Bob without losing their essential Minion attributes was one of the first challenges the film-makers faced. Among the creatures' common characteristics is playfulness and, says Balda, "even Kevin, who's the responsible one, still had to loosen up and be the goofball sometimes". But the film's three heroes "also needed to have something clear that they were going for and in that regard we tried to give the audience something to hang onto".
The story has multiple criminal masterminds — in a nod to genre movie fans, they gather to compare schemes at a 'Villain-Con' convention in Florida — but one, the quick-tempered and stylish Scarlet Overkill, emerges as the Minions' potential new boss.
"We knew they had to have this human counterpart," recalls Coffin, "a real live human being they would have to interact with and play off. That would help us understand them and see them from a human perspective."
Making the main villain female, Coffin adds, was a nod to 1960s feminism. And casting Sandra Bullock to voice the role, explains Balda, gave the character a sweet side to contrast with her scarier moments.
Other characters woven into the action include the Nelsons, a 1950s nuclear family with a penchant for robbing banks; Scarlet Overkill's deranged mod husband Herb, voiced by Jon Hamm; a Beefeater played by Steve Coogan; and Queen Elizabeth II, vocally portrayed by Jennifer Saunders, of Absolutely Fabulous fame. The directors say they relied on their UK editor to keep things within the bounds of royal etiquette where the latter performance was concerned, though at the film's London premiere, Balda admits, "we were half expecting to have tomatoes thrown at us".
The film's international settings were chosen not to please global audiences, Coffin insists, but "mostly just to have fun. We went for the countries that we had ideas for".
The period setting, meanwhile, influenced the film's live-action-style lighting scheme and design and created opportunities for some clever visual jokes about, for example, the moon landing and the famous Beatles zebra crossing on London's Abbey Road.
Telling a 1960s story, says Balda, "gave us a little bit more licence to be fantastic and surreal. The production design was fun to play with, because of the psychedelia and the music" — the film's soundtrack includes songs from The Doors, Jimi Hendrix, The Kinks and The Who — "and being able to marry those with the Minions".
Devil in the detail
The film's animation work called on the two directors and their team at Paris facility Illumination Mac Guff (formed in 2011 after the acquisition by Universal Pictures of the feature animation division of French visual-effects company Mac Guff Ligne) to find solutions to some familiar and some not-so-familiar problems.
The frenetic 'Villain-Con' sequence that introduces Scarlet Overkill during a presentation she gives to a crowd of less accomplished evildoers was partly hand-animated and partly created with particle systems (formulas used in computer graphics to create large numbers of objects).
"When you look at the crowd there is an immense level of detail," Coffin points out. "You can see animators having fun and putting jokes in, which we've been doing since the first Despicable Me."
A sequence during which Kevin grows to many times his normal size and rampages through the streets of historic London required a special effort to match the character with its graphic surroundings.
"Once you scale Kevin up really big like that," Balda explains, "it starts to look almost like the city is a miniature city. That was partly solved with the camera angles, or always having some sort of scale reference. And then Pierre found a way with the animators to animate Kevin in a slower fashion to also give him some scale."
According to Coffin, the most challenging scene in the entire film was one that in fact only appears after the closing credits.
Cinema-goers who stay until the end of the closing title crawl get to see a fun version — complete with indecipherable 'Minionese' lyrics — of Beatles' classic 'Revolution' performed at first by Kevin, Stuart and Bob but eventually by the film's entire cast of characters (plus Despicable Me's Gru, who makes a brief appearance as a fledgling villain towards the end of the film itself).
"You can't imagine the number of people that worked on the scene," says Coffin of the four-minute sequence. "We've got all the characters from the movie in there and we had something like 12 animators working on it. So it had a lot of logistics and involved a lot of talking to each other. It was really tricky."
Time-saving technology
The animation effort was helped by the fact that Minions was the first Illumination feature for which the company's proprietary Mac Guff Ligne rendering software incorporated full function 'radiosity', a rendering algorithm for the realistic depiction of shadows, diffuse light and bounced colour.
The upgraded software allowed the Minions to stand out against the film's Technicolor-style backgrounds and avoided problems such as yellow objects seeming to turn green when placed in a blue environment.
The upgrade, Coffin explains, meant that in a couple of hours the Illumination Mac Guff artists could produce "a quality of image that sometimes used to take days for a single frame.
"The rendering team over here is very careful about these things. They tried it out on a couple of shots on other shows and when they deemed it ready they released it and educated everyone on how to use it. So we were asking all the rendering guys to be individual directors of photography — they needed to work like a photographer does."
Getting more done in less time is part of the Illumination way, a method that saw Minions completed in a relatively short (for a CG animated feature) three years on a relatively modest reported budget of $74m.
Another resource-saving aspect of Illumination's working style is the day-to-day involvement of company founder and CEO Chris Meledandri, who produced Minions with Janet Healy. "We work closer to God than other studios," Coffin jokes. "It's us and Chris Meledandri. We're making a movie for him and he's constantly available. We have him on the phone or in conference three times a week."
Now in the works at Illumination is Despicable Me 3 — set for release on June 30, 2017 by Universal — being directed by Coffin, Balda and Eric Guillon, production designer and character designer on Despicable Me 2 and Minions.
Coffin asserts there have been "no talks" about a sequel to Minions itself. But given the film's astounding performance — a worldwide take of $1.1bn, making it the highest-grossing non-Disney animated film of all time — another starring adventure for Gru's original sidekicks seems inevitable.
Voice of the hive
Director Pierre Coffin created the many voices of the Minions.
In addition to serving as a director on the two already released Despicable Me movies, the upcoming second sequel and the Minions prequel, Pierre Coffin has always had a second job on the franchise — giving voice, in his own part-multilingual, part-nonsensical way, to the Minions themselves.
Having a director who doubles as a voice performer works to the franchise's advantage. "It makes it easier, because you're allowed screw-ups," says the self-deprecating Coffin. "You can try an idea and, if it's not going to work, go back to the office, record something else and give that to the animator to try.
"Access to me is very easy. There would be cases when an animator would ask if I could say a word or illustrate a feeling because they needed something to hang onto. And I would turn the voice around in a couple of hours, as opposed to a day — or sometimes months — when you're dealing with… I was going to say 'the real talent.'"
In the prequel, of course, three of the Minions become distinct lead characters, so Coffin's second job became both more time-consuming — he recorded from 8.30am to 10am every day on the project — and, because the story recaps the Minions' long globe-trotting evolution, more complex.
Drawing inspiration from Charlie Chaplin's The Great Dictator (in which title character Hinkel makes a speech in comical fake German) and from Ron Perlman's demented hunchback in The Name Of The Rose, Coffin developed the Minions' language to better reflect their history.
"If the Minions were here from the beginning of time," he explains, "and have been serving these masters all over the world, that would imply that they speak a universal language with bits of English, Spanish, French, Italian, Russian, Chinese, Japanese…. So I had an excuse to make myself a little bit more understandable. We needed to have some words that felt real or familiar, even if you didn't understand them.
"In Despicable Me it was basically gibberish. In Minions it's more of a language, as opposed to me just having fun behind a mic."
One scene in particular forced Coffin and the sound designers at George Lucas's Skywalker Sound facility to come up with some new tricks. When lead Minion Kevin is briefly transformed into a giant, the challenge was to give his voice a correspondingly large, bassy sound without distorting the words of 'Minionese' being spoken. The solution was to physically raise the pitch of Coffin's voice during recording so that it could then be electronically lowered to get the bassier sound.
"I went through a lot of helium," says Coffin of the process. "Helium and then Skywalker did some stuff to have the room shake whenever I spoke."