The Grand Budapest Hotel and Birdman joined Boyhood in the Oscar heavyweight contender category as the Fox Searchlight pair earned nine nods apiece in a nominations announcement that otherwise bristled with surprises.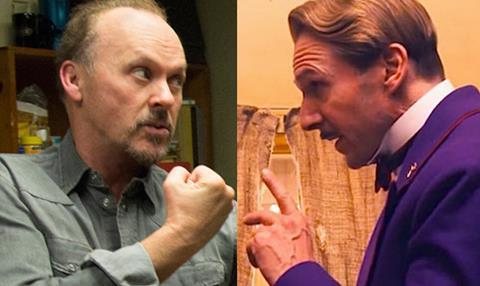 OSCARS 2015
The nominations underscored the strength of independent cinema and studio specialty divisions in awards season and capped a sensational week for Fox Searchlight following Golden Globes success for both Birdman and The Grand Budapest Hotel at the weekend and a record 24 BAFTA nominations last week.
Today's news delivered a record 20 Oscar nominations for Fox Searchlight and a record 18 for Sony Pictures Classics, whose wide portfolio of films was led by five nods for Foxcatcher.
The Grand Budapest Hotel and Birdman took their place among eight best feature nominees and delivered best director nods for Wes Anderson and Alejandro G Iñárritu as well as recognition in the original screenplay category.
As expected, IFC Films' Boyhood is in the mix with six senior nominations for best feature, director and original screenplay for Richard Linklater, supporting actress and actor for Patricia Arquette and Ethan Hawke and editing for Sandra Adair.
Whiplash secured five nominations including best feature, editing, sound mixing and adapted screenplay.
Pathé's Selma is in the running for best feature and original song but US distributor Paramount did not make the splash some expected it to with Academy voters.
The film may have suffered from much publicised claims over alleged historical inaccuracies and the fact that Paramount did not send out screeners to the Guilds, many of whose members also vote for the Oscars.
Ava DuVernay and David Oyelowo were shut out of the director and lead actor categories.
Nominees by the numbers
9 - Birdman, The Grand Budapest Hotel
8 - The Imitation Game
6 - American Sniper, Boyhood
5 - Foxcatcher, Interstellar, The Theory of Everything, Whiplash
4 - Mr. Turner
3 - Into the Woods, Unbroken
2 - Guardians of the Galaxy, Ida, Inherent Vice, Wild, Selma
Best Actor
Besides Oyelowo's omission, Jake Gyllenhaal did not make the lead actor cut for Nightcrawler (released in the US via Open Road) and neither did Palme d'Or winner Timothy Spall for Mr. Turner.
However, Sony Pictures Classics will be rejoicing the fact that Steve Carell joined the party for Foxcatcher, which made the most unexpected gains perhaps of any film, earning five nods including best feature and director for Bennett Miller and adapted screenplay.
Golden Globe winners Michael Keaton and Eddie Redmayne remain the lead actors to beat for Birdman and Focus Features' The Theory Of Everything, respectively.
Bradley Cooper earned his third lead actor nod in three years, this time for Warner Bros' American Sniper, while there was a first nomination for Benedict Cumberbatch of The Imitation Game, which The Weinstein Company handles in the US.
The Imitation Game drew eight nods overall including best feature, director for Morten Tyldum, supporting actress for Keira Knightley, score for Alexandre Desplat and editing for William Goldenberg.
Best Actress
Cineastes around the world will be delighted with the inclusion of former Oscar winner Marion Cotillard in the lead actress contest for Two Days, One Night, distributed in the US via Sundance Selects.
Globe winner Julianne Moore must be viewed as the front-runner for her performance in Sony Pictures Classics' Still Alice.
Fellow nominees included Felicity Jones for The Theory Of Everything – which earned five nominations overall – Rosamund Pike for Gone Girl and Reese Witherspoon for Wild.
Jennifer Aniston, fancied in some quarters for her against-type performance in Cake, was shut out, as was Amy Adams, a Globe winner for Big Eyes.
Supporting noms
Supporting actor categories returned solid nominees led by Golden Globe winner and clear favourite JK Simmons (Whiplash) for the men – Foxcatcher's Mark Ruffalo also earned a place at the table – and front-runner Patricia Arquette (Boyhood) for the women.
Force Majeure did not make the cut in the foreign-language stakes, where there is recognition for Poland's Ida and the Golden Globe winner Leviathan representing Russia. Argentina's Wild Tales, Tangerines from Estonia and Timbuktu from Mauritania round out the five.
Warner Bros' The LEGO Movie failed to make the cut in the animation category in one of the biggest surprises of the day, picking up one nomination with Everything Is Awesome for original song.
Warner Bros' Inherent Vice earned two nods for adapted screenplay and costume design; and Unbroken three, including cinematography for Roger Deakins.
Nightcrawler earned a single nomination for Dan Gilroy's original screenplay.