UK costume designer Sandy Powell has four Bafta and Oscar nominations this year for her work on Cinderella and Carol. She talks to Tiffany Pritchard.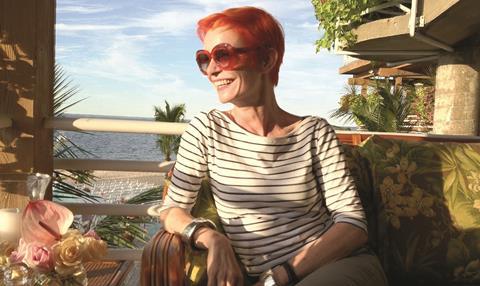 "Faultless" is the word used by many in the world of costume design to describe Sandy Powell. And the veteran UK designer has been duly recognised for her costume-design efforts across 40 films: she has three Oscars (The Young Victoria, The Aviator and Shakespeare In Love), two Baftas (Velvet Goldmine and The Young Victoria) and a slew of other accolades.
"When first meeting with a film-maker, it's best to let them do the talking."
Last year was a typically busy one for Powell, working on Kenneth Branagh's opulent Cinderella followed by Todd Haynes' 1950s-set romantic drama Carol. Her costume design on those films has been recognised by both Bafta and Oscar voters. The two films could not be further apart in concept and that is what fuels Powell's imagination.
Known for her bold use of colour and ability to contemporise period films, Powell began her career working with Neil Jordan and Derek Jarman, and has been costume designer on Martin Scorsese's films since Gangs Of New York (2002). Carol is her third collaboration with Haynes. "I try to push the boundaries, whether it's new fabrics and materials or inventing new ways of making something," says Powell. "Each film is different, and I'm always interested in learning."
She is also steadfast in her belief she is there to serve the director's vision. "When first meeting with a film-maker, it's best to let them do the talking," she says. "It's their creative vision. Plus, I don't want them to get tied to early ideas I have that, more often than not, I'll want to change."
As one of the highest-budgeted films Powell has worked on to date, Disney's Cinderella offered huge creative scope. She made, rather than bought, the majority of the extras' costumes in the grand ballroom scene, and was able to have duplicates when needed. "Every single step of the way I designed, from the sequins to the buttons," she says.
While Powell does not typically work in sketches, she opted to do so on Cinderella in order to work out ideal matches of colour and design for the characters. She then placed the sketches on stick people to communicate her ideas to the costume makers. In addition to Cinderella's lavish blue ballroom dress, of which she made two, Powell is particularly pleased with Helena Bonham Carter's Fairy Godmother costume, which required a battery pack to power fairy lights sown into the dress. It had to be switched on by an engineer reaching up the actress's gown.
The most pivotal design was the Swarovski glass slipper Cinderella (Lily James) wears to the ball — Powell fought hard to convince her technical team to make a real glass shoe. "I wouldn't take no for an answer," she smiles. "I made a neutral shape that could work for either foot." While they were not actually wearable, eight glass slippers were created.
Working on instinct
In terms of budget and production size, Carol — produced by Film4, Number 9 Films and Killer Films — was more modest in scale. "We had little time and money so we had to work fast and trust our instincts. You can't try things out — you just have to go with it," says Powell, who credits director Haynes with excelling in such pressured situations.
"Todd is very specific in his artistic vision," she adds, praising his 'look books' as being "good enough to be placed on someone's coffee table".
"He always has a massive amount of research that he presents early on. For Carol, he referenced New York street photographer Saul Leiter, whose muted backgrounds are accentuated with hints of rain and splashes of colour," Powell says. "I went back and did my own research, and we met again to pull it all together."
The London-born designer sifted through copies of Vogue and Harper's Bazaar from the film's early-1950s era. The magazines highlighted the full-skirted 'Dior New Look' that was fashionable at the time — a style Powell decided was "too extravagant" for Carol (played by Cate Blanchett, who the designer also outfitted as the stepmother in Cinderella). Instead, she decided on a narrower silhouette with dresses incorporating soft shoulders and a nipped-in waist, placing a focus on the character's curves.
Working with costumier Mary Ellen Fields in Los Angeles, Powell made 80% of the outfits Carol wears in the film. The designer's attention to detail and character is visible throughout — for instance with the blue dress Carol is wearing when Rooney Mara's Therese first visits her house. "I saw an image of Marlene Dietrich wearing a dress with a low-plunging neck side with buttons going all the way up the back," recalls Powell. "I thought it was perfect for Carol, who has to look like she hasn't thought about what she is going to wear, even though she has."
Powell also needed to be resourceful. The outfit Carol wears on her first lunch date with Therese — a grey dress with a corresponding jacket and coral scarf — was later transformed into the cocktail dress worn at a party.
Carol's extravagant 'blonde mink' coat was made by vintage fur specialist Larry Cowit in New York City. The coat had a good workout during the shoot. "The poor costumer who looked after Cate spent every lunch and evening repairing it," says Powell.
Powell took a different approach with Therese, sourcing most of her outfits, including the plain grey-pleated dress she wears as a Bloomingdale's counter clerk, from costume companies in Los Angeles and New York. She also rummaged through vintage fairs in New York, where she found items such as Therese's hooded jacket and her red, green and yellow tam o'shanter, or beret.
Following Haynes' look book, Powell worked with production designer Judy Becker and Blanchett's hair and make-up team Kay Georgiou and Morag Ross to emphasise various colours and ensure they popped on screen. "We had decided on a coral colour for Carol's scarf, nails and lips, and that worked well throughout the film," she says. "But things like the bright coloured walls in the Bloomingdale's store and the more muted colours worn by Therese and Carol — it wasn't something we specifically planned."
The vivid red coat worn by Carol in the Manhattan street, on the other hand, was entirely planned. "I don't use red often as it carries so much significance, people expect something to happen," Powell explains. "But I didn't want to use the fur coat and I didn't want a black coat. It ended up standing out really nicely."
Awards history Sandy Powell
Academy Award nominations
Best Costume Design:
1994 Orlando
1998 The Wings Of The Dove
1999 Shakespeare In Love, Velvet Goldmine
2003 Gangs Of New York
2005 The Aviator
2006 Mrs Henderson Presents
2010 The Young Victoria
2011 The Tempest
2012 Hugo
2016 Carol, Cinderella
Bafta Award nominations
Best Costume Design:
1994 Orlando
1995 Interview With The Vampire
1998 The Wings Of The Dove
1999 Shakespeare In Love, Velvet Goldmine
2000 The End Of The Affair
2003 Gangs Of New York
2005 The Aviator
2006 Mrs Henderson Presents
2010 The Young Victoria
2012 Hugo
2016 Carol, Cinderella
Loving detail: Costume Sketching Carol
Carol The fur coat [see first sketch right]
The fur coat is Therese's first image of Carol. "It had to create an overwhelming impression," says Powell. While the designer knew the specific pale colour and shape she wanted, she couldn't find both in an existing coat so hired vintage fur specialist Larry Cowit in New York City to create the extravagant 'blonde mink' using pieces from other vintage coats. "It was a labour of love," says Powell.
Carol The red coat and checked suit [see second sketch right]
A tailor-made red, black and grey checked suit worn with a red coat that was hired. The hat is traditional to the time period, normally worn to the side of the head.
Therese The brightly coloured beret [see third sketch right]
Powell found Therese's hooded jacket and red, green and yellow beret at a vintage fair in New York. The scarf is mismatched, to highlight Therese's pragmatic dress sense.
Therese Bloomingdale's uniform [see fourth sketch right]
Therese wears a plain dark-grey wool dress with pleats while working at Bloomingdale's, where employees were instructed to wear dark or neutral colours. She interchanges different sweaters and blouses underneath.