The Catholic Church sex abuse drama earned five awards on Saturday including best film in a great night for Participant Media that saw Film Independent voters slap the Academy in the face and hand its two male acting prizes to Beasts Of No Nation.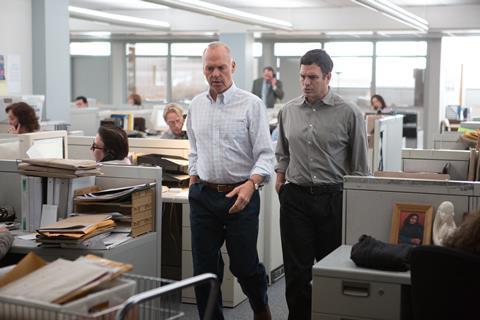 Open Road/Participant Media's Spotlight also landed best director for Tom McCarthy at the 31st Film Independent Spirit Awards held in a tent on Santa Monica beach, as well as screenplay for Josh Singer and McCarthy, editing for Tom McArdle and the previously announced Robert Altman Award for best ensemble.
Voting members honoured Abraham Attah with best male lead and Idris Elba with best supporting male for their roles in Netflix/Participant Media/Red Crown's child soldier drama Beasts Of No Nation.
The pair were popular winners and their triumph offered perhaps some redemption after the Academy triggered the #OscarsSoWhite backlash when it omitted them – and other non-white actors – from its Oscar nominations.
Elsewhere Oscar favourite Brie Larson was named best female lead for Room, Mya Taylor best supporting female for Tangerine, Son Of Saul best international film, and The Look Of Silence best documentary.
Ed Lachman won best cinematography for Carol and Emma Donoghue best first screenplay for the adaptation of her own novel, Room.
Trey Edward Shultz's Krisha won the John Cassavetes Award for a feature under $500,000 and Marielle Heller's The Diary Of A Teenage Girl was named best first feature.
Full winners list:
BEST FEATURE FILM
Spotlight

BEST FEMALE LEAD
Brie Larson
Room
BEST MALE LEAD
Abraham Attah
Beasts Of No Nation
BEST DIRECTOR
Tom McCarthy
Spotlight
BEST SUPPORTING FEMALE
Mya Taylor
Tangerine
BEST INTERNATIONAL FILM
Son OF Saul (Hungary), László Nemes
BEST SCREENPLAY
Tom McCarthy & Josh Singer
Spotlight
JOHN CASSAVETES AWARD
(Best Feature Under $500,000)
Krisha, Trey Edward Shults
BEST CINEMATOGRAPHY
Ed Lachman
Carol
BEST FIRST FEATURE
The Diary Of A Teenage Girl, Marielle Heller
ROBERT ALTMAN AWARD (Best Ensemble)
Spotlight
Tom McCarthy
Casting Directors: Kerry Barden and Paul Schnee
Ensemble cast: Billy Crudup, Paul Guilfoyle, Neal Huff, Brian d'Arcy James, Michael Keaton, Rachel McAdams, Mark Ruffalo, Liev Schreiber, Jamey Sheridan, John Slattery, Stanley Tucci
BEST DOCUMENTARY
The Look Of Silence, Joshua Oppenheimer
BEST FIRST SCREENPLAY
Emma Donoghue
Room
BEST SUPPORTING MALE
Idris Elba
Beasts Of No Nation
Piaget Producers Award
Mel Eslyn
Truer Than Fiction Award
Incorruptible, Elizabeth Chai Vasarhelyi
Kiehl's Someone to Watch Award
King Jack, Felix Thompson
BEST EDITING
Spotlight, Tom McArdle