The team behind timely historical drama Suffragette speak about bringing the story to the screen and playing a part in global cultural change.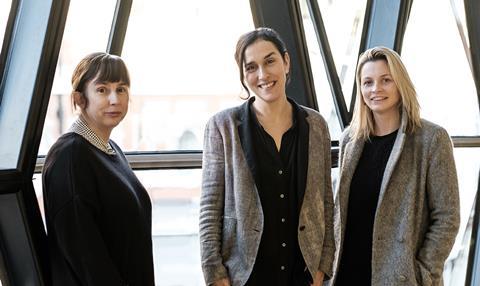 Suffragette made its world premiere at Telluride in September, before going on to open the BFI London Film Festival and play widely at international film festivals, sparking conversation and debate from Stockholm to Dubai.
Director Sarah Gavron, writer Abi Morgan, producer Faye Ward and Pathé UK managing director Cameron McCracken come together to talk about capturing a moment in the culture, how different audiences are engaging with the film's themes, and why they are hopeful Suffragette can inspire legions of other female film-makers.
Faye Ward (producer): Sarah, Alison [Owen, Suffragette producer], Abi and I all made Brick Lane together in 2007. We were still in post-production on that film when Alison had lunch with someone from Focus Features and the idea for Suffragette was brought up. Alison mentioned it to Sarah, who had already been researching it as the story was something she was really interested in. We immediately knew how important this subject matter was, and that it was a story we wanted to tell.
Sarah Gavron (director): It was astounding to me that this aspect of the suffragette movement was not widely known. People knew the Mary Poppins version of it, and a few iconic moments, so this story felt long overdue.
When we went into the research and found the stories Abi ended up focusing on, it felt resonant with events that were unfolding in the world even beyond the gender or sexual equality issues.
The surveillance story, which we found when the police archives opened up in 2003, seemed to echo so much of what was being reported in the newspapers, as did the police violence and people's journeys towards activism.
Abi Morgan (writer): It felt similar to Brick Lane, which was a story about a woman who intelligently comes to terms with an arranged marriage and sees its value but ultimately realises she has to move on.
Suffragette is about a group of women who intelligently address the situation they're in and find an active way to move on. When we looked at the working underclass, we realised they were the fire in the engine of the movement.
Gavron: We decided to focus on Maud [played by Carey Mulligan] and her working-class world, and also set it within the 16 months when militancy was at its height, which reached a climax with Emily Wilding Davison's death. So there was a shape to it, which distilled the essence of this struggle.
Developing the character of Maud, who was initially passive and embarked on a journey towards activism, was also a way to take the audience on that journey, rather than finding all these women who were already engaged in a fight of which we didn't know the origins.
Ward: We were so assertive. We knew exactly how we wanted our film to look and to feel. We went to financiers and straight away you knew that people were completely bamboozled [by our vision]. They assumed what something was going to be and then were confused. But when Cameron read it, he totally understood the kind of film we wanted to make.
Cameron McCracken (managing director, Pathé UK): I thought I knew about the suffragette movement, so I was surprised and very interested. I felt it was the right time for the story, that it would find an audience and it had a very powerful message.
Gavron: It felt, intuitively, the right way to go. The power came from the material. When you read those accounts, they were women of deeds, not words, and there was something very fluid and action-packed about their lives which endlessly countered your expectations.
Morgan: Sometimes as a writer on your own, you come in with an idea and then have to compromise. The methodology of us working together on one film meant that we could come in strongly as a team, and go, "This is an initial idea, this is how we think we can execute it."
My experience of having done The Iron Lady with Pathé is that Cameron appreciates what it means to do a big biopic on one life, and they thought it was interesting to look at the biopic of a movement in a fresh way.
"To attract the audience, you really do need those kite-marks of quality the great actresses provide" - Cameron McCracken, producer
McCracken: I wouldn't have been interested if it were a period piece that did not feel relevant.
Of course, I still have to take a calculated risk but, because of the sorts of films that Pathé UK does, which broadly tend to be quite politically progressive films, I have a pretty good idea of the international value of those sorts of films.
This market knowledge made it easier than it otherwise would have been, because I do think it's a very hard sell. When I sat down with buyers in Cannes in May 2014, with a four-minute promo, there was a resistance. There was a feeling of, "Well, this is a film that's only for women, so already our audience is halved."
But then, for most of these upscale dramas, the core audience always has been women. They take husbands, boyfriends, friends, and that's how men access these sorts of dramas.
I never bought the notion of saying that somehow you're ruling out half the audience. And we knew with Carey in the mix already, we would gather a strong cast.
Gavron: Carey Mulligan is an extraordinary actress who can inhabit a character and be so truthful, and she instinctively felt right for the role [of Maud].
We sent off the script and, two days later, got a call from Carey's agent. I met her in a café, and spoke very fast and nervously about the film for about 15 minutes, and she put her hand across the table and said, "I am going to do it."
Carey really is able to carry an internal journey, and this was a way to get away from it being a film that only had a message and not an experience; it was about connecting with these women as human beings, going on an emotional journey with them and seeing the world through their eyes.
McCracken: Casting wasn't a pre-condition of us saying, "OK let's make this happen," because I was confident we'd get a cast of stature. But it's very important for marketing purposes, because the material is tough. In order to have the tools to attract the audience, you really do need to have those kite-marks of quality that the great actresses provide.
Gavron: It was Carey who initially suggested Meryl Streep. It was the last piece of casting and we were trying to work out who could play Emmeline Pankhurst in that one sequence. We had talked about the fact it would be great to get an iconic actor to play this iconic role.
Carey rang me and said that she'd been on a walk with her mum, and her mum said that it had to be Meryl Streep. And I said, "Tell your mum, in her dreams!" Then I put down the phone and thought about it, and thought, "That could be really interesting."
So we approached Meryl, and it was another great moment when she did respond to the script, and the idea of it. She's a great advocate for women in the film industry, and for women's rights generally, so it chimed with her in that way.
Ward: I remember Helena's [Bonham Carter] first day of shooting, which was about three-and-a-half weeks in, and we were in the middle of a field off the M25, shooting the bombing of the house. It was pissing down with rain, and she ran back to me shouting, "I love this job!" The whole cast enjoyed doing something different.
Gavron: It was also very important to have a proper counterbalance. The men of the time weren't villains. Brendan Gleeson responded to the script, and that role [of Inspector Arthur Steed], because he saw that complexity. I think he felt there was a really interesting journey there, of a man trying to uphold the law but beginning to question it.
Morgan: You need resistance, so you need the men to be as strong as the women. Yes, they are supporting roles, and we've talked about the fact that when those parts went out they were much harder to cast because men were going, "Well yes, that's a great role but I'm not really doing anything."
But it's not about doing a movie where the women are brilliant and the men are weak; it's about the complexity of those men. Ben Whishaw [who plays Maud's husband Sonny] brings so much that you can see such a complex journey with very little dialogue, and you realise this guy doesn't know what to do; he's cornered. We wanted to capture what that feels like.
McCracken: For Suffragette it was simply timing, and what would be the smartest venue to launch the film.
Gavron: Telluride takes only 25 films. So you see a lot of them, and then stand in coffee queues and talk to audiences.
Ward: Not only do you meet all the other film-makers, you're also with the public. We all went to a bookstore to have a coffee, and one minute we're having a chat with Alexander Payne who has seen your movie, and then we're talking to a wonderful woman from Arkansas who wants to tell you her life story because she's seen and loved the film.
Morgan: It's oddly democratic, that is what's so nice about it, getting to sit with people who have seen the film. Telluride was a great launch for us.
Gavron: Then we went to London [Film Festival] which couldn't have been more appropriate. The film's set here, it was shot here, we all live here. It's in the fabric of the film, and it was very exciting to open the festival. Their support was essential, and gave us huge confidence.
Ward: When it went on theatrical release in the UK, I had total trepidation. We're right in the awards window of extraordinary movies, there are 50 of us out there, so it's hard to know what's going to ignite or not.
McCracken: The marketing campaign was planned to be almost conventional, if somewhat defiant. Three women staring out against the bold, bright colours of the suffragette movement felt modern because of the colour scheme and the typeface, but the women [Mulligan, Streep and Bonham Carter] were reassuringly well known.
It's about modelling these kinds of films into a more mainstream environment, through the imagery and the trailering and the choice of images. Equally as important was the massive level of support that came in from everybody from Google to the National Union of Students — we had a huge educational outreach programme — and the British Film Institute teamed up with its national network of cinemas to drive a 'women in cinema' season.
This stuff is great for the film because they are telling everyone about it, but it's also great for them because they are using the interest in the film industry to drive awareness of their programmes.
Ward: Here [in the UK], we felt everybody was ready for the conversation and we just popped the lid off. Whereas in the US, the conversation wasn't happening, so it's a harder thing to infiltrate. America is so vast. The message is already slightly diluted by the time you get to the other side of the country.
McCracken: Focus's US marketing strategy was broadly the same [as the UK]. They were looking to drive it to a mainstream audience, but the artwork and design of their campaign was more political, highlighting the more militant side of the suffragette movement, in a bid to take it to a younger and cross-gender audience.
Gavron: Abi and I did Q&As at targeted screenings [across the US] with groups from all different backgrounds. It was inspiring to hear people saying it had made sense of their own experiences. People who had experienced sexual violence saying they were glad it had given a voice to that, or somebody from Black Lives Matter talking about activism.
McCracken: With all these kinds of films, you're taking them often to countries that have different attitudes towards anything that isn't part of what's viewed as the orthodoxy. There are parts of the world that are deeply resistant to films where the lead protagonists are not white, for example, or you have territories that are straight-up homophobic.
In terms of having Suffragette screen in other countries where there's a resistance to gender equality, or where inequality is embedded culturally, it will be more controversial. We'll find a smaller audience, doubtless, but it will be a very important audience.
Gavron: We're hopeful the film will help to affect change because it's so important that film reflects our culture more, that film-makers are not just coming from one small area of our culture.
Morgan: I'm excited about the number of writers, directors and producers we've spoken to who have been inspired. I want my daughter to believe she could be a director or a producer, rather than just an actress. We need to keep talking about diversity in the industry.
McCracken: We shouldn't forget there are almost no women directors. I know it's written about, but it's an appalling truth.
So to see the writer, the producer, the director, a lot of heads of department on this film as women coming together to tell a story they were passionate about, and to have that recognised and embraced by the public, is wonderful.
Gavron: At this year's BIFAs, the Pathé table had Gurinder Chadha, Amma Asante and me; three women directors who had made films within the last year, which is really exciting. There are lots of champions out there supporting women in film.
McCracken: Change is incremental, and you have to push hard. What's interesting is that for the first time there appears to be a stronger engagement with the subject, and at least space is being given to the debate about how you shift to have more women; there is a willingness to listen and engage.
Morgan: That is the message of the film. The last line is, "Lead on," and in a way that's the most important element. Keep going. What else can we do?