When the Schulz family entrusted the Peanuts characters with director Steve Martino, they had two stipulations: no twerking and no iPhones.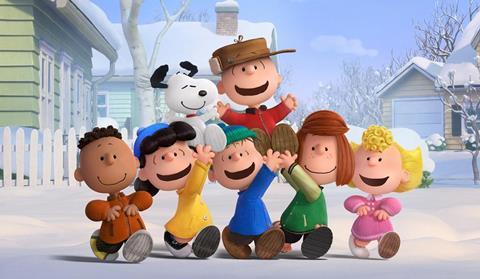 Steve Martino has turned an early passion for computer animation into a stellar career, directing features including Horton Hears A Who and Ice Age: Continental Drift, both for Blue Sky Studios.
When 20th Century Fox Animation, which releases Blue Sky's films, brought him on board to direct The Peanuts Movie, the first feature version of Charles Schulz's long-running comic strip Peanuts in 35 years, Martino knew the biggest challenge would be retaining the spirit of Schulz's characters, including Charlie Brown, Snoopy and Lucy.
The rights to those characters are owned by Peanuts Worldwide, a joint venture of the Iconix Brand Group and the Schulz family. Craig Schulz, Charles Schulz's son, represents the family estate, and began to work on a new story with his son, the screenwriter Bryan Schulz.
Martino was finishing Ice Age: Continental Drift when he first met with the two Schulzes in Santa Rosa, California, home of the Charles M Schulz museum.
"It was the antithesis of the power lunch," Martino recalls. "We were in the Birthday Room of the Warm Puppy, a little cafe that's next to the skating rink where Charles Schulz had lunch every day when he created the comic strip. So we were there with pictures of Snoopy on the wall and we talked about making a movie together."
The Schulzes wanted to be sure the characters would not be modernised. "We don't want to see Charlie Brown twerking or pulling out his iPhone," Martino says with a laugh.
With that caveat happily in place, Martino knew the film needed to combine nostalgia for the comic strip, which began in 1950 and ran until 2000, with a contemporary feel that would appeal to a 2015 audience who might not have heard of Peanuts before. (The name is thought to refer to a 1950s word for 'children', although Schulz famously never liked it as he thought it nonsensical.)
"The great thing is the stories really are timeless," says Martino. "Charles Schulz was able to connect with people about the human condition. His stuff was not really about pop culture, it was about universal ideas and feelings. Like Charlie Brown's feelings of insecurity: 'Will I ever achieve something?' and 'do people like me?' These things are timeless and we made certain we utilised that.
"We create moments where we can introduce the fact that Peppermint Patty is a great athlete and that Marcy is really smart, that Pig Pen has this dust cloud, that Sally likes Linus," says Martino of how the team worked it out. "It makes for fun story-telling. If you're a fan, you love reliving some of those moments, and for a new generation you get brought into the story by understanding who the individual personalities are."
Back to the storyboard
Martino developed the script through storyboarding and story reels (storyboards cut with dialogue), bringing storyboard artists to Santa Rosa to complete a large portion of this work in the office right next to where Schulz drew the original comic strip.
"What I find is you take the script, which was in good shape as we started, and as you put it up in story reels it begins to speak back to you and you begin to react to it," Martino explains. As new ideas emerged from the storyboarding, it would inspire new writing from Craig and Bryan Schulz, and Cornelius Uliano, the feature's writing team.
Blue Sky Studios chooses a style of animation and a visual approach that is unique to each film it creates based on the story's needs. In early research trips to the Schulz museum, Martino would stand over Schulz's desk and look at a video that showed Schulz drawing the characters. "We did so much research," he explains. "One of our animation supervisors would refer to it as doing comic-strip archeology. We said: 'Let's not recreate something new in terms of the way the characters look, let's just bring what was drawn to life in a new way'."
What Martino and his animators came to realise was that Schulz drew his characters in a limited palette, drawing their heads in only six poses: a left and right profile, looking forward left and right and looking up and down. Staying true to Schulz's work meant their animation style would be more pose-to-pose and snappier in movement than previous Blue Sky films.
"It meant that my camera work was going to be very stylistically different from what I had done on the last Ice Age movie," says Martino. "Cameras were going to be down at kids' eye level, I might track with characters but I wasn't going to have a lot of dynamic swinging camera motion when I was with Charlie Brown and the kids in their world."
Flying lessons
Snoopy's fantasy sequences run parallel to Charlie Brown's story in the film (see box). "When I would go into Snoopy's imagination with Snoopy as the Flying Ace, my camera language was totally different; it was dynamic, it was dimensional. It was much more active because Charles Schulz drew those comic strips with more perspective and more detail."
Working in such a different style from their previous animations was a source of inspiration for Martino and his team. "I'm so happy to be able to work on a movie that breaks convention a little bit," he says. "It's not a story that has an arch-villain, aliens attacking or the threat of global destruction. It's a story that connects more to real life."
Aces high
Director Steve Martino tinkered with the audience's perception to bring an extra dimension to Snoopy's flights of fantasy in The Peanuts Movie.
In The Peanuts Movie, Snoopy periodically escapes into his own fantasies that feature him as the Flying Ace engaging in elaborate aerial dogfights with the Red Baron. Charles Schulz's drawing style placed a limitation on how director Steve Martino and his team could animate these sequences.
Schulz would never show the bottom of the doghouse when Snoopy was flying in his imagination. "It would ruin the illusion," Martino says. "Somehow when you crop the bottom of [the doghouse] off, your imagination fills in that there's some way that he's being propelled through the sky."
Martino set this challenge to his layout team from the beginning — and they rose to it immediately.
The 3D element was scripted into the story so that when the audience is with Charlie Brown, the film-makers employ a technique called windowing, which means the 3D environment starts at the screen and goes back in space.
Prior to Snoopy's flights of fantasy, Martino would compress, or flatten, the 3D experience gradually. As soon as they would burst into Snoopy's imagination, he would expand the dimensionality of the world to its most extreme.
"So when we were with Snoopy, the Flying Ace, we would allow things to come out into audience space, the dimensional experience would be at its most dramatic," says Martino.
"We wanted to emphasise that when Snoopy imagines, he imagines big, so every aspect of the film-making craft that we could bring to that we did — in terms of lighting, texture, camera work and 3D effects."