After the Golden Globes, Bafta and Oscar nominations, The Revenant has become this awards season's front-runner. Jeremy Kay talks to producer Mary Parent about bringing the most challenging project of her career to fruition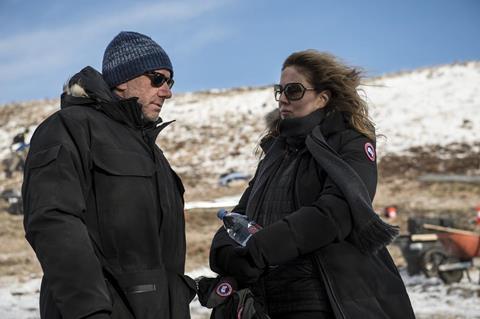 Although she has produced Pacific Rim, Godzilla and Noah, Mary Parent had never experienced anything as arduous and uncompromising as the beast that was The Revenant. The former production chief at Universal Pictures and senior MGM executive, who is now based on the Paramount lot, likes a challenge — and she found plenty of those when she got the call asking her to join the production.
The Revenant was financed chiefly by New Regency with further investment from RatPac Entertainment. 20th Century Fox is releasing the film worldwide and as of January 10, it had grossed $75m.
The snowbound shoot began in Alberta, Canada, in late 2014 and wound up in southern Argentina in August last year after an early thaw in Canada sparked a worldwide search for a replacement location. Working alongside an exacting director like Alejandro G Iñárritu and his brilliant cinematographer Emmanuel Lubezki, Parent knew the shoot would be demanding. Remote locations where the temperature refused to go above zero and a budget that refused to stay below $100m added to the challenges. On top of that, modern communication devices frequently didn't behave themselves and there was the threat of ravenous bears waking early from hibernation.
As Parent tells Jeremy Kay, she wouldn't have had it any other way.
"Best phone call of my life"
I had met Alejandro before through Guillermo del Toro — I produced Pacific Rim and Alejandro came to visit us on set — so we knew each other a little bit. The Revenant was going to be a bigger film than anything he had done in the past and he thought my boots-on-the-ground experience on larger films would be an additive to the producing team. When he phoned in the fall of 2014, it was by far the best phone call I had ever gotten.
I read the script and thought it was extraordinary. It was a real thrill ride and, on another level, a spiritual odyssey. I knew this was going to be something unique, especially when Alejandro told me about his vision for the film. For me, it was an incredible experience being able to support one-of-a-kind artists like Alejandro, Leo [DiCaprio] and Chivo [cinematographer Emmanuel Lubezki].
I arrived on set in Calgary, Canada, in December 2014, and it was really quite astounding. On the one hand, I couldn't believe I would be standing in this environment every day, set so deep in nature, the stunning beauty of it. Then the producer inside you switches on and you realise you're two hours from the city with limited light. It was like the ultimate high and the ultimate reality check.
I had been involved in a lot of complex films, but many of them with a great deal of time spent on stages. In those cases, if you fall behind on a 12-hour shooting day, you can make a few adjustments and catch up. Here, the reality of the film's ambition really hit home. However, I love working with people in intense environments and this pushed me to another level in a great way. It became an inspiring journey.
"Don't ask me how it was done"
The scene with Leo and the bear was incredible. Alejandro and Leo put a tremendous amount of rehearsal into that sequence and it's a testament to Leo, particularly given how it was so meticulously planned and yet still felt so spontaneous. It's an extraordinary sequence, it's broken some boundaries in film-making and you see the sheer power of it on the screen. Don't ask me how it was done because I'm not going to tell you and I can't really say too much. I will say that at one post-screening Q&A, someone asked if the bear was harmed during filming.
Creating an avalanche was a great day. We shot in a place called Fortress Mountain in Alberta. It's beautiful but remote and you could only access it with snowmobiles. I remember we had bad communications there because there was no cellphone service and even the boosters couldn't help. On the plus side, the mountain was regularly groomed to prevent dangerous avalanches and they would drop dynamite to create smaller avalanches, the way firefighters set small fires and clear brush to prevent larger fires. We coordinated carefully with the mountain team to piggy-back off their grooming efforts. When they detonated the explosives, we were a safe distance away as you see from the shot in the movie but it was extremely loud. We were all so relieved and proud when we got the shot.
Every day at wrap was an amazing feeling because there was no safety net: we were shooting with a single camera and if we didn't get the shot or somebody forgot their lines, which fortunately didn't happen because everybody brought their 'A' game, there was no traditional coverage to fall back on in the edit room. As a producer, you always want to have a Plan B or Plan C so you can get ahead of something and prevent something from going wrong.
In this case, we didn't have a lot of standard things you usually rely on like longer shooting days or more cameras. We couldn't have shot what Alejandro and Chivo wanted and not be out in nature with those 360-degree views, which meant we chose locations where we had to hike to places. A lot of times in a movie you get a shot of nature and turn around and there's a 7/11 across the street or a big green screen. Not on this movie. Because our locations were so remote, there was a lot of driving down mountains to get messages and emails. It was very old-school.
"Everyone was on bear alert"
We started to lose the snow in Canada in early 2015 when we still had a month left of shooting. At first we started using snow machines to help augment when the temperatures were too high to make snow and we had to truck it in and wheelbarrow it onto set. Spring was coming so early and all I could think of was "what if the bears wake up sooner from hibernation?". Everyone was on bear alert but we were OK in the end. The only bear sightings were in the fall of 2014. Our catering team had to have an electric fence built around them because they would set up early each day and the last thing anybody wanted was for a starving bear to smell the food and wander up.
When the snow started disappearing, we of course began to worry about being able to finish the film. We had to find somewhere else to film, and fast. It was stressful wrapping the film not knowing where we were actually going to finish it — that wasn't in Plan A, B or C. The studio was very supportive but I can tell you it caused many, many stressful weeks.
We were in post in Santa Monica and Alejandro would be asking if we'd seen any good scouting photos to show him. We had a release date bearing down on us and Tom Hardy was going on to another project. We still needed to shoot everything from the point where Leo and Tom have their final battle. If the snow and the scenery didn't match the earlier footage, it would have looked like a different planet.
Then all of a sudden we saw these location photos — it was as if the movie gods had blessed us. We had an incredible scout named Robin Mounsey who found this place, Ushuaia in southern Argentina, that was a perfect match and easily accessible, right off a main road and only 15 minutes from our hotel. I don't know what would have happened if we hadn't found this place. It was the beginning of August. The crew down there was incredible.
The Golden Globes ceremony was really thrilling. We hadn't expected to win best dramatic film. We got up on stage and Alejandro said, "Somebody else talk". I thought Steve Golin [founder of Anonymous Content] should do it as he had been with the project for 13 years so I was pushing him towards the mic. It took a producing team on this one and everyone made a significant contribution.