The Theory Of Everything is far more than a Stephen Hawking biopic - it's a 'triple helix' of scientific breakthrough, debilitating disease and a one-of-a-kind love story. Wendy Mitchell talks to the team behind the film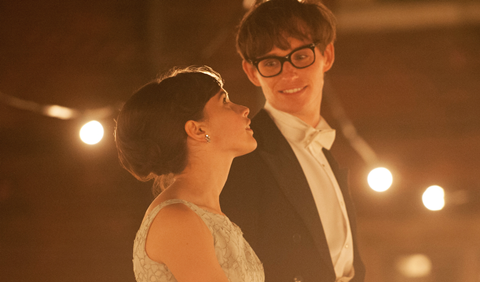 The genesis of The Theory Of Everything is more akin to a series of small sparks rather than one big bang.
It all started when New Zealand-born, London-based writer Anthony McCarten was one of the 25 million people to read Stephen Hawking's A Brief History Of Time in 1988. "I was stunned by the profoundness of the ideas and inspired by the man himself," McCarten remembers. "This guy was overcoming enormous physical setbacks and his scientific success was unprecedented.
He was such a striking character, the dramatist in me was thinking, 'What a subject for a movie or a play or a novel.'" The next spark came when McCarten read Jane Hawking's 2004 Music To Move The Stars (later re-issued as Travelling To Infinity).
"It was an incredible one-of-a-kind love story, extraordinary in the challenges they faced and the solutions they found."
His first port of call, nearly a decade ago, was to try to meet Jane Hawking directly. "I jumped on a train and travelled to Cambridge where Jane was living and presented myself to her at her door as a stranger, and I explained the vision I had for this movie, and she graciously allowed me to present the concept."
McCarten wrote it as a passion project 'spec' script. "It was a triple helix of three threads, the science and Stephen's scientific breakthroughs; doing justice to the horror story of the disease, the relentless physical subtractions Stephen had to undergo and Jane's role in helping him through those stages. And the third thing was the love story," the writer remembers.
The story we see in The Theory Of Everything spans25 years: Hawking's studies at Cambridge, his meeting Jane and having children, being diagnosed with motor neurone disease (commonly known as ALS in the US), his scientific breakthroughs and the dissolution of their marriage.
McCarten's passion for the unique story attracted Los Angeles-based producer Lisa Bruce, with whom he shares a mutual agent (Craig Bernstein at ICM). Bruce saw an early draft of the script in 2008 and knew the project represented "a wonderful opportunity".
"As a female producer, you rarely read scripts that portray the female characters as complex or layered or interesting as males," Bruce says. "In theatrical films you often don't find the females to be as key to the storyline." Also, she adds: "It's rare to be able to make a love story anymore."
The pair had Jane Hawking's blessing (and book rights) and took the project to director James Marsh, an Oscar winner for documentary Man On Wire whose fictional credits included the middle film of the Red Riding trilogy and IRA drama Shadow Dancer. Marsh said the material appealed to him because "it's not a standard biography of Stephen. The idea was hanging the story on two central characters, to see Jane and Stephen examining their lives in a personal way."
The Working Title connection
With that creative trio now set, the next spark came when Bruce sent the script to Eric Fellner - she had previously worked with Working Title on TV movie Mary And Martha. An answer came a speedy 11 hours later.
As Fellner recalls: "I read it and immediately called her and said, 'We need to do this.'" Working Title had never tried to develop a Hawking project of its own. "We didn't know there was a story to be told that would be as engaging as this one," Fellner recalls. "It was so emotional, so fascinating, so uplifting.
It was everything I thought it wouldn't be. It was really surprising." Working Title started financing the $15m project - a modest budget for a period film that spans 25 years - and turned to its long-time partners at Universal. "David Kosse and Donna Langley both loved it, and were very supportive," Fellner explains. "Kosse in particular was very, very involved in making this film happen." (Universal's Focus Features came on to release the film in the US when it was in late post-production.) "Our mantra at Working Title is to make any film feel as big as possible and as global as possible, and make it interesting and exciting for a worldwide audience. Within choices of heads of department you find people who are going to make cinema, not just a small British movie," Fellner explains.
Fellner knew Marsh was the right director to lead such a project: "We'd always wanted to work with James. It was just a question of time and finding the right material." It was a fruitful collaboration. "I like to have an ongoing creative dialogue with every director I work with, some love that, some resist it," Fellner says. "James was a fantastically collaborative partner, he took what he felt was useful and good and argued his case when he needed to. He made the film he wanted to make. We worked very well together." Marsh agrees he had a great dialogue with Working Title, and he pays tribute in particular to Working Title's new VP of development, Lucas Webb.
Webb says: "What I particularly love about James is that his background in documentaries means he is always searching for the truth, the veracity, the authenticity. He was always open to ideas, always collaborative but also knew his mind, so really struck a perfect balance." Fellner says reteaming with Bruce was also a strong collaboration. "She's very committed, very practical and very knowledgeable." She was also willing to listen to advice when needed from Working Title, because The Theory Of Everything was bigger than any production she had run before.
Bruce says: "Working Title is very film-maker oriented, they don't want to take the story away. Eric particularly was honoured that we had pushed this rock up a hill [before we brought it to them], this wasn't a troubled script that needed a lot of work."
The perfect cast
The next step was casting, and the shortlist of young UK actors who could play Hawking had always included Eddie Redmayne. Fellner had worked with him on Tom Hooper's Les Miserables. "He was stunning in Les Mis and blew us away. If James was excited in working with him, we were on board because we knew what he could do." But Fellner adds that the young actor "exceeded expectations… he created such an extraordinary transformation".
Redmayne was surprised at how rich a love story the script offered. "I was sent a script and thought it was going to be a biopic of Stephen's life but what I read was a complicated and passionate love story about two extraordinary human beings. It was unlike anything I'd read before." With a zeal for the material, Redmayne was determined to land the job, and then realised what he had gotten himself into, he recalls with a laugh.
"You're in that process of trying to persuade people that you can do something, you do it with a blind confidence to make them believe in you, then you get the job and you have no idea how to go about it." The blind confidence had worked - Marsh says once he met Redmayne he knew he had his Stephen Hawking.
"The performance was demanding physically - in some scenes he was just able to use his eyebrow, cheek and lips. It's about a man falling apart bit by bit, but the greater burden is to make the emotional life of this character available at every stage," Marsh recalls. "To make that character as alive in a wheelchair as he is at the beginning of the film, that's the achievement of Eddie's performance."
For Jane Hawking, Fellner knew the role "is not as showy but it's so pivotal". Bruce adds: "It was daunting to cast Jane, because towards the end of the movie she has to physically carry the movie, she becomes your active protagonist." As Marsh says: "I'd had my eye on Felicity [Jones] for a while, she's such a smart actress.
"When we brought the two of them together you could see that chemistry. It felt like a good foundation for the research they had to do." As Jones remembers: "James, Eddie and I met in Copenhagen [Marsh's adopted home] early on, and started discussing the characters and the film in a spirit of collaboration. It felt special to have three people having similar attitudes working with each other." Jones and Redmayne conducted their individual preparation and research, and brought those ideas to rehearsals.
Redmayne did his homework for four months. That meant reading Hawking's scientific work, watching old videos of him (and recreating tiny facial movements in the mirror), attending a motor neurone disease clinic and visiting families in their homes (Jones joined him for the latter).
Redmayne also had to train his muscles, with a dance teacher, allowing him to put his body in contorted positions for hours at a time.
As much as he had to get the physical side correct, he could not let his performance become a physical impersonation. "The disease was secondary to him, and this script wasn't about his disease," Redmayne says.
He met Hawking for the first time only about five days before the shoot began, and the actor recalls: "It was that force of personality that came through. His humour and wit and mischief. And that was wonderful; it was the last component to take into the shoot."
During the two weeks of official rehearsals, Redmayne said it was important he and Jones worked on having a physical "sixth sense" with each other. "Jane becomes like an extension of Stephen, physically they become almost the same person."
Jones agrees: "We were dependent on each other to find characters separately but it needed this work together."
"Eddie would bring back research and ideas, and Felicity was developing her own idea from the books and people she was meeting," Marsh adds. "As we were filming I wouldn't say we were improvising in the traditional sense of the word, it's more about creating a freedom for actors to explore on set as well."
Jones picked up on Marsh's directing style immediately. "What's incredible about James is he is a very sensitive director and he is highly attuned to your needs as an actor. He gave us a safety net to let us explore the characters on set."
The approach worked, as the characters came alive on set. "It was fascinating to see these two young actors do this dance with each other. Their work defines the film," says Marsh.
In just one example of the director empowering the actors, Jones recalled the day that shooting an emotional scene between Stephen and Jane wasn't quite working. "We did take after take, it felt very overacted. It wasn't very organic. So James said, 'Forget everything we've been doing before, don't say words if you don't want to say them.'"
In another example, "The scene of them running down the hill, that came out of rehearsal, that was a moment we wanted to show this couple in a whirlwind of romance and passion. We watched scenes of Splendor In The Grass, to capture that spirit of first love," Jones remembers.
With so much riding on their performances, the director, somewhat unusually, also let them see rushes every day. It is that kind of openness that leads Redmayne to enthuse: "I've never worked with someone who is so emboldening; James believes in collaboration in the truest sense of the word. He encourages every department to get involved. He encouraged everyone to have a voice, I describe him as the great maestro conductor."
A daunting shoot
That conductor was facing challenges of his own - The Theory Of Everything was the largest film Marsh had worked on, yet it felt like a natural progression for him. "It was fantastic. I had a budget and a story to allow you to put on screen what was in your head. I also had the chance for the first time to do some bigger set pieces, like the May ball scene.
It had to have a certain scale."
"We mostly needed time, and that's what [Working Title] were giving us," Bruce says of the 48-day shoot.
The logistical challenges included not being able to shoot in sequence - a particular hurdle for Redmayne portraying the illness's different physical stages. That was because of the film's 50 locations. There were only a few sets built, such as the main house interior and Stephen's dormitory room.
The production would sometimes move between locations on a single shooting day.
"It was daunting, there was a lot of location scouting," Bruce remembers, noting that cinematographer Benoit Delhomme was also along for the scouts.
"James is really great with choosing locations - he's open and specific at the same time." Marsh did not want to use intertitles ('two years later') to let the audience know about the film's timeline; instead he wanted locations, production design, costume and hair and make-up to mark the passage of time.
"We were visually jumping to know where we were [in time]," Bruce explains. "James also wanted the ageing to be seamless… you really notice Stephen's ageing because of the disease. You see the weight of Jane's life underneath her eyes or with her posture." The look of the film, shaped by Marsh and Delhomme, has an almost cheerful feel, not a gritty look at grey old England. "Benoit and I talked a lot about what nostalgic memories feel like in your head, nostalgia can have an ache to it," Marsh explains.
"There were also conscious efforts to embrace light, that's one of the great aspects of his scientific inquiries." One inspiration for bold lighting was the work of Polish auteur Krzysztof Kieslowski. Marsh also went back to look at Joseph Losey's The Servant (1963) because it "shot domestic space in an interesting way".
"It's one of those films that didn't have obvious reference points, I didn't want to watch science films or films about disability. For instance, I didn't rewatch The Diving Bell And The Butterfly," Marsh adds.
The music, too, had to be right, and Marsh convinced Working Title to let him use Iceland-born composer Johann Johannsson, who Marsh knew from the documentary world. "Johann's work in the film has a delicate feel," Marsh says.
Johannsson enjoyed the collaboration and felt he was on the same page as Marsh: "It's a film that you could easily ruin with the wrong use of music. We're both very much on the side of restraint. I like to write music that is emotionally affecting and moves people in some way. But I'm very aware of not going over the line into sentimentality.
"In many ways the emotion is stronger when you hold it back. There is so much emotion on the screen already from Eddie and Felicity, you don't need to say it again with music. The music is there to heighten and underscore and to make things fly but it's not there to create something that isn't there already."
Marsh wanted any emotional response from the audience to be earned by the story and performances. "It's something I'm very conscious of, I didn't want to make the catharsis of the film too easy," he says. "Truth comes from the details, that keeps you honest. Emotions aren't there to be banged like a drum, you have to earn them."
The greater truth
McCarten says he wanted the script to be "in the service of the truth. You can make the mistake of inventing too much but you can also make the mistake of inventing too little. If you just completely take a documentarian's approach, then you have product that doesn't do justice to the story. The use of poetic licence is always in the service of the truth not for sensation, to enhance it."
He told Jane early in the process that he needed artistic freedom for the story, and says "to her credit she never asked me to soften anything down… It's not a documentary, it's a work of art. I was very lucky that Jane and Stephen have the souls of artists, not parking wardens." Bruce agrees it was a "tightrope" to walk with the real-life subjects, and their children, turning over their trust for this very personal story.
"It's precarious to make a movie about people who are still alive. There are some messier truths that they wouldn't necessarily have chosen to see on screen, but now these are in there, there is a greater truth." The final seal of approval came when the Hawking family watched the film.
When Jane saw the film for the first time, she said she "was floating on air". And Stephen had tears coming down his cheeks. Marsh remembers:
"After he saw the film, Stephen said it was broadly true and I was really glad of that response." In fact, Stephen Hawking was so impressed he decided to let the production use his computer for dialogue.
Bruce explains: "When we were editing the film we just used our copy of an electronic voice. But Stephen's electronic voice is very specific, the cadence, it's basically copyrighted by him. He said, 'Would you like to use my actual voice?' So that was like the biggest present. It was the equivalent of him hugging you."