The 1950s melodrama earned best film and Todd Haynes took the best director prize on Monday.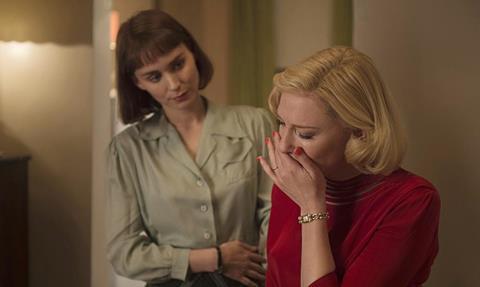 In other key awards, the Toronto Film Critics Association cited Tom Hardy as best actor for playing Ronnie and Reggie Kray in Legend and Nina Hoss as best actress for Phoenix, which also won the Best Foreign-Language Film prize.
Joshua Oppenheimer's The Look Of Silence won the Allan King Documentary Award. The film is a companion piece to Oppenheimer's 2013 winner The Act Of Killing.
TFCA membership chose the three finallists for the $100,000 Rogers Best Canadian Film Award – The Forbidden Room by Guy Maddin and Evan Johnson, My Internship In Canada by Philippe Falardeau and Sleeping Giant by Andrew Cividino.
The winner will be announced at TFCA's awards gala on January 5 2016 along with the winner of the C$5,000 Manulife Student Film Award and the winner of the C$5,000 Stella Artois Jay Scott Prize for an emerging artist.
As previously announced, the 2015 recipient of the Technicolor Clyde Gilmour Award is Deepa Mehta, who will present a filmmaker of her choice with C$50,000 worth of services from Technicolor at the January 5 gala.
"This year's winning films encompass a remarkable diversity of genres and styles," said TFCA president Brian D Johnson. "And the Canadian finallists present a broad spectrum of talent — a veteran Winnipeg auteur who remixes cinema like a mad alchemist, an Oscar-honoured Quebecois who's made a bold turn from intimate drama to sly political satire, and a young Toronto director making his feature debut with a Lakehead coming-of-age story that dazzled Cannes and TIFF.
The full list of TFCA winners and runners-up:
BEST PICTURE
Winner: Carol
Runners-up: Mad Max: Fury Road; Spotlight
BEST ACTOR
Winner: Tom Hardy, Legend
Runners-up: Leonardo DiCaprio, The Revenant; Michael Fassbender, Steve Jobs
BEST ACTRESS
Nina Hoss, Phoenix
Runners-up: Cate Blanchett, Carol; Brie Larson, Room
BEST SUPPORTING ACTOR
Winner: Mark Rylance, Bridge Of Spies
Runners-up: Benicio Del Toro, Sicario; Michael Shannon, 99 Homes
BEST SUPPORTING ACTRESS
Winner: Alicia Vikander, Ex Machina
Runners-up: Rooney Mara, Carol; Kristen Stewart, Clouds Of Sils Maria
BEST DIRECTOR
Winner: Todd Haynes, Carol
Runners-up: Tom McCarthy, Spotlight; George Miller, Mad Max: Fury Road; Denis Villeneuve, Sicario
BEST SCREENPLAY, ADAPTED OR ORIGINAL
Winner: The Big Short, Charles Randolph and Adam McKay. Based upon the book by Michael Lewis.
Runners-up: Anomalisa, Charlie Kaufman based on his stage play; Carol by Phyllis Nagy based on the novel The Price Of Salt by Patricia Highsmith; Spotlight by Josh Singer and Tom McCarthy
BEST FIRST FEATURE
Winner: Ex Machina, Alex Garland
Runners-up: Sleeping Giant , Andrew Cividino; Son Of Saul, Lázsló Nemes
BEST ANIMATED FEATURE
Winner: Shaun The Sheep Movie
Runners-up: Anomalisa; Inside Out
BEST FOREIGN-LANGUAGE FILM
Winner: Phoenix (Germany)
Runners-up: The Assassin (Taiwan); Son Of Saul (Hungary)
ALLAN KING DOCUMENTARY AWARD
Winner: The Look Of Silence
Runners-up: Amy; Listen To Me Marlon
ROGERS BEST CANADIAN FILM AWARD FINALISTS
The Forbidden Room, Guy Maddin and Evan Johnson
My Internship In Canada, Philippe Falardeau
Sleeping Giant , Andrew Cividino.