Dramedy takes five awards including Best Film, Best Directo and Best Actor; Isabel Coixet's Nobody Wants The Night also scores prizes.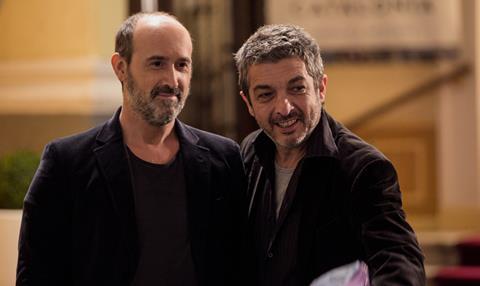 Truman, the sensitive buddy dramedy directed by Cesc Gay, was the big winner at the Spanish Film Academy's Goyas on Saturday night [Feb 6] in Madrid.
The film, an Imposible Films, Truman Film AIE and BD Cine production, took five big prizes home: Best Film, Best Director, Best Original Screenplay (which was written by Gay and long-time friend and co-writer Tomas Aragay) and Best Actor and Best Actor in a Supporting Role for Ricardo Darin and Javier Camara, respectively.
Argentinian star Darin (The Secret In Their Eyes) and Camara (Talk To Her), one of Pedro Almodovar's regulars, jointly won the Silver Shell for Best Actor at the San Sebastian Film Festival last September, where the film premiered to strong reviews.
Truman was one of the big favourites going into the Madrid ceremony. Its competitors for Best Film: Nobody Wants The Night, A Perfect Day and The Bride all went home with prizes too.
Last year's Berlinale opening film, Isabel Coixet's Nobody Wants The Night, took Best Production Design, Best Music, Best Make Up and Best Costume for the North Pole drama starring Juliette Binoche.
Binoche, who attended the ceremony and was sitting beside Tim Robbins, the star of Fernando Leon de Aranoa's A Perfect Day, was nominated for Best Actress but it was newcomer Natalia de Molina who took the Goya home for that. A truly surprised De Molina, an actress discovered by David Trueba in Living Is Easy With Your Eyes Closed, won for Techo Y Comida (Food), a drama about a mother trying to survive in the context of the Spanish economic crisis.
It was a second Goya for the young Spanish actress after taking the prize for Best New Actress two years ago with Trueba's film. On stage she praised Binoche, Penelope Cruz (who had been nominated for Ma Ma) and Inma Cuesta, another favourite with La Novia.
Paula Ortiz's La Novia (The Bride), an adaptation of poet Federico Garcia Lorca's Blood Wedding, had 12 nominations but took two Goyas, one for Best Actress in a Supporting Role (Luisa Gavasa) and another for Best Cinematography (Miguel Angel Amoedo).
Spanish Affair 2, the film that topped the box office in Spain in 2015, was not nominated this year, but it's star Dani Rovira, proved to be a popular master of ceremonies.
Rovira joked withattending stars such as Penelope Cruz and Javier Bardem, sitting in the front row, and the many politicians in the room. At a time of political uncertainty in Spain with talks carrying on to try to form a new government, new faces of Spanish politics including Pedro Sanchez, Pablo Iglesias and Albert Rivera stole the spotlight.
Among last year's box office hits Capture the Flag won Best Animation Film and Palm Trees InThe Snow won Best Original Song and Best Art Direction.
Pablo Trapero's The Clan, a Spanish-Argentinian production won for Best Iberoamerican Film while the French drama Mustang, by Deniz Gamze Ergüven, was voted by the Spanish Academy's members as Best European Film.