The Woman in Gold, starring Helen Mirren, and Anton Corbijn's Life, starring Robert Pattinson and Dane DeHaan, to world premiere at Berlinale.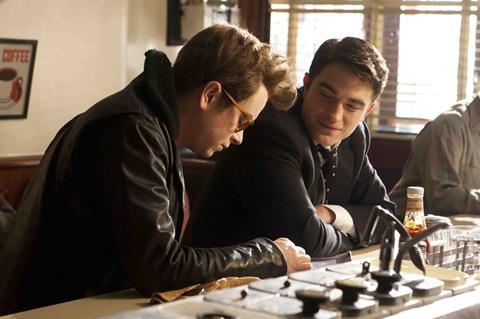 The 65th Berlin International Film Festival (Feb 5-15) is to host the world premieres of Woman in Gold, starring Helen Mirren; Life, starring Robert Pattinson and Dane DeHaan; and Dagur Kári's Virgin Mountain.
The films form part of the Berlinale Special Galas line-up, which will also include the international premiere of awards contender Selma and the European premiere of Bill Pohland's Love & Mercy, starring John Cusack
Based on a true story, Woman In Gold is directed by Simon Curtis (My Week With Marilyn) and stars Mirren as Maria Altmann, an octogenarian Jewish refugee, who takes on the government to recover artwork she believes rightfully belongs to her family.
The UK-US co-production, which also stars Ryan Reynolds (Captives) and Daniel Brühl (Rush), is produced by Origin Pictures, BBC Films and The Weinstein Company. [More on the film here]
Anton Corbijn's anticipated Life will world premiere at Berlin's Zoo Palast. The film is inspired by the true story of a friendship that developed between Magnum photographer Dennis Stock (Pattinson) and actor James Dean (DeHaan) when Stock was commissioned to photograph the actor for Life magazine in 1955. The assignment took the pair on a journey across the US, from LA to New York and on to Indiana.
The feature is produced by See-Saw Films and First Generation Films, from a script by Luke Davies (Candy). FilmNation is handling international sales.
Also receiving its world premiere is Breathe – Umphefumlo, Mark Dornford May's contemporary adaptation of Puccini's La Boheme, which moves the star-crossed lovers story from its usual Parisian setting to modern South Africa.
The film is a partnership between South Africa's Isango Advantage, the UK's Film and Music Entertainment (F&ME) and Germany's Arte/Propeller Film. Support comes from Desmond and Leah Tutu's Legacy Foundation. [More on the film here]
Dornford May won the Berlinale Golden Bear in 2005 with U-Carmen eKhayelitsha, a modern take on Bizet's Carmenalso set in South Africa.
Gala line-up
WP = World Premiere / EP = European Premiere / IP = International Premiere
Berlinale Special Galas at the Friedrichstadt-Palast
Love & Mercy (US) EP
By Bill Pohlad (Old Explorers)
With John Cusack, Paul Dano, Elizabeth Banks, Paul Giamatti
Selma (UK-US) IP
By Ava DuVernay (Middle of Nowhere)
With David Oyelowo, Tom Wilkinson, Oprah Winfrey, Carmen Ejogo

Woman in Gold (UK-US) WP
By Simon Curtis (My Week with Marilyn)
With Helen Mirren, Ryan Reynolds, Daniel Brühl
Berlinale Special Gala at the Zoo Palast
Life (Germany-Canada-Australia) WP
By Anton Corbijn (A Most Wanted Man)
With Robert Pattinson, Dane DeHaan, Joel Edgerton, Ben Kingsley
Berlinale Special Gala at the Kino International
Virgin Mountain (Ice-Den) WP
By Dagur Kári (The Good Heart)
With Gunnar Jónsson, Ilmur Kristjánsdottir
Berlinale Special Matinée at the Kino International
Breathe Umphefumlo (La Bohème) (S Africa) WP
By Mark Dornford-May (U-Carmen ekhayelitsha)
With Pauline Malefane, Mandisi Dyantyis, Busisiwe Ngejane, Mhlekazi Mosiea
Berlinale Special at the Haus der Berliner Festspiele
Die abhandene Welt (The Misplaced World) (Ger) WP
By Margarethe von Trotta (Rosenstraße)
With Katja Riemann, Barbara Sukowa, Matthias Habich, Gunnar Moeller
The Seventh Fire / doc (US) WP
By Jack Pettibone Riccobono (Rage for Sale)
Torneranno i prati (Greenery Will Bloom Again) (Italy) GP
By Ermanno Olmi (Terra Madre, The Tree of Wooden Clogs)
With Claudio Santamaria, Alessandro Sperduti, Francesco Formichetti, Andrea Di Maria