EXCLUSIVE: Mongolian-set documentary, exec produced by Star Wars actress Daisy Ridley, was one of the buzz titles of Sundance.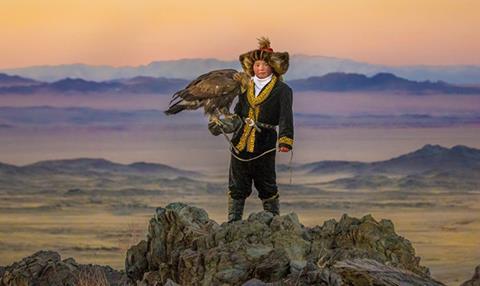 Celluloid Dreams has acquired international rights to Otto Bell's The Eagle Huntress, about a teenage Mongolian girl who strives to become the first female champion falconer in 2,000 years, following its well-received premiere at the Sundance Film Festival.
"The Eagle Huntress was our big Sundance discovery. The film represents everything a modern family adventure needs: an unforgettable female role model hero, an engaging story and captivating visuals," said Celluloid Dreams chief Hengameh Panahi.
Paris-based Celluloid Dreams is selling all territories around the world with the exception of North America, Latin America, Germany, Australia, New Zealand, Scandinavia and Asia, the rights to which were snapped up by Sony Pictures Classics during Sundance.
Set against the Altai Mountains of Northwestern Mongolia, the documentary revolves around 13-year-old Aisholpan, who is taught all aspects of the ancient Mongolian tradition of eagle hunting by her father and grandfather.
It follows Aisholpan as she tames her own eaglet and trains it for the annual Golden Eagle Festival, where she is put up against 70 male Eagle Hunters.
Aisholpan made 6,000-mile journey from Mongolia to Park City, Utah with her parents for the premiere of the film in the Sundance Kids section, and to participate in discussions.
"We could not be more proud to partner with Celluloid Dreams on international distribution," said Bell, who made his directorial debut with the film.
"Their first class track record and clear passion for the project will help ensure Aisholpan's incredible story can be seen in theaters around the world."
The Eagle Huntress was produced by Stacey Reiss and Sharon Chang.
Morgan Spurlock and Star Wars actress Daisy Ridley are executive producers alongside Jeremy Chilnick, Marc H. Simon, Dan Cogan, Regina K. Scully, Barbara Dobkin and Susan Maclaury in association with Artemis Rising Foundation, Impact Partners, Shine Global and Warrior Poets.
The deal was brokered by CAA (Creative Artists Agency), with legal services provided by Marc H. Simon of Cowan, DeBaets, Abrahams & Sheppard LLP on behalf of the filmmakers.
Panahi is launching sales on the title at the EFM where she is also co-handling Andrew Haigh's next film Lean On Pete in partnership with The Bureau Sales.