EXCLUSIVE: Multiple territory deals have been closed for Tammy Davis' film, which will premiere in Berlin's Generation 14plus strand.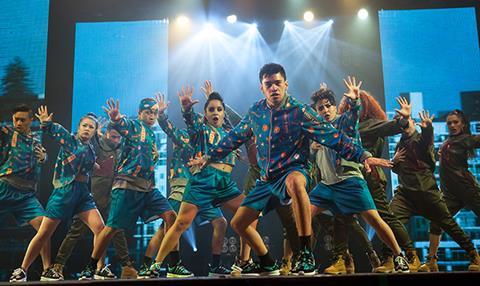 Edward Noeltner's Cinema Management Group has closed a raft of sales on Born To Dance ahead of its European premiere in Generation 14plus on Saturday led by a US deal with FilmBuff.
Capelight Films will distribute in Germany, Family Films in France, H.G.C. Entertainment in China and Front Row in the Middle East.
Elsewhere, deals on the film, choreographed by Parris Goebel who heads the world champion hip-hop dance crew ReQuest and has masterminded routines for Justin Bieber and Janet Jackson, have closed in South Korea (Thanks And Love), the Philippines (Captive Entertainment), and India (Picture Works).
MVP will distribute in Indonesia, Vietnam, Laos and Cambodia, while Captive Entertainment has also acquired international airline rights.
FilmBuff plans a US theatrical release this spring before an exclusive SVOD run for Born To Dance, which premiered in Toronto last autumn and opened in New Zealand via Vendetta Films.
Tammy Davis directed and Tia Maipi stars alongside Kherington Payne and Stan Walker. Daniel Story, Leanne Saunders, and Jill Macnab produced the film.
Busy CMG announced it has also closed deals on thriller Broken Vows starring Jaimie Alexander, Wes Bentley and Cam Gigandet.
Rights have gone in Germany (Concorde Films), France (Zylo), Italy (Eagle Pictures) and Spain (Corbi Media). Filmworld holds all Latin American rights.
Further deals have closed in South Korea (Unicon Medi), the Middle East (Front Row), India (Picture Works), the Philippines (Solar Entertainment), and the former Yugolslavia (Pa-Dora).
CMG president Noeltner negotiated the deals with vice-president of sales and operations Dené Anderberg and senior sales and acquisitions executive John Buffalo.
"We are delighted that both films got off to a great start this fall and have continued to command strong interest from buyers all through the holidays," said Noeltner.
"Having Born To Dance in this year's Berlinale Generation 14plus section got a number of distributors off the fence and onboard to release the film. We couldn't be happier."
CMG's Berlin slate includess 3D animation Mission Kathmandu from co-directors Pierre Greco and Nancy Savard, and horror thrillers The Possession Experiment and Havenhurst.