EXCLUSIVE: WestEnd boards recently wrapped feature Hollow In The Land, exec produced by Brian Kavanaugh-Jones (Insidious, Sinister).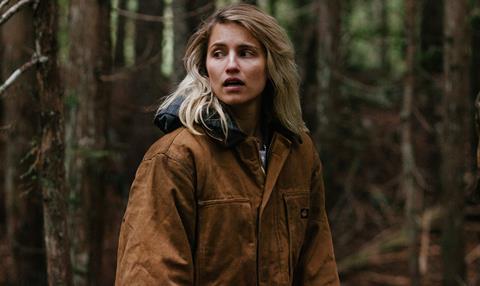 WestEnd Films has boarded international sales on thriller Hollow In The Land, whose cast is led by Glee star Dianna Agron.
Writer-director Scooter Corkle's feature debut follows a young woman who finds herself pushing the boundaries of the law as she attempts to uncover the truth about her brother's involvement in a brutal murder.
Screen can also reveal the first still from the film [pictured], which co-stars Shawn Ashmore (X-Men: Days Of Future Past) and Rachelle Lefevre (The Twilight Series).
Producers are Jesse Savath (Come And Find Me) and Marlaina Mah (Come And Find Me) while executive producers are Brian Kavanaugh-Jones (Insidious, Sinister), Daniel Levin (Lion) and Christopher Ferguson.
The film, shot in Canada, is in post-production with WestEnd showing a promo at EFM.
Agron recently has appeared in the features Tumbledown, Bare and Zipper. She next stars in the indies Headlock, A Conspiracy On Jekyll Island and Novitiate.
WestEnd's EFM lineup also includes Berlinale title Shepherds And Butchers and Baltasar Kormakur-produced Mules, previously announced by Screen.