EXCLUSIVE: Icelandic companies plan joint slate of Icelandic and English-language films including Óskar Jónasson's Habeus Corpus.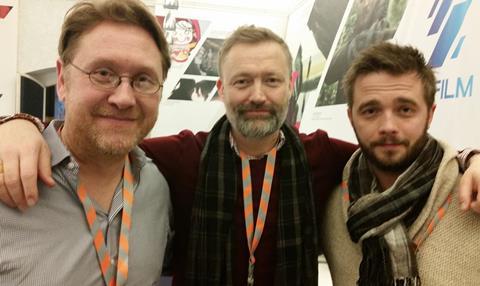 Icelandic production companies Truenorth and Mystery are partnering on an ambitious slate of eight films to be shot over the next five years.
"Both companies were looking to expand into more European co-productions so we decided to join forces," said Kristinn Thordarson, head of production at Truenorth.
David Oskar Olafsson of Mystery added that the slate's eight productions are five in English and three in Icelandic.
"We had the same goals and ambitions," Olafsson said "By joining teams, we felt we could be working on broader profile films."
Leifur B Dagfinnsson of Truenorth said that both companies would continue to work on their own projects as well as the joint slate, and they would continue to have separate offices in Reykjavik.
The plan is to have eight to 10 films on the joint slate continually.
The initial projects on the slate are:
Axlar Bjorn from writer Ottar Nordfjord and director Olafsson, about a serial killer in 16th century Iceland;


Uganda-set political thriller Black Water;


English-language 'hidden people' thriller/horror The Hidden set in remote Iceland, which could shoot as soon as the autumn as the debut feature of commercials veteran Thor Saevarsson;


Oskar Jonasson's MEDIA-backed true crime story Habeas Corpus, about six men wrongly accused of a 1975 murder;


New York-set sci-fi/thriller Causality, which is at treatment stage;


Olafsson's 1986-set thriller All Through The Night;


character-driven Los Angeles-set comedy Lost And Found;


Gisli Snaer Elringsson's Bali-set comedy Life's Too Good.
Truenorth, founded in 2003, is Scandinavia's largest production services company having worked on films including Star Wars: The Force Awakens, Prometheus, The Secret Life of Walter Mitty and the upcoming Fast & Furious 8. On its production side, it co-produced The Shamer's Daughter.
Mystery, founded in 2006, has worked on films including Prince Avalanche and Country Wedding and is shooting new TV drama series Prisoners.
Truenorth has also now opened a Norway outpost in the wake of Norway's new 25% tax incentive. That arm is headed by experienced line producer Per Henry Borch, and the company is advising Paramount on Matt Damon-starrer Downsizing, which could potentially shoot for a week in Norway.
Truenorth's latest in-house production, Jonasson's romantic comedy In Front Of Others, premiered in Goteborg and is screening at EFM before Sena releases the film in Iceland on Feb 26.
Jonasson previously directed Reykjavik/Rotterdam, which was remade in the US as Contraband.