Todd Haynes discussed his career at a BAFTA Life in Pictures event.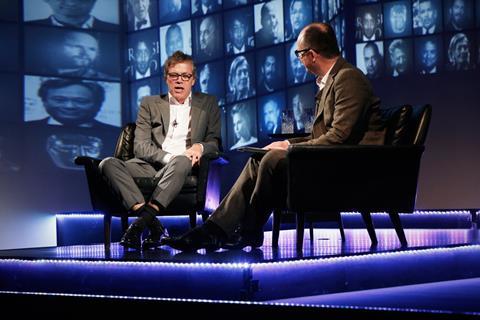 Todd Haynes, whose latest film Carol is released in UK cinemas on Nov 27, has emphasised the challenges of making female-led pictures at a BAFTA Pictures Evening.
"These female-driven films are hard to get financed because women are the lead characters, ridiculously," commented Haynes.
Carol stars Cate Blanchett and Rooney Mara as star-crossed lovers in 1950s New York, with Kyle Chandler's supporting role the film's primary male character.
Haynes said casting the male roles in the film wasn't a straightforward process.
"[It's] also hard to find men to play second to women, they're just not accustomed to it," he lamented, though he also explained Chandler was a "pleasure to work with".
Haynes also talked up the work of scribe Phyllis Nagy on the adaptation of Patricia Highsmith's book The Price Of Salt, on which Carol is based: "Patricia Highsmith is quite hard on the men in the book. Phyllis brought such empathy and such complexity to their dilemmas on the page."
The evening's discussion, chaired by the British Council's Ian Haydn Smith, walked the audience through Haynes' career from his early childhood recreations of Franco Zeffirelli's Romeo & Juliet – filmed on 16mm and starring a seven-year-old Haynes in every role – to his Oscar-nomination for his Far From Heaven screenplay.
Haynes recounted one particularly touching anecdote about the reaction to the latter film:
"There's a story also that I love, a woman who had gotten a screener of Far From Heaven and hadn't had a chance to watch the movie but had read about it. And she had I think a three year-old daughter, and the kid was asleep on her lap watching the film, or she thought the kid was asleep.
"And she got to the end of the movie at the trains station scene, and she looked down and her little girl, I think it was a girl, was crying.
"And she said, "Honey, what's the matter? Are you okay?" And the little kid said, "Mummy, how come that nice lady can't be with that nice man?" And I thought, "Wow," that is amazing to me, I don't know if I'll ever achieve that again in my films."
The director rounded off the evening by briefly discussing his next project, Wonderstruck, which is based on the graphic novel of the same name by Brian Selznick. Julianne Moore, who starred in Haynes' Safe and Far From Heaven, is set to reteam with the director for the film.
"I've never made a film for younger audiences, and it's carried by three 12 year-old kids basically, and it's another love letter to a city, in this case New York and its past, so I'm excited about that," said Haynes.