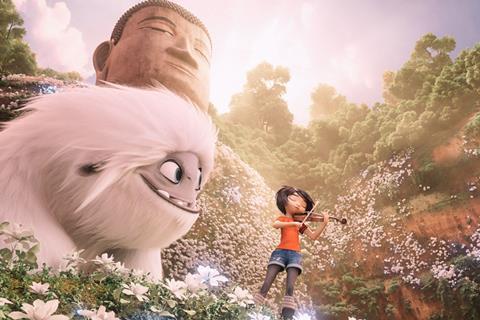 SEPTEMBER 30 UPDATE: DreamWorks Animation and Pearl Studio's Abominable scored the biggest debut for an original animated film so far this year as it ruled North American box office on a confirmed $20.6m through Universal.
The film joins Universal's Us and Good Boys as the only original films to open top in 2019 so far, and brings to seven the number of films that have opened at number one for the studio this year – the highest by any studio and more than Disney.
This is the 22nd number one debut for DreamWorks Animation – now owned by NBCUniversal and about to celebrate its 25th anniversary next month – and marks Universal's second release with the animation specialist after How to Train Your Dragon: The Hidden World earlier this year.
In a memorable session for Roadside Attractions, the distributor said The Peanut Butter Falcon has become the top platform release of the year-to-date. In its eighth weekend the SXSW audience award winning-drama added $888,464 to reach $18.1m, and ranks 14th. Shia LaBeouf, Dakota Johnson and newcomer Zack Gottsagen star in the film, which at the widest point in its release played in 1,490 screens.
Roadside Attractions and LD Entertainment launched awards hopeful Judy starring Renée Zellweger as Judy Garland at number seven on $2.9m on 461 screens, 376 of them in the US.
The drama about the latter stages of the legendary performer's life premiered in Telluride before playing at Toronto. Some 60% of the weekend audience comprised females, with 79% of the overall crowd aged 35 or above. Box office for Judy climbed 35% on Saturday, indicating strong word of mouth.
Focus Features' Downton Abbey fell 53.8% to number two in its second weekend, adding $14.3m for $58.3m. STX's Hustlers climbed two slots to number three, earning $11.4m for $80.6m after three sessions. New Regency and Fox's Ad Astra fell 47.3% and three places to fifth on $10m for $35.4m after two.