OCTOBER 19 UPDATE: Marvel Studios' latest superhero adventure took $42.4m in China to make the territory the film's biggest after three days.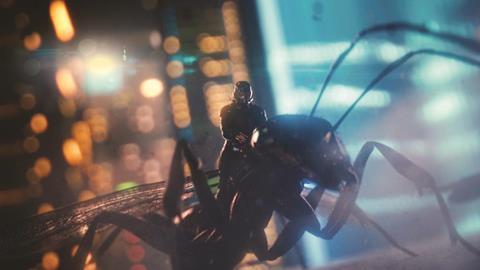 WALT DISNEY STUDIOS MOTION PICTURES INTERNATIONAL
UPDATED: The debut also made Ant-Man the second largest Disney and Marvel three-day opening weekend of all-time in China behind Avengers: Age Of Ultron.
The film grossed $42.6m overall to reach $275.2m and took $5.1m from 236 Imax sites in China. After China the biggest market is the UK on $25.4m, then South Korea on $19.8m and Mexico on $15.1m.
On Sunday Inside Out became the biggest release of the year-to-date in Italy as an estimated $1.4m propelled the running total to $27.3m. The film added $6.3m from 22 overall to reach $476.7m.
The UK remains the biggest market on $59.7m, followed by South Korea on $32.9m, Japan on $32.6m and Mexico on $31.1m.
FOX INTERNATIONAL
UPDATED: The Martian added home $37.6m for $176.1m and opened top in Spain on $3.4m.
South Korea led holdovers and stayed top on $6.6m for $21.5m, while the UK added $3.7m for $26.9m and Russia stayed top on $3.4m for $13m.
The drama help on to number one in its third weekend in Australia where $2.2m elevated the running total to $12.7m.
Maze Runner: The Scorch Trials added $8.9m for $180.4m and opened in Italy on $1.5m.
Fox released Suffragette in the UK on behalf of Pathe and the film opened in second place on $4.5m from 525 locations.
SONY PICTURES RELEASING INTERNATIONAL
UPDATED: Hotel Transylvania 2 checked into six new markets his weekend and grossed $30.3m from 65 overall to reach $130.8m.
The animation sequel arrived top in the UK on $9.7m including previews from 850 screens and debuted at number one in Germany too on $3.8m including previews from 1,008. It held on to number one in Italy on $2.9m for $7.5m after two sessions.
The Walk expanded to 70 markets this weekend and earned $6.6m for an early $16.9m. Russia delivered $2.6m.
CHINA UPDATE
China's number one film Goodbye Mr Loser held on to its top berth and grossed $22m. The comedy stands at $184m.
WARNER BROS PICTURES INTERNATIONAL
UPDATED: Pan grossed $14.8m from 52 markets to stand at $47.5m. The fantasy adventure arrived in the UK on $4.2m and added $1.6m in Mexico for $5.6m.
Brazil held on to number one as $1.5m boosted the tally to $5m, while Russia reached $3.5m and Spain $3.3m.
The Intern grossed $12m from 65 territories for $77.4m, while Black Mass grossed $3.3m from 26 for $10.4m and opened in Germany on $771,000.
UNIVERSAL PICTURES INTERNATIONAL
UPDATED: Legendary's Crimson Peak opened day-and-date with North America in 55 territories to grossed $13.6m.
The top score came from a $2.6m number two debut in Russia, followed by a $1.1m number two result in Spain.
Everest added $4.1m from 63 for $127m and The Visit $1.5m from 22 for $24.2m. Straight Outta Compton stands at $38.2m.
Alejandro Amenabar's thriller Regression starring Emma Watson and Ethan Hawke, which Universal is distributing in Spain, ranks third on $883,000 for $8.3m.
Universal and Illumination Entertainment's Minions has reached $818.6m and completed its 30-day run in China where it amassed $69.8m.
LIONSGATE INTERNATIONAL
Sicario added $3.9m for $23.1m and has reached $5.1m in the UK after two sessions. Australia has generated $3.4m, Germany $2.3m, France $2m and Italy $1m.
STUDIOCANAL UK
Macbeth grossed $239,000 to reach $3.5m, while Legend added $668,000 for $27.1m and The Program $54,000 for $218,000.