The Marvel Studios hit has reached $289.1m and will seek to build on last weekend's $42.4m debut in China.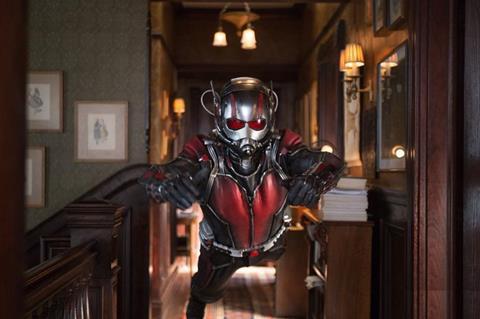 Disney stablemate Inside Out has reached $483.1m through Walt Disney Studios Motion Pictures International.
Crimson Peak has grossed an early $20m through Universal Pictures International and slides into eight territories this weekend including Italy.
Everest stands at $129.4m, Straight Outta Compton $38.4m, The Visit $25m and Jurassic World $1.01bn. Universal releases Mi Gran Noche in Spain.
DreamWorks' Bridge Of Spies infiltrates Australia, Mexico and Brazil via Fox International.
The Martian has raced to $182m and touches down in France and Maze Runner The Scorch Trials on $182.7m debuts in Japan.
Sony Pictures Releasing International's Hotel Transylvania 2 stands at $138.6m and arrives in approximately 15 territories, among them Russia and Spain.
Meanwhile the number one North American release Goosebumps opens in around 18 including Mexico, Brazil and Hong Kong.
The Walk opens in around nine including Germany and Italy.
Pan stood at $47.5m by Sunday and opens this weekend through WArner Bros Pictures International in China and France, while The Intern has reached $77.4m. Black Mass on more than $10.4m enters Spain.
Mission: Impossible – Rogue Nation has grossed $487.1m through Paramount Pictures International.
Lionsgate International's Sicario has amassed an early $3.9m and opens this weekend in Brazil and Denmark.