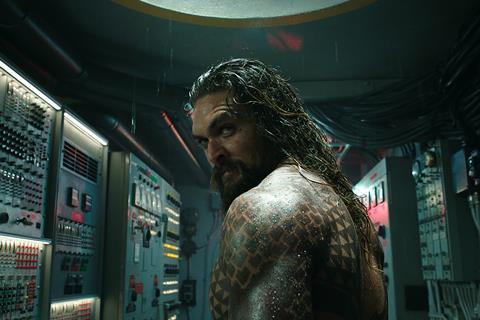 JANUARY 5 UPDATE: Aquaman stands at $887.6m worldwide by January 5 and executives at Warner Bros will be looking for the superhero smash to cross the magical $1bn threshold within the week.
Elsewhere How To Train Your Dragon: The Hidden World registered a record-breaking Australian debut to mark Universal's first release of a DreamWorks Animation title, and Paramount executives are bracing themselves for what could be a mighty debut for Bumblebee in China.
Returning to Aquaman, the DC Entertainment tentpole soared past $875m on Friday (4) and given last weekend's $140m global haul, it will end the weekend on well over $900m and has a good chance of reaching the $1bn mark in the following days.
A further $12.4m from 79 markets on Friday (4) propelled the international running total to $649.3m. Italy posted a $1.1m number two debut on January 1 and stands at $4.6m, while other territories particularly Asia and Latin America are holding well and the international tally could exceed $675m by the end of the upcoming session.
China has generated $279.4m after four weekends, France $19.5m after three sessions, Brazil $26.4m after three, the UK $21.6m, and Spain $10.4m after two.
Bumblebee has amassed an early $108.3m through Paramount Pictures International and the Transformers spin-off kicks off its third international weekend with a launch in China, where a big result could be in order given that Transformers: The Last Knight debuted there on $119.7m in June 2017 en route to a $228.8m final tally. The brand has good pedigree in China – Transformers: Age Of Extinction debuted on $92m in June 2014 and finished on $320m. Comedy Instant Family has grossed $9.7m at the international box office.
The Favourite arrives in the UK on Friday via Fox International and Yorgos Lanthimos' anarchic restoration comedy starring UK talents Olivia Colman and Rachel Weisz is expected to receive a big lift.
Once Upon A Deadpool enters Russia, Mexico and South Korea. Fox International is adding grosses from the family-friendly version of Deadpool 2 to the latter's running total, which now stands at $420.3m. Dragon Ball Super: Broly on $26m enters Brazil, while Bohemian Rhapsody has amassed $524.5m.
Ralph Breaks The Internet has grossed $187.7m via Walt Disney Studios Motion Pictures International and opens in Brazil, Italy, South Korea, Argentina and Switzerland. Mary Poppins Returns will surge past $100m this weekend and currently stands at $93.5m with debuts set for Australia, Russia, India, Bolivia, Ecuador, New Zealand, Panama, Paraguay, and Ukraine. The Nutcracker And The Four Realms has reached $116.6m.
Spider-Man: Into The Spider-Verse stands at $128.2m via Sony Pictures Releasing International and arrives in Brazil on January 10. Holmes And Watson has grossed an early $5.3m and launches in Russia on January 24.
Nearly three years after Comcast acquired DreamWorks Animation for $3.8bn in April 2016, Universal has reported a success with its first film from the celebrated animation stable, How To Train Your Dragon: The Hidden World.
The family adventure began its international roll-out in Australia and New Zealand on January 3 timed to the peak summer holiday season. The $1.5m (A$2.1m) Australian opening day is DreamWorks Animation's biggest opening day of all time (overtaking Shrek 2), the industry's third-biggest animation opening day of all time, the second-biggest January opening day, and Universal's sixth biggest opening day.
A $173,366 (NZ$260,773) New Zealand opening day delivered DreamWorks Animation's second biggest opening day of all time behind Shrek 2, the third biggest animation opening day of all time, the second biggest January opening day, and Universal Pictures' ninth biggest opening day.
The latest Dragon instalment (and the 36th from DreamWorks Animation) will open in 48 international markets ahead of its February 22 North American release, among them the UK, France, Germany, Italy, Mexico and Brazil, where São Paulo Comic Con where director Dean DeBlois introduced exclusive clips to attendees. The film will debut in South Korea and Southeast Asia in late January in time for the Lunar New Year holiday on February 5. European early dates are timed to school half-term holidays.
The Grinch has amassed $214.9m through Universal Pictures International, while Mortal Engines has reached $50.1m, and Unfriended: Dark Web $4.8m.