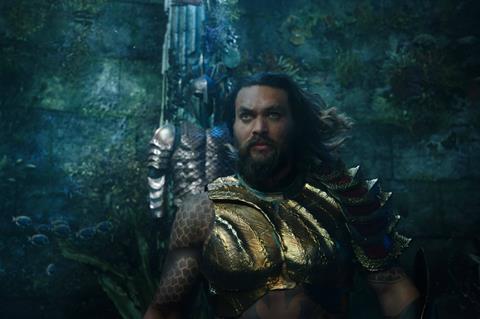 Aquaman has crossed the $300m international milestone and heads into its third session as the clear favourite to retain the international crown, although several other titles will make a splash heading into holiday season.
As of December 19 the DC Entertainment tentpole – already a hit before it opens in North America on December 21 – stood at $300.4m through Warner Bros Pictures International.
This weekend sees Jason Momoa glide into France, Germany and Spain and after last weekend's gargantuan $131.3m second session, it will bring in another substantial haul in the coming days.
One heavyweight challenger for the international crown will be Mary Poppins Returns. The family classic reboot starring Emily Blunt and Lin-Manuel Miranda from director Rob Marshall will sprinkle its magic over a wide swathe of the planet as it opens day-and-date with North America this weekend through Walt Disney Studios Motion Pictures International.
Expected to deliver significant grosses heading in the holiday season are the UK, Germany, France, Brazil, Italy, Spain, Belgium, Portugal, Poland, Netherlands and Israel, among others. The Nutcracker And The Four Realms has grossed $109.1m, while Ralph Breaks The Internet on $134m arrives in Japan and Hong Kong.
Another release that could make some noise is Spider-Man: Into The Spider-Verse, which stands at an early $26.7m through Sony Pictures Releasing International and leaps into China this weekend. Spider-Man: Homecoming opened there on $69.2m in September 2017 and if Sony's acclaimed animation takes off there could be fireworks in China. Spider-Verse also opens this weekend in Spain, Netherlands and Belgium.
Sony's horror release The Possession Of Hannah Grace stands at $16.4m, and the thriller Searching has reached $48.6m.
Transformers spin-off Bumblebee directed by Laika Animation chief Travis Knight and starring Hailee Stenfeld and John Cena opens via Paramount Pictures International in 38 markets. Key highlights are anticipated in Australia, Germany, Italy, Russia and Mexico. Prospects appear to be very good: 2017 release Transformers: The Last Knight opened in the aforementioned markets on $3.4m, $4.9m, $2m, $8.5m, and $7.8m.
While the number of key territories this weekend are too few to make a serious dent in Aquaman's aspirations, Bumblebee should do well enough to establish a solid foothold before it launches next week in a further 17 markets led by the UK, France, Brazil, South Korea and Spain, followed by China on January 4. Mark Wahlberg and Rose Byrne comedy Instant Family stands at $9m.
Fox International's Bohemian Rhapsody stands at $462.1m, while the recent releases of Once Upon A Deadpool, the family-friendly version of Deadpool 2, continue this weekend in Argentina, Singapore and Denmark. Fox International is rolling the grosses into the original film and the updated tally is $419.3m.
Returning to Warner Bros Pictures International, Fantastic Beasts: The Crimes Of Grindelwald has amassed $448.5m, A Star Is Born $178.3m heading into Japan, Creed II $26.5m, and Crazy Rich Asians $64.7m.