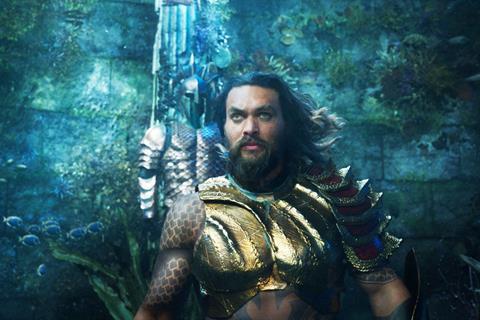 JANUARY 11 UPDATE: DC Entertainment's Aquaman is maintaining course for $1bn worldwide as it glided past $700m at the international box office on Wednesday and by Friday had reached $978.2m globally, with the magical milestone mere days away.
Warner Bros executives, riding high on a 2018 record $3.62bn international box office powered by Aquaman and $5.57bn global box office for the year, said on Friday (11) that the superhero tentpole from James Wan starring Jason Momoa and Amber Heard added $4.5m from 79 markets on Thursday to scale $707.6m through Warner Bros Pictures International.
China remains far and away the lead market on $285.5m, followed by South Korea on $36.8m, Brazil on $30.5m, Mexico on $27.6m, the UK on $24.2m, and France on $22.6m. Aquaman has amassed $21.6m in Australia, $18.5m in Russia, an estimated $18.4m in Germany, $17.4m in Indonesia, $13.8m in Taiwan, and $12m in Spain.
Creed II stands at $40.9m and opens this weekend in France, Russia and Japan. France in particular is expected to deliver a good yield, given that the original Rocky spin-off opened there in January 2016 on $3.9m en route to $11.6m. Latest figures put Fantastic Beasts: The Crimes Of Grindelwald on $486.4m, A Star is Born on $197.3m, and The Mule on $1.2m.
Paramount Pictures International delivered the number one international and global release last weekend in the form of Bumblebee and the action tentpole, now on $222.2m and more than $300m worldwide, arrives in the Philippines this weekend.
Comedy Instant Family on $10.2m opens in Australia, Croatia, Malaysia, New Zealand, Singapore, Taiwan, and Vietnam. The Second World War horror film Overlord stands at $19.5m.
Mary Poppins Returns on $126.3m opens in Chile and Philippines this weekend through Walt Disney Studios Motion Pictures International. Ralph Breaks The Internet has grossed $227.3m and arrives in Czech Republic, Hungary, Poland, Slovakia, Slovenia, and Turkey.
The Grinch crossed $500m worldwide this week and has reached $232.1m through Universal Pictures International, while Mortal Engines on $54.7m opens in five Latin American markets including Brazil, Argentina and Colombia.
DreamWorks Animation's How To Train Your Dragon: The Hidden World has swooped to an early $8m and opens in seven territories, among them the UAE and Norway. Welcome To Marwen on $1.2m opens in Italy and the Netherlands, while Unfriended: Dark Web has generated $5.9m.
Fox International unleashes the action fantasy Dragon Ball Super: Broly in 13 Latin American and Caribbean territories including Mexico, Argentina, and Colombia and has reached $33.5m. Meanwhile The Favourite on $8.9m opens in Belgium and Once Upon A Deadpool debuts in Poland and stands at $421.2m including Deadpool 2 grosses. Golden Globe winner Bohemian Rhapsody stands at $554.3m.
Golden Globe animation winner Spider-Man: Into The Spider-Verse stands at $144.8m and opens in Brazil on January 10 through Sony Pictures Releasing International. Action comedy Holmes And Watson has grossed $7.6m from the early stages and debuts in the Middle East.