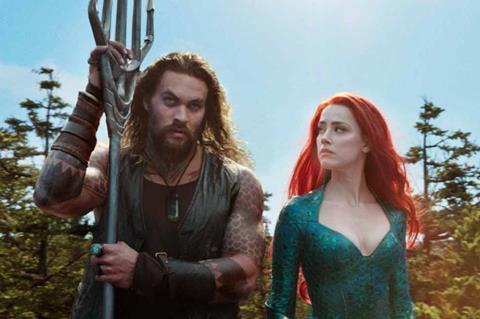 UPDATED: Aquaman remained in spectacular form in its second international weekend as a confirmed $131.3m from 43 markets propelled the early running total to a muscular $266.4m.
A further $25m enabled Universal's The Grinch to take another giant stride towards the $150m mark, while Ralph Breaks The Internet stands at $130.7m from approximately half its markets.
WARNER BROS PICTURES INTERNATIONAL
Now on $266.4m after two weekends, Aquaman surged into 43 new markets and added $54m in its second weekend in China where it has amassed $189.2m to rank as the second highest grossing Warner Bros release in history and already stands as the fourth highest grossing superhero adaptation.
Besides China, the DC Entertainment tentpole was in magnificent form around the world. Opening number one in all its markets, it debuted in Brazil on $8m for 82% market share of the top five, Russia on $7.8m for 49%, Mexico on $8m for 63%, the UK on $6.7m for 46% share, and Indonesia on $7.1m for 87% share and the second highest Warner Bros debut in history, and the highest DC Universe debut behind Batman v Superman.
Elsewhere, Jason Momoa, Amber Heard, WIllem Dafoe, Patrick Wilson and the cast arrived in Taiwan on $4.9m for a record Warner Bros opening weekend. The Philippines generated $4.4m for a new record for director James Wan, India produced $4.2m for the second highest Warner Bros debut in 2018, and a new mark for a December release, and Thailand $3.6m and 94% market share for a new Warner Bros debut record.
This week brings debuts in France, South Korea, Germany, Spain, and North America. The final key markets are Australia on December 26, Italy on January 1, and Japan on February 8.
Fantastic Beasts: The Crimes Of Grindelwald grossed $11.9m from 80 markets to stand at $444.4m, and $596.2m worldwide. Japan delivered $3.5m for $40.7m after four weekends, and in a trio of fifth weekend results Germany produced $1.9m for $35.8m, France $1.3m for $30.2m, and the UK $887,00 for $39.1m.
Creed II brought in $2.3m from 32 for $26.9m and has reached $9.5m in the UK after three sessions. Australia stands at $5.2m after the same amount of time. A Star Is Born has grossed $177.1m, and $376.2m worldwide. The UK and Australia are the lead markets on $37.8m and $22.5m, respectively.
UNIVERSAL PICTURES INTERNATIONAL
The Grinch continued to march to $150m after a $25m weekend from 61 territories in play boosted the running total to $135.1m from 65 overall. The family release debuted in China on $2.8m and in Japan on $2.2m.
Mexico and Germany were the top holdover markets on $2.8m for $10.4m after two weekends, and $2.3m for $10.6m after six, respectively. The worldwide haul stands at $374.6m.
Fantasy adventure Mortal Engines grossed $11.5m from 54 to reach an early $34.7m. It opened in France at number three on $1.7m, and debuted in the UK at number five on $1.6m. A $1.4m debut in Germany secured fourth place, while $852,000 in Italy resulted in third. Spain generated $784,000 for number four.
In the second session Russia added $928,000 for $6m, Australia $504,000 for $1.9m, and Hong Kong $365,000 for $1.2m.
SONY PICTURES RELEASING INTERNATIONAL
Spider-Man: Into The Spider-Verse began its international rollout by complementing the number one North American launch with a $21m haul from 44 markets led by South Korea on $3.3m, the UK on $2.9m including previews, Russia on $2.3m, and Australia on $2.3m including previews. There are 11 new markets this week including China and Spain.
Searching added $2.7m in China as the international running total climbed to $47.6m. The Possession Of Hannah Grace grossed $2m from 34 markets and stands at $15.6m.
FOX INTERNATIONAL
Bohemian Rhapsody stands at $456m following a $20.5m weekend in 65 markets. The Freddie Mercury drama remains number one in its seventh weekend in South Korea, where after a 10% drop it added $5m for $61.1m. It ranks second in Japan where $3.8m boosted the tally to $47.4m after six weekends, and top in its third weekend in Italy where $2.8m raised the running total to $17.7m.
Dragon Ball Super: Broly launched at number one in Japan where the animation grossed $9.2m. Upcoming releases are set for Malaysia, Singapore, and Thailand on December 27, and the balance of Latin America opens in early January.
Widows grossed $1.7m from 59 markets to reach $30m, while Once Upon A Deadpool took $993,967 from 12 markets led by a number two debut in the UK on $328,454.
WALT DISNEY STUDIOS MOTON PICTURES INTERNATIONAL
Ralph Breaks The Internet brought in a further $7.9m from 32 material territories representing toughly 54% of the market to push the running total to $130.7m. The family film debuted in the Netherlands on $500,000 and in Belgium on $300,000.
Turning to the top five markets, China leads the way on $39m, followed by Mexico on $16.4m, Russia on $12.5m, the UK on $11.9m, and Spain on $6.6m.
LIONSGATE INTERNATIONAL
Robin Hood stands at $42.7m thanks to a $2.4m session from 76 markets. Russia is the top market on $4.3m after three weekends, followed by the UK on $3.4m after four, and Brazil on $3m after three.
Crime caper A Simple Favor added $1.7m for $41.3m and opened in Italy on $829,000 for fourth place, and South Korea on $681,000.
STX INTERNATIONAL
The rom-com Second Act starring Jennifer Lopez grossed $1.3m as the early running total reached $2.9m from 20 markets. Jennifer Garner thriller Peppermint stands at $16.1m from 68.
PARAMOUNT PICTURES INTERNATIONAL
Mark Wahlberg and Rise Byrne comedy Instant Family stands at $8m, with Mexico on $3.6m after three sessions.