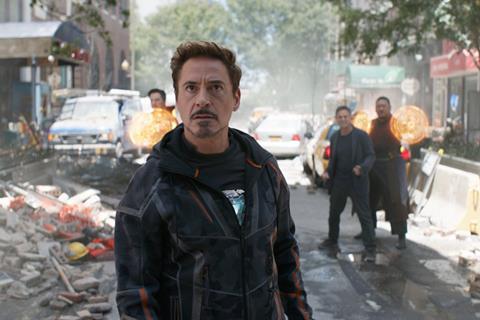 MAY 14 UPDATE: Avengers: Infinity War earned $343.3m worldwide as the running total climbed to $1.61bn. Powered by a $199.3m debut in China, the $281.5m international weekend propelled the running total to $1.016bn.
WALT DISNEY STUDIOS MOTION PICTURES INTERNATIONAL
UPDATED: The estimated global haul puts the Marvel Studios behemoth at number five in the all-time pantheon and it ranks as the biggest Marvel Cinematic Universe release in history. The weekend box office also pushed Disney past the $2bn international mark to reach $2.19bn.
The China result ranks as the second highest three-day opening in history and means Avengers: Infinity War already outstrips the entire run of The Avengers, Captain America: Civil War, and Iron Man 3.
The film ranks number one for the third weekend running in Hong Kong, Taiwan, Japan (for a Western release), South Korea, India (western), Indonesia, Malaysia, Philippines, Singapore, Thailand, Australia and New Zealand. It ranks top for the second weekend running in Russia, and has established itself as the biggest release in industry history in the Philippines, Indonesia, Malaysia, Singapore, India (Western) and Vietnam.
Turning to the all-time international box office roster, Avengers: Infinity War is the fifth highest release. It is the biggest film ever in Brazil, Central America, Bolivia, Venezuela, Philippines, Indonesia, Malaysia, Singapore, India (Western), Vietnam, and the region of Latin America.
Behind the Chinese gross, South Korea ranks as the second biggest performer on $84.5m, followed by the UK on $82.6m, Brazil on $55.3m, Mexico $54.8m, India $41m, Australia $40.6m, France $40m, and Germany $36.1m.
WARNER BROS PICTURES INTERNATIONAL
UPDATED: Comedy Life Of The Party grossed $3.2m and opened in Australia on $1.5m, and the UK on $838,000.
Rampage added $7.3m from 64 territories for $398.2m and opened in Germany on $1.6m. China ranks as the top market on $155.2m, followed by Mexico and the UK and South Korea on $12.7m, $12.3m, and $11.2m, respectively.
Ready Player One grossed $2.3m from 46 for $439.2m. China has generated $221.6m, the UK $22.6m, and France $20.7m. Game Night stands at $47.1m.
UNIVERSAL PICTURES INTERNATIONAL
UPDATED: Truth Or Dare grossed $7.5m for $30.8m and stands at $70.5m worldwide. The supernatural thriller opened in Germany at number three on $1.4m, and debuted in Spain at number three on $927,000
PARAMOUNT PICTURES INTERNATIONAL
A Quiet Place grossed $2.8m from 55 markets to reach $100.4m with China to come this week, followed by France and Japan. After six weekends, the horror has generated $16m in the UK. Sherlock Gnomes added $5.6m from 23 for $28.8m.
SONY PICTURES RELEASING INTERNATIONAL
Peter Rabbit added $1.6m from 53 markets to climbs to $214.7m. Two local-language titles were in action: Children's release Liliane Susewind – Ein Tierisches Abenteuer opened on $1m from four markets and $825,000 in Germany. Hindi-language comedy 102 Not Out added $2.2m for $8.2m.
FOX INTERNATIONAL
Animation Ferdinand ventured into the brand new market of Saudi Arabia and grossed $4,000. Isle Of Dogs stands at $24.7m, while Love, Simon has reached $16.4m.
STX INTERNATIONAL
Rom-com Overboard from MGM and Lionsgate's Pantelion Films starring Eugenio Derbez and Anna Faris opened in Mexico as Hombre Al Agua and scored the highest comedy launch ever in the territory, ranking number one on a little over $10.5m. This was the second highest debut of the year behind Avengers: Infinity War and the highest grossing opening weekend ever for a Derbez film.