ARPIL 14 UPDATE: Disney tentpole reaches $1,010.1bn worldwide.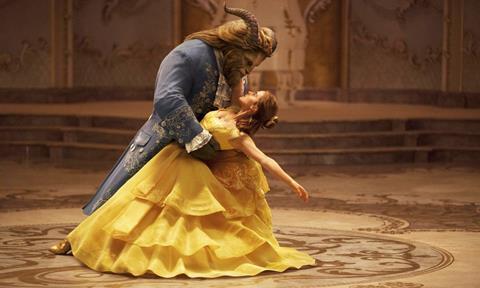 Beauty and the Beast added $7.7m globally on Thursday and stands at $569.1m internationally and $441m in North America for $1,010.1bn overall.
Lead market China has generated $85.7m, the UK $77.8m, Brazil $37.3m, South Korea $34.5m, Mexico $29m, Australia $28.9m, Germany $27.3m, Italy $21.5m, Spain $20.5m, France $17.6m, Russia $14.5m, the Philippines $13.4m, Argentina $10.9m, and Indonesia $9.2m.
APRIL 13 REPORT: Disney's live-action tentpole reaches milestone on Wednesday, becomes studio's 14th film to do so.
In a press release on Thursday Disney said: "Beauty and the Beast fans around the world pushed Disney's live-action adaptation past the $1 billion mark at the global box office, making it 2017's highest-grossing film worldwide to date, the highest grossing live-action movie musical of all time and a global phenomenon."
The live-action tentpole starring Emma Watson and Dan Stevens added $9.2m worldwide on Wednesday to reach $1,002.4bn.
The film stands at $564.1m internationally and $438.3m in North America.
China is the lead market on $85.6m, with the UK next on $76.6m, followed by Brazil on $37m, South Korea on $34.4m, and Mexico on $28.8m.
Elsewhere, Beauty And The Beast stands at $28.4m in Australia, $26.8m in Germany, $21.4m in Italy, $20.2m in Spain and $17.3m in France.
Russia has delivered $14.5m, the Philippines $13.4m, Argentina $10.8m, and Indonesia $9.2m.
Bill Condon directed Beauty And The Beast, which also stars Luke Evans, Josh Gad, Kevin Kine, and Stanley Tucci.