MARCH 24 UPDATE: Kong: Skull Island opens in China on $22.5m.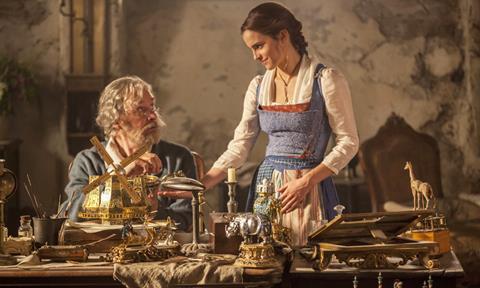 Live-action smash Beauty And The Beast added $28.7m globally on Thursday to reach $490.6m. International running total stands at $262m, while North America has generated $228.6m.
The live-action hit starring Emma Watson and Dan Stevens should coast past $625m worldwide and has been tipped by some in the industry as a contender to cross $1bn by the end of its run.
It opened in Australia on $2.9m including previews for the second biggest March opening day ever and the biggest opening day so far in 2017.
Disney's live-action remake stands at $60.3m in China, which remains the lead market by some margin. Next is the UK on $34.2m, followed by Mexico on $18.4m.
Brazil has delivered $16.8m, South Korea $15.3m, and Germany and Italy on $12.4m and $11.1m, respectively.
The film opens in Australia on Thursday and Argentina, Australia, Belgium and several other territories this weekend.
Kong: Skull Island arrived in China through Wanda-owned Legendary on $22.5m including Thursday night previews. The debut secured the second biggest English-langage launch of the year-to-date behind Resident Evil: The Final Chapter, and scored the fifth biggest in history. The International tally excluding China stands at $167.3m.
The LEGO Batman Movie goes into the weekend with $120.4m and trails the 2014 original, which finished on $211.4m. Meanwhile Fist Fight starring Ice Cube stands at $8.1m through Warner Bros Pictures International.
Fox International's X-Men spinoff Logan stands at $345.8m with no new openings as it enters its fourth weekend.
The Boss Baby from DreamWorks Animation will aim to charm audiences in five territories this weekend, including Australia and Russia. The film features the voice talents of Alec Baldwin, Toby Maguire and Steve Buscemi.
Fox's horror offering A Cure For Wellness has grossed $13.3m as it arrives in Spain and Italy, while Hidden Figures opens in South Korea this weekend and stands at $49.4m. Assassin's Creed has grossed $185.7m.
DreamWorks Animation's Trolls has no new debuts this weekend and stands at $190.8m, while comedy Why Him? stands at $57.4m.
Universal Pictures International and Blumhouse Production's horror Get Out, directed by Jordan Peele, sits on $4.9m internationally after debuting in nine territories last weekend.
Fifty Shades Darker passed $260m internationally last weekend as the erotic drama stands at $262.4m heading into its seventh session. Meanwhile, M. Night Shamylan's thriller Split has reached $123.5m and debuts in Brazil.
Sing, the animated musical from Illumination Entertainment, has grossed $324.9m and has no new openings, while family film A Dog's Purpose has amassed $20m from Universal territories and has opened in all its markets. Manchester By The Sea debuts in Russia this weekend and stands at $14.9m internationally.
Paramount Pictures International's action tentpole XXX: Return Of Xander Cage enters the weekend on $301.2m. The Vin Diesel-led film has no new debuts. The horror film Rings has reached $54.3m.
Lionsgate International's The Shack starring Octavia Spencer and Sam Worthington goes into the weekend with $799,000, while Patriots Day starring Mark Wahlberg has grossed $12.4m.