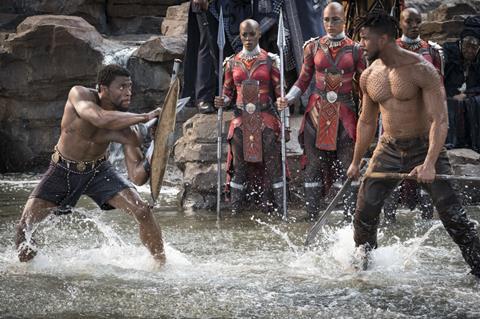 FEBRUARY 26 UPDATE: Black Panther established its blockbuster credentials within its first three days in North America and now, after two weekends, a new level beckons as Marvel Studio's cultural phenomenon reached a confirmed $403.6m. The half-billion mark is a strong possibility within the week.
The tentpole held firm in its second session, slipping 44.7% to add $111.7m through Buena Vista and hit $400m on the nose. Ryan Coogler's well reviewed tentpole starring Chadwick Boseman and an all-star cast stands at $708.9m worldwide.
The film also became only the fourth to gross more than $100m in its second weekend, and already ranks as the fifth biggest Marvel Cinematic Universe (MCU) release in North America. It will overtake Captain America: Civil War on $408m and Iron Man 3 on $409m by the end of Monday or Tuesday.
To gross $400m after 10 days in release is a remarkable accomplishment that puts the film in exalted company – only one tentpole, Star Wars: The Force Awakens, did it faster, reaching the mark in eight days in December 2015. Jurassic World achieved the feat in 10 days back in June 2015. Star Wars: The Last Jedi took 12 days to reach $400m last December.
Furthermore only 28 films have gone higher at the North American box office than Black Panther, which will leap into the all-time top 10 when it crosses $500m within a week or so.
Annihilation arrived via Paramount in fourth place on $11.1m in 2,012 theatres. The studio offloaded international rights to Alex Garland's sci-fi thriller to Netflix in a deal that according to reports was triggered after one of the film's producers, Skydance Productions chief David Ellison, who co-finances Paramount's slate, feared the film would be too cerebral for audiences.
A wrestling match ensued that resulted in producer Scott Rudin electing to stay true to Garland's vision and protecting the original ending. The studio decided to mitigate potential box office losses by cutting a deal with Netflix.
Natalie Portman, Tessa Thompson, Jennifer Jason-Leigh and Gina Rodriguez star as a team dispatched to a mysterious region of earth subject to alien activity. Oscar Isaac also stars. Netflix will launch Annihilation on its international streaming platform 17 days (three weekends) after the North American release. Paramount retains distribution rights for China and in VOD and home entertainment. in North America.
Warner Bros opened the crime caper Game Night with Rachel McAdams and Jason Bateman in second place on $17m from 3,488 venues, while MGM's revived Orion Pictures label debuted the drama Every Day at number nine on $3m in 1,667.
Sony's children's release Peter Rabbit slipped to number three and stands at $71.5m after three sessions, while Universal's Fifty Shades Freed remains on course to finish as possibly the lowest-grossing entry in the erotic drama franchise. It ranks fifth after dropping another two slots in its third weekend, adding $7.1m for a disappointing $89.8m.
Aardman Animations' Early Man dropped three to number 10 through Lionsgate and has mustered a disappointing $6.9m after two sessions.
More encouraging are the continued exploits of the awards season's leading lights in the final session before Oscar weekend. Three Billboards Outside Ebbing, Missouri has reached $50.2m after 16 weekends and climbed two places to number 11 despite Fox Searchlight reducing the theatre count by 89 from 780 to 691. Stablemate The Shape Of Water fell one place to rank 13th and added $1.1m for $55.3m in its 13th session, again after a reduction in the footprint that saw it drop by 236 from 957 sites to 721.
Fox-Amblin Partners' Pentagon Papers drama The Post by Steven Spielberg fell two slots to number 12 in its 10th session, adding $1.2m for $78.9m after Fox reduced its presence from 1,050 to 795.
Further down the order, a cluster of contenders are jostling for attention. Focus Features' Phantom Thread climbed two slots to 19th on $19m after nine, while Darkest Hour sits in 18th place on $54.5m after 14 weekends; while Lady Bird is one place below on $47.3m through A24 after 17; I, Tonya in 20th place has amassed $28.1m through NEON after 12; and SPC's Call Me By Your Name at number 21 stands at $15.8m after 14 sessions.
Chinese smash Operation Red Sea, which dominated the international box office at the weekend, opened in North America through Well Go USA at number 24 on $436,000 from 45 sites.
Box office for the top 12 amounted to $179.6m down 33.7% on last weekend and up 61.6% against the $111.1m comparable session in 2017.
This week's wide releases are: Fox's spy thriller Red Sparrow starring Jennifer Lawrence; and Eli Roth's revenge thriller remake Death Wish for MGM with Bruce Willis.
Confirmed top 10 North America February 23-25, 2018
Film (Dist) / Conf wkd gross / Conf total to date
1 (1) Black Panther (Buena Vista) Walt Disney Studios Motion Pictures International $111.7m $403.6m
2 (-) Game Night (Warner Bros) Warner Bros Pictures International $17m –
3 (2) Peter Rabbit (Sony Pictures) Sony Pictures Releasing International $12.8m $71.5m
4 (-) Annihilation (Paramount) Netflix $11.1m –
5 (3) Fifty Shades Freed (Universal) Universal Pictures International $7.1m $89.8m
6 (4) Jumanji: Welcome To The Jungle (Sony) Sony Pictures Releasing International $5.7m $387.3m
7 (5) The 15:17 To Paris (Warner Bros) Warner Bros Pictures International $3.6m $32.3m
8 (6) The Greatest Showman (Fox) Fox International $3.4m $160.8m
9 (-) Every Day (Orion) MGM $3m –
10 (7) Early Man (Lionsgate) Lionsgate International $1.8m $6.9m