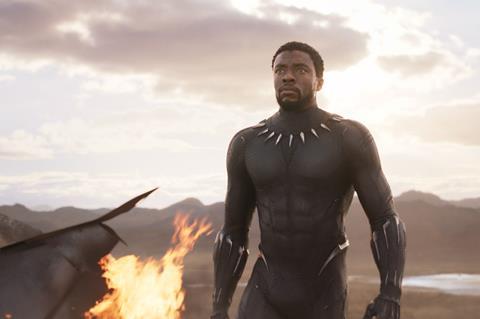 MARCH 19 UPDATE: Black Panther became the first film since Avatar in 2009 to hold on to number one for five successive weekends as the tentpole surged to $605m following a confirmed $26.7m weekend haul that kept new arrival Tomb Raider in second place.
The superhero smash ranks as the seventh highest North American release and the second highest Marvel Cinematic Universe (MCU) release of all time. Only The Avengers stands above it in the MCU pantheon on $623.4m – a target Black Panther now has within its sights.
Warner Bros / MGM's Tomb Raider reboot starring Alicia Vikander in the role of the thrill-seeking heiress Lara Croft first made famous by Angelina Jolie back in 2001 opened in second place on $23.6m from 3,854 theatres.
Dominic West and Daniel Wu, Walton Goggins and Kristin Scott Thomas and Derek Jacobi round out the key cast and Norway's Road Uthaug (The Wave) directed. Warner Bros and MGM co-produced and jointly distribute the film internationally.
Roadside Attractions scored a terrific number three debut for family drama I can Only Imagine starring Dennis Quaid and Cloris Leachman in third place on $17.1m from 1,629 sites, while in another notable accomplishment for diversity, Fox's gay rom-com Love, Simon debuted at number five on $11.8m from 2,402.
Disney's A Wrinkle In Time from Ava DuVernay dropped 50.9% in its second session and two slots to number four as $16.3m propelled the fantasy adaptation to $60.8m.
Peter Rabbit crossed $100m for Sony – the family adaptation slipped 23.2% and one slot to number seven in its sixth session, adding $5.2m for $102.4m. Alex Garland's Annihilation is up to $29.6m in its fourth weekend as the sci-fi horror slipped three to number 11 on $1.7m through Paramount.
Participant Media's historical thriller and recent Berlin world premiere 7 Days In Entebbe opened at number 13 via Focus Features on $1.6m from 838. Daniel Bruhl and Rosamund Pike star in the hijack story.
Box office for the top 12 generated $122.2m, down 4.7% on last weekend and 51.8% down on the comparable session in 2017 when Disney smash Beauty And The Beast opened on $174.8m.
This week's wide releases are: Legendary Entertainment's Pacific Rim Uprising starring John Boyega through Universal; animation Sherlock Gnomes featuring an all-star voice cast via Paramount; thriller and recent Berlinale world premiere Unsane directed by Steven Soderbergh and starring Claire Foy through Bleecker Street; drama Paul, Apostle Of Christ starring Jim Caviezel via Sony; and romance Midnight Sun staring Bella Thorne and Patrick Schwarzenegger through Global Road.
Confirmed top 10 North America March 16-18, 2018
Film (Dist) / Conf wkd gross / Conf total to date
1 (1) Black Panther (Buena Vista) Walt Disney Studios Motion Pictures International $26.7m $605m
2 (-) Tomb Raider (Warner Bros) Warner Bros Pictures International / MGM $23.6m –
3 (-) I Can Only Imagine (Roadside Attractions) $17.1m –
4 (2) A Wrinkle In Time (Buena Vista) Walt Disney Studios Motion Pictures International $16.3m $61.8m
5 (-) Love, Simon (Fox) Fox International $11.8m –
6 (5) Game Night (Warner Bros) Warner Bros Pictures International $5.6m $54.2m
7 (6) Peter Rabbit (Sony Pictures) Sony Pictures Releasing International $5.2m $102.4m
8 (3) Strangers: Prey At Night (Aviron Pictures) Bloom $4.7m $18.5m
9 (4) Red Sparrow (Fox) Fox International $4.5m $39.7m
10 (7) Death Wish (MGM) MGM $3.4m $29.9m