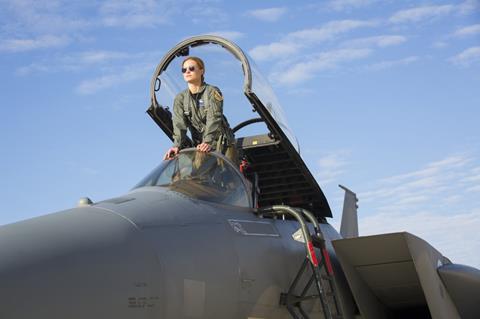 MARCH 11 UPDATE: Captain Marvel starring Brie Larson roared into life at the weekend, grossing a confirmed $153.4m in North America in a result that not only generated the biggest debut of the year-to-date and opened considerably higher than Wonder Woman, but grossed more than the top ten releases of last weekend combined.
This was the third highest March opening weekend, and the seventh highest Marvel Cinematic Universal (MCU) debut, complementing the record-breaking $303.3m international and $456.7m global launches. In North America, Marvel Studios films now account for seven of the top 20 debuts in industry history, and The Walt Disney Company accounts for 12.
Captain Marvel's launch in 4,310 theatres overtook the opening weekends of Wonder Woman, Aquaman, the first two Iron Man films, The Incredible Hulk, the first two Captain America films, all three Thor films, Doctor Strange, both Ant-Man films, both Guardians Of The Galaxy films, as well as all Spider-Man films, Venom, Suicide Squad, Man Of Steel, Justice League, both Deadpool films, and all X-Men releases.
Anna Boden and Rylan Fleck directed the tentpole, and the cast includes Samuel L. Jackson, Jude Law, Ben Mendelsohn, Lashana Lynch, Annette Bening, and Clark Gregg.
According to demographic data released by Disney brass, the new release drew a 55%-45% make-female crowd, of whom adults comprised 74%, families 18%, and teenagers nine percent. The 25-34 bracket accounted for the lion's share of 25% of the gross, followed by 35-49 on 23%, 17-24 on 21%, over-50s on 15%, 12-16 on 9%, and under-11s on seven percent.
2D screens accounted for 86% of business. IMAX accounted for $36m worldwide, of which $14.1m came from 411 screens in North America for the large screen pioneer's second biggest domestic March launch.
Last weekend's champion How To Train Your Dragon: The Hidden World crossed $100m in its third weekend, adding $14.7m for $11.7m through Universal following a reasonable 51.1% drop. Last weekend's new release Tyler Perry's A Madea Family Funeral in third place slipped 53.9% and added $12.5m for $46.3m.
Oscar winner Green Book held film at number six, adding $2.5m for an excellent $80.2m after 17 sessions. The documentary Apollo 11 climbed five slots to number ten through NEON on $1.3m for $3.7m after two sessions.
A24 opened Glora Bell starring Julianne Moore at number 32. Sebastian Lelio's English-language remake of his own film Gloria earned $145,218 from five sites for a $29,044 average. Reliance Big opened the Shah Rukh Khan crime drama Badla at number 17 on $596,446 in 94 theatres, and Lionsgate debuted action drama The Kid at number 18 on $514,286 from 268.
Box office for the top 12 combined for $200.3m, up 103.3% against last weekend, and up 56.2% against the comparable session in 2018. This week's wide releases are: Paramount animation Wonder Park; Focus Features' sci-fi Captive State; and Lionsgate's romance Five Feet Apart.
Confirmed top 10 North America Mar 8-10 2019
Film (Dist) / Conf wkd gross / Conf total to date
1 (-) Captain Marvel (Buena Vista) Walt Disney Studios Motion Pictures International $153.4m –
2 (1) How To Train Your Dragon: The Hidden World (Universal) Universal Pictures International $14.7m $119.7m
3 (2) Tyler Perry's A Madea Family Funeral (Lionsgate) Lionsgate International $12.5m $46.3m
4 (4) The LEGO Movie: The Second Part (Warner Bros) Warner Bros Pictures International $3.9m $97.2m
5 (3) Alita: Battle Angel (Fox) Fox International $3.2m $78.4m
6 (6) Green Book (Universal) Lionsgate International / Amblin Partners $2.5m $80.2m
7 (7) Isn't It Romantic (Warner Bros-New Line) Warner Bros Pictures International $2.3m $44m
8 (8) Greta (Focus Features) $2.18m $8.3m
9 (5) Fighting With My Family (MGM) MGM $2.19m $18.7m
10 (15) Apollo 11 (NEON) $1.3m $3.7m