Lionsgate's sequel takes $9m (£5.5m) to hold onto the top spot for the second consecutive week; Fox's Philomena becomes Stephen Frears' best-ever UK performer at $16.1m (£9.8m).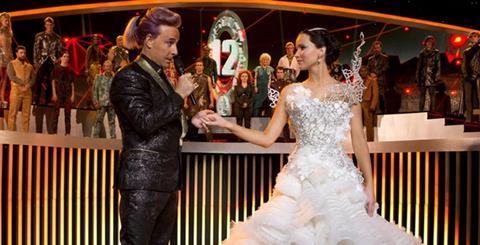 Posting a respectable drop of under 50% (excluding previews) on its big opening, The Hunger Games: Catching Fire has retained the top spot at the UK box office.
Lionsgate's sequel grossed $9m (£5.5m) in its second weekend to stand at a strong $35.5m (£21.7m) after only 11 days in play. It will shortly overtake The Hunger Games' $38.9m (£24m) UK result, and is also likely to top the $45.1m (£27.5m) UK run of The Twilight Saga: New Moon.
Frozen will provide stiff competition this week as Catching Fire looks to become only the fourth film this year to go three straight weeks as the UK's number one, following Prisoners, The Croods and Les Misérables.
With around $6.6m (£4m) grossed during its first Mon-Thurs window, a UK result of over £30m is all but guaranteed.
WARNER BROS
With an exceptional hold in its fourth weekend as it posted the smallest drop in the top 15, Gravity remained in second with $2.9m (£1.74m).
Warner Bros' sci-fi is now up to a terrific $37m (£22.52m) in the UK and while £30m could prove a step too far, a result over £25m would cement its position as one of the hits of the year.
Given its run so far though, don't rule out £30m for Gravity just yet.
Also for Warner Bros, Joseph Gordon-Levitt's directorial debut Don Jon is up to $1.2m (£749,000) after three weeks in play.
EONE
Thanksgiving-centred Free Birds flew into the UK box office as the week's highest new entry in third.
eOne's animation posted a solid debut of $1.7m (£1.04m) from its 449 sites at an average of $3,786 (£2,320). The opening is however behind director Jimmy Hayward's previous animated outing, Horton Hears a Who!, which took $4.8m (£2.95m) from 501 sites.
Also for eOne, action comedy The Family added $310,000 (£188,809) in its second weekend for a ten-day running total of $1.5m (£928,461).
DISNEY
Despite being well received by the majority of critics, Disney's Saving Mr. Banks could only manage a UK debut of $1.3m (£792,248) from its 465 sites.
That's down on director John Lee Hancock's previous UK outing The Blind Side, which posted an opening of $2.2m (£1.3m) from 371 sites.
Given its more adult-orientated target market, there's every chance Saving Mr. Banks could enjoy healthier numbers midweek.
Also for Disney, superhero sequel Thor: The Dark World has hammered its way to $31.5m (£19.2m) to date in the UK following a $694,000 (£423,372) fifth weekend.
Planes is up to $14.6m (£8.9m).
SONY
Rounding off this week's top five, Carrie recorded a UK bow of $1.1m (£670,000) from its 367 sites.
The debut of Sony's horror remake is down on 2013's other notable horror remake Evil Dead, which scared up $2.3m (£1.4m) from 395 sites (including $472,000/£287,973 in previews) despite a higher 18 certificate.
Also for Sony, animated sequel Cloudy with a Chance of Meatballs 2 added $353,000 (£215,000) for $19.4m (£11.85m), while Captain Phillips has amassed $25.7m (£15.65m) to date.
ENTERTAINMENT
Now in its third week of release, Entertainment's Lee Daniels' The Butler served up an extra $706,000 (£430,000) at a slim drop of 29% for $4.7m (£2.9m) to date.
FOX
Philomena is now director Stephen Frears' best-ever UK performer, having overtaken The Queen's $15.5m (£9.42m).
Fox's critically acclaimed comedy-drama grossed a further $475,000 (£289,785) for $16.1m (£9.8m) and will cross the £10m mark in the coming days, crowning a fantastic run at the UK box office.
Also for Fox, Turbo and The Counsellor stand at $18.6m (£11.33m) and $2.9m (£1.8m), respectively.
Fox International Productions' Bullett Raja was released in 48 sites this weekend, resulting in a $134,000 (£81,603) UK bow.
UNIVERSAL
The Best Man Holiday recorded a $210,000 (£128,000) UK bow at an average of $1,725 (£1,052) through Universal.
That's ahead of its predecessor The Best Man's UK debut of $85,000 (£51,860), albeit from considerably less sites at 24.
ARTIFICIAL EYE
In its second weekend of release, Artificial Eye's Palme d'Or winner Blue is the Warmest Colour grossed a non-final $141,000 (£85,969) from its 54 sites for $530,000 (£323,754) to date.
PARAMOUNT
Nearing the end of its UK run, Paramount's Jackass Presents: Bad Grandpa has taken $10.6m (£6.47m) so far, following a $92,000 (£56,000) weekend.
DOGWOOF
Released in seven screens through Dogwoof, Leviathan posted a UK debut of $21,000 (£12,580) including previews.
UPCOMING RELEASES
This week sees saturation releases for Disney's Frozen, Paramount's Nebraska, Eros' R…Rajkumar and Lionsgate's Homefront.
Warner Bros' Getaway, Fox's Black Nativity and Universal's Oldboy all receive wide releases, while Metrodome's Big Bad Wolves, The Works' Kill Your Darlings and Vertigo's Powder Room are among the films receiving a limited release.