Fox's The Martian landed in pole position at the China box office with an impressive $48.95m in its first five days.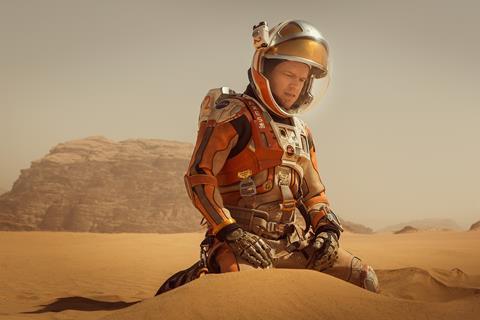 With a plotline that incorporates favourable Chinese elements, Ridley Scott's space adventure contributed to almost 45% of last week's total box office receipts and bested Gravity and Interstellar's opening gross.
Taiwanese mega-blockbuster Our Times held extremely well in the second place and added $23.49m from $40.88m haul after 11 days.
The youth comedy has not only become the biggest Taiwanese film in China, tripling the gross of the previous record holder You're The Apple of My Eye, but also a smash hit in Hong Kong, Malaysia and Singapore.
EuropaCorp's The Transporter Refueled climbed to the third from the fourth with $7.42m. The action thriller was co-produced by China's Fundamental Films, and with an $18.53 haul after 10 days, has surpassed its North America's gross.
The Vanished Murderer, one of the two Chinese newcomers on the weekly chart, came in fourth with $6.32m over its three-day opening weekend.
The mystery thriller is a follow-up to 2012's hit The Bullet Vanishes and reunites Hong Kong producer Derek Yee, director Lo Chi Leung and actor Lau Ching Wan.
The other new Chinese entry was Bad Guys Always Die, which launched at seventh place with $4.88m over its three-day opening weekend.
The latest Chinese-Korean co-production was an action comedy set in South Korea's popular holiday destination Jeju Island and featuring Chen Bolin from Taiwan and South Korea's Son Ye-jin. Chinese director Feng Xiaogang and Taegukgi's director Kang je-gyu serve as producers.
After holding the top slot for two weeks straight, Sony's Spectre dropped to the fifth and earned $6.06m for $84.38m after 17 days.
It was followed by Lionsgate action adventure The Hunger Games: Mockingjay – Part 2, which took $5.61m for $21.75m after 10 days
Patrick Kong's Return of the Cuckoo dropped to eighth with $2.24m for $6m after 10 days. The romance film was adapted from a popular TVB drama and reunites the original cast Julian Cheung and Charmaine Sheh after 15 years.
Rounding out the weekly chart were Chinese actor-turned-director Chen Jianbin's debut A Fool, which took $0.77m for $2.87m after 10 days, and Fox animation The Peanuts Movie, which re-entered the top 10 with $0.55m for $5.76m after 24 days.
The Spongebob Movie: Sponge Out of Water opens today, followed by local romance Fall in Love Like a Star on Dec 3 and Point Break, local romance Go Lala Go 2 and local love comedy Oh My God on Dec 4.