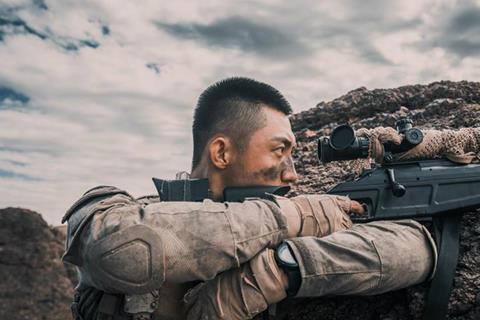 FEBRUARY 26 UPDATE: Dante Lam's rescue thriller Operation Red Sea had too much even for Black Panther in the latter's second weekend, as it grossed $107m in China to propel the international running total to $334.6m.
CHINA BOX OFFICE
Detective Chinatown 2 used an $80m weekend to reach $417.7m, while Monster Hunt 2 added $33.5m for $323.4m. The Monkey King 3: Kingdom Of Women grossed $7.6m for $109.8m.
WALT DISNEY STUDIOS MOTION PICTURES INTERNATIONAL
UPDATE: Marvel Studios' box office smash Black Panther has soared to $708.9m worldwide by the end of its second weekend as the international arena delivered a further $85.1m to boost the tally to $305.3m.
The film held at number one in most of its markets and debuted in Russia on $1.6m, rising to $2.6m including previews. It also arrived in Vietnam on $1.6m in the fifth highest industry debut, while $700,000 in Trinidad & Tobago delivered the highest debut in history.
The UK remains the top market on $41.3m, followed by South Korea on $36.1m, Brazil on $18.6m, Mexico and Australia on $17.5m apiece, France on $15.1m, and Germany on $11.1m.
Taiwan has generated $10.4m, Indonesia $9.9m, Malaysia $7.9m, India $7.6m, Philippines $7.4m, Hong Kong $6.8m, Thailand $6.7m, and Italy $6.2m. Black Panther opens in China on March 9.
Pixar's Coco added $4.4m for $531.5m and stands at $739.5m worldwide.
UNIVERSAL PICTURES INTERNATIONAL
UPDATE: Fifty Shades Freed delivered a $22.5m session to reach $231.2m and $321m worldwide. The erotic drama debuted in South Korea on $900,000. The top holdover was Germany on $3.4m for $26.9m, followed by France on $2.5m for $19.3m, and the UK on $1.6m for $23.1m.
Lady Bird added $3.1m for $5.6m and opened in the UK in sixth place on $1.7m. Phantom Thread grossed $3m for $14.1m and debuted in Italy in fifth place on $1.2m. Darkest Hour took in a further $1.7m for $81.2m. The Winston Churchill drama starring Oscar favourite Gary Oldman stands at $3.4m in the UK after seven weekends.
SONY PICTURES RELEASING INTERNATIONAL
UPDATE: Russian sports drama Ice from Fedor Bondarchuk and Dmitry Rudovsky's Moscow-based Arts Pictures Studio stayed top in Russia following a 17% slip on $9.7m for $21.9m. The film about a girl who grows up in poverty and becomes a figure skating champion ranks as Sony's third highest local-language release in the territory.
Jumanji: Welcome To The Jungle grossed $3.2m from 86 territories for $533.7m and $920m worldwide. Monster Hunt 2 added a little under $1m from four Sony markets for $3.8m. Pad Man stands at $15.7m from five Sony markets.
FOX INTERNATIONAL
UPDATE: The Shape Of Water added $11.8m for $55.6m and debuted in France at number six on $2.2m, and South Korea on $1.3m. The Argentinian debut produced $360,000 for third, and Denmark $258,000 in fourth. The UK has produced $6.2m after two sessions.
The Greatest Showman crossed $200m thanks to a $7.9m weekend that propelled the running total to $200.8m. Japan added $3.3m for $12.3m in its second session, and the UK delivered $2.8m in the ninth for $45.8m. Australia has generated $23.8m after nine.
Three Billboards Outside Ebbing, Missouri added $4.6m for $71.4m, with the UK on $16.9m after seven weekends. Maze Runner: The Death Cure grossed $7.1m to reach $215.4m, while Ferdinand stands at $204.9m.
THE POST
Steven Spielberg's The Post mustered $6.3m overall for $66.7m. The weekend haul included $4.6m from 23 Universal territories for $20.5m, powered by a $1.9m debut in Germany.
WARNER BROS PICTURES INTERNATIONAL
UPDATE: Crime caper Game Night earned $5.7m from 22 mostly smaller markets and opens in a further 23 this week including the UK and Germany. Australia was the lead on $1.5m in second place, while Russia delivered $1.4m for fourth.
Clint Eastwood's 15:17 To Paris generated $1.2m from 30 for $12.8m and stands at $3.3m in Italy, $3.2m in France, and $883,000 in the UK.
STXinternational
Gerard Butler thriller Den Of Thieves added $2.7m for $23m. The French debut delivered $656,000.
SIERRA/AFFINITY
I Tonya added $2.9m for $11.1m and debuted in the UK via eOne on $1.4m.
LIONSGATE INTERNATIONAL
UPDATE: Wonder grossed $1.4m for $162.8m, and stands at $294.8m worldwide. In Italy the drama has become Leone's biggest ever release in local currency terms on the equivalent of $14.3m.